OVER A DOZEN framed photos of key milestones in Alan Kelly's career are displayed on the desk in his office.
Standing proudly with his family, the pictures show his first day in the Seanad, his first day as an MEP and his first day taking his seat in the Dáil.
There are also a number of photographs of his children, Aoibhe and Senan, aged five and six, as well as one of "the college lads" from over 10 years ago.
No longer in government-reserved offices, Kelly now occupies former Labour senator Kathleen O'Meara's old digs, located down a long corridor next to the Dáil bar.
Over his desk hangs an official, embossed letter about the 2015 marriage referendum being passed, while the wall opposite is adorned with an autographed Manchester United jersey.
As TheJournal.ie sits down with him for a pre-Christmas interview, the Tipp man wants people to know that there is a lot more to Alan Kelly than just Irish Water (though charges are an issue he refuses to let go of, despite being in opposition).
The Tipperary TD – nicknamed AK47 – is a Thin Lizzy fan, he likes to cook during his free time and the only TV he watches these days is Paw Patrol (although he is making his way through Luther on Netflix when he can).
He was born and raised in Portroe, near Lough Derg in Tipperary, which he describes as "absolutely the best place in the world" because of its sense of community.
House fire
The father-of-two was raised on a small, subsidised farm with about 15 odd cows, he says, though his parents also had to go out to work.
Their home burned to the ground in the mid-1970s when Kelly's mother was pregnant with him – a hardship that he and his family remained conscious of throughout his years growing up.
Alan Kelly with his wife Regina and children left to right Aoibhe and Senan. Source: PA Archive/PA Images
"Things weren't easy, but our family is a very united family. My grandparents, my uncles, aunts… we are all very close-knit."
Prior to his political career, Kelly worked as an eBusiness manager with Bord Fáilte and Fáilte Ireland, setting up discoverireland.com and a tourism data system for the organisations.
So why politics?
I come from a Labour family, it's been that way for generations.
My mother is involved in everything in the community. My father has a great sense of social justice, a great sense of fairness, very much driven.
While his only brother Declan Kelly (chairman and CEO of Teneo Holdings, which provides consulting services to some of the world's biggest companies) headed off to live in New York, Alan set his sights on public office.
"It is very enjoyable. Politics is very worthwhile when you can achieve things. I was showing you a thank you letter there from Amanda Mellet and her representatives. It motivates you to help people."
Last month Mellet was offered €30,000 from the government after the UN's Human Rights Commission ruled that Ireland had subjected Mellet to "discrimination and cruel, inhuman or degrading treatment" because of its laws against abortion, which forced her to have to travel abroad. 

But the political game hasn't been plain sailing for the Labour TD.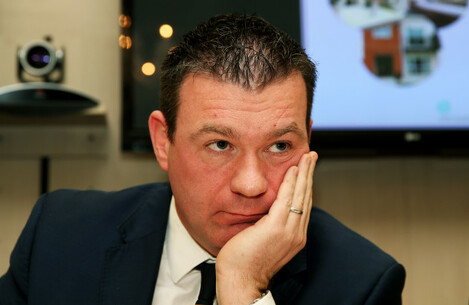 Source: PA Archive/PA Images
Sharing power in the last government, the Labour party made big promises with many criticising that it failed to deliver and were railroaded by Fine Gael.
Images of the then-Education Minister Ruairi Quinn signing a four-foot pledge not to introduce student fees as well as Eamon Gilmore's infamous election motto 'Frankfurt's way' promise were difficult for voters to forget.
Irish Water 
In his environment portfolio, Kelly was in charge of housing, local government, climate change and the most politically toxic – Irish Water.
While Kelly still maintains that Labour in government managed to achieve a lot (naming the marriage referendum and legislating for the X case as examples) he admits the party perhaps didn't inform the public "just how bad things were".
"In relation to how we communicated and related the decisions we had to take, we certainly didn't do as well as we should," he admits.
Does he think Fine Gael shafted him by giving him Irish Water? Kelly says he honestly doesn't know, but he believes his predecessor Phil Hogan wasn't fully prepared.
Phil Hogan didn't have the eye on the ball for a substantial amount of time in that department in the sense that he knew he was leaving. He wasn't crossing the Ts and dotting the Is in the sense that he wasn't challenging certain things being put forward and certainly, in that sense, I was left a poisoned chalice.
"There was crisis after crisis. I mean it was endless. Everything seemed to be in my department. And then the cherry on top was we had flooding at the very end. It was a perfect storm of issues."
But it was water charges that landed him in the most heat. With non-compliance from the public on the rise and thousands taking to the streets holding placards with the minister's face on them, it's safe to say Kelly wasn't the most popular minister.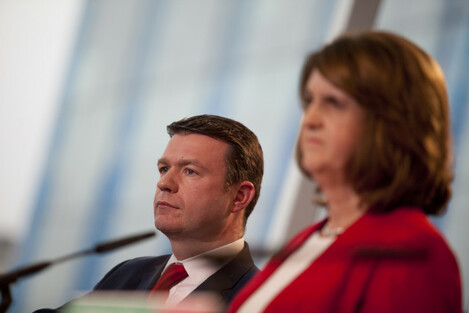 Alan Kelly and Joan Burton during the general election this year. Source: Eamonn Farrell
Abuse 
When asked if he was unsettled by criticism, Kelly even seems bothered by the question, making it clear he doesn't want to harp on about the death threats and abuse he received.
Kelly first revealed he had been warned by gardaí that there were threats against his life on RTÉ's Saturday Night with Miriam last year.
"For me it was a very difficult time," he said, adding that there were hundreds of thousands of abusive comments made about him.
Kelly said he wouldn't be human if it didn't perturb him, but that he was worried about his family and those who worked with him.
"You name it, I got it," he says. "Did it worry me? Of course, it worried me. Like there were times when I would not walk the streets of Dublin. There were times when I had to walk into a pub or a shop just to make sure I was not being followed, or I was being followed.
I had numerous issues with people coming up to me, tonnes of them. I had some very scary moments.
"My wife, my parents, the lads in the office in particular, they had extremely scary moments and it was very worrying for them. I spent a lot of time worrying about personal security for them."
While he thinks social media is "brilliant", he also describes it as "very dangerous".
I have seen everything. Anything that can be written about me probably has been written about me.
I have been named every name under the sun, they have said some of the most incredible hurtful things about my family. For me, that says more about them than it does about me and I will tell you straight out – I have one message you can get across, every single one them only motivates me more.
However, Kelly said he had to have a sense of humour at the time about it all.
On one day, there was a protest in Merrion Square with some 20,000-odd people in attendance.
"It was funny because I am big into The Frames and Damien Dempsey and they were singing there on stage and I said to the lads in work, 'I think I'll go out'. No, I don't think so, they said."
Despite not being in government anymore – and not being a minister – Kelly continues to speak about water charges. It's no longer in his remit, so why take on the trouble?
I am not going to be a hypocrite. In fact I am the total opposite. I am more steadfast.
Water charges 
Kelly says he has more sympathy for Fine Gael's Simon Coveney in relation to the housing crisis, than he does for the Irish Water situation. He is also adamant that his water charges regime will be introduced, stating:
"I can absolutely guarantee you that this country will end up back with some version as to what I brought in."
"Everyone talks about water, very few people talk about waste. And we all know what waste really is. That really nice stuff is going on to the beaches in areas like Lahinch, Ennistymon and many other parts of the country, where kids are playing.
They need billions of investment and yet people will be jumping up and down when a crisis happens or when they see that beaches are closed or rivers are polluted. Water and waste will never be on top of the list. It is never sexy enough in terms of political issues when it comes to hospitals, schools or investment in capital works.
While Kelly might understand the pressure that Coveney is under of late, he has never been one to hold the punches when it comes to his colleagues in the Dáil.
Earlier this month he had some stinging words for Jobs Minister Mary Mitchell O'Connor.
"I had questions with her a few weeks ago and I said afterwards, I thought it was the worst I had ever seen. Now I have nothing personal against the lady, she is a sincere lady, I am sure, but I felt that her performance that day for me was very worrying," he says.
When asked if there was an element of sexism at play in relation to the criticism O'Connor has been facing, he said no.
No, not for me, I could see how that gets thrown out there. I am a very straight-talking person. Gender is irrelevant. It is based on policy, competence etc.
Having spent a significant amount of his time as minister on climate change, it is not surprising he does not have kind words to say about Danny Healy-Rae's climate change denials either.
You know the standard there, sure. It's say something mad and get attention, have a good laugh and everyone's talking about you. That's what that is. He believes in Noah's Ark. Lord God.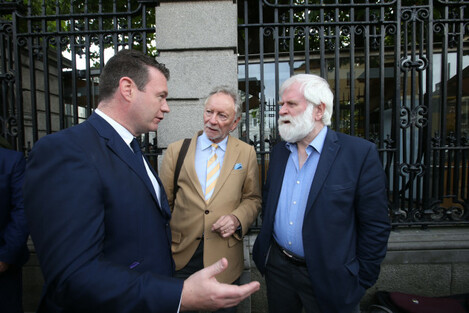 Pictured (Ltor) Labour Alan Kelly TD, singer/song writers Phil Coulter and John Sheahan joined musicians to play irish music outside Leinster House this afternoon before going to Leinster House to support a Labour Irish music bill. Source: Sam Boal
The Tipperary man also has a few scathing words for left-leaning parties in the Dáil, saying he hates populist politics.
This was also something he raised on TV this week – but it was pointed out that Labour had been guilty of something similar in the past. (Who can forget that 2011 poster which has been widely shared and updated).
"There are a number of people in other political entities and espouse a populist notion that everyone can have everything and no one has to pay for anything. That we just tax the wealthy and then everybody can have every service they want. That's just rubbish, it is just complete garbage. It is utopian economics," says Kelly.
At the end of the day, at any given time there is a pie of money in this country and politics is about policies and choices and it is about making decisions on your priorities and your philosophy. You don't miraculously create a bigger pie so everyone can have everything. You try and create a bigger pie by expanding the economy and trying to be fair, but these people that are going around and saying that you can everything for nothing … I despise it.
However, despite all the difficulties faced in government, Kelly finds himself sitting rather close to those he calls populist in the opposition benches.
The Labour party's representation in national parliament was demolished in the last election, falling from 37 to just seven.
Alan Kelly laughs it off as Claire Byrne panel raise his "sex face" photo from the count centre on election day. Source: RTE/Screengrab
Which brings us to THAT image of the TD in the count centre, which was described by comedian Oliver Callan on this week's Claire Byrne Live programme as the "sex face" photo.
The photo taken on count day during the last general election shows Kelly being hoisted by his supporters after the news reaches him that he retained his seat.
Broadcaster and former politician Ivan Yates told Claire Byrne that he had been "totally unaware" of the reference. "So was I," said Kelly with a grin on his face.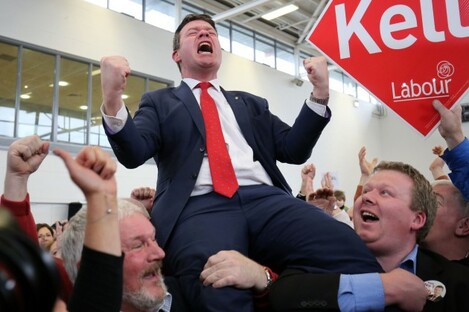 Alan Kelly is hoisted into the air as he celebrates being elected during the general election 2016 count. Source: PA Archive/PA Images
When asked about the photo by TheJournal.ie, Kelly answers:
"No regrets. No regrets."
He explains that a lot of his good friends lost their seats that day, and the image captured the relief he felt upon hearing he had been re-elected.
"Everyone knows Tipperary is an extraordinarily difficult constituency. Everyone knows the pressure I had been under in the years previous. I was out of the constituency a bit as well. There were some individuals that were taking part in some of the most heinous benign attacks and abuse on me and my party.
I suppose what happened to me in terms of my celebration was, despite all of that, we got there. All my supporters were there, my family were there and it was an incredible campaign. For me it was a kind of release and a feeling of success more for them than for me.
"What happened that day by getting elected, it was to celebrate that despite everything that was thrown at us that we got back in Tipperary and I wouldn't change a thing."
His fight to be leader
After getting elected, more controversy followed Kelly but this time it was from inside the party.
Failing to get any of his fellow party members to second him for leader of the Labour party, Brendan Howlin was elected. At the announcement in Dublin's Royal College of Physicians, there was one notable absence in the room. Alan Kelly.
So why was he a no show? Was he simply in a huff?
"I didn't think it was my role that day being honest with you," adding that he has "moved on" from all that.
While he said the leadership contest is behind him, he also says it is in front of him. The Tipperary TD doesn't blink when he says the leadership is in his future.
There's nothing wrong with ambition. I think actually Irish people admire self-confidence and ambition but I think that some people try and portray in a way that is begrudgery. I think begrudgery often comes from those who maybe are afraid of going to achieve what they want to achieve or perhaps haven't put their head above the parapet.
The 41-year-old also believes Labour will do quite well in the next general election.
I think people are starting to realise that this absolutely joke of a Dail, this do-nothing Dáil is just from one farce to the next.