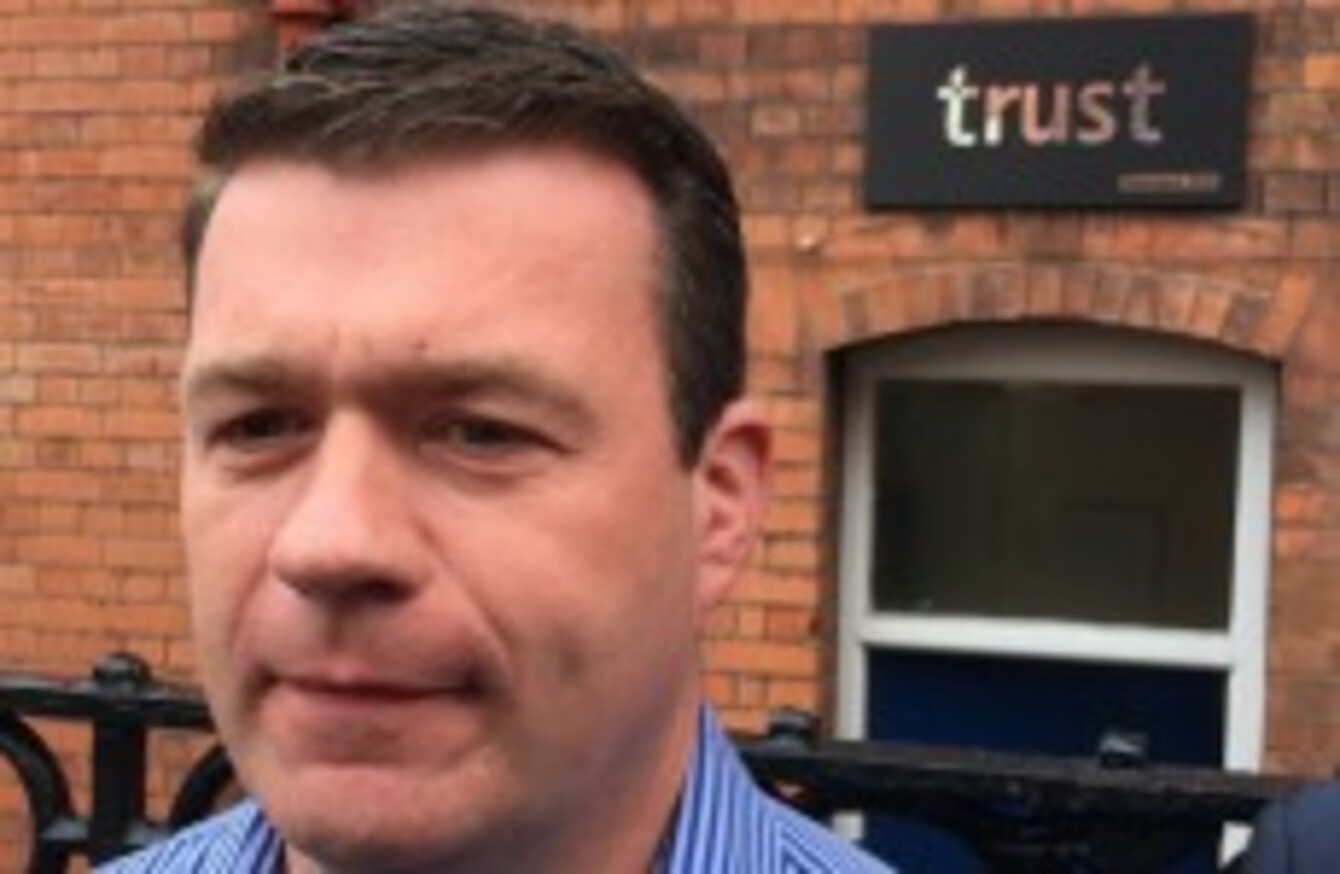 Alan Kelly outside the Trust Homeless Service in Dublin this morning
Image: Hugh O'Connell/TheJournal.ie
Alan Kelly outside the Trust Homeless Service in Dublin this morning
Image: Hugh O'Connell/TheJournal.ie
Updated 3.50pm 
ALAN KELLY HAS said that everything that can be done about the issue of homelessness is being done and insisted it is not a question of funding.
The Environment Minister called for greater cooperation from local authority members and outlined a range of measures being undertaken to address homelessness amid growing criticism that neither he nor the government are doing enough.
Fianna Fáil's environment spokesperson Barry Cowen criticised Kelly this afternoon, sarcastically describing him as the "self-styled 'Action Man' of Irish politics".
Seeking the regain the initiative this morning, Kelly visited the Trust Homeless Service in Dublin where he met with founder Alice Leahy before answering questions from the media on a number of issues that have arisen in recent weeks.
Asked about the case of a family with three young children who were forced to sleep in a park in Dublin city centre after being evicted by their landlord, Kelly said that not every case is "immediately solvable".
"Obviously I think that's wrong, that anyone is left in that scenario. But having said all of that we are in an unprecedented situation, we've never seen a situation of this scale.
"There is more being done, more funding put into homelessness. [But] it's not about funding, if more funding is required we'll deliver it, but it's simply not about funding, I'm absolutely convinced about that."
He said there needed to be more focus on ensuring that various agencies and groups work together. Kelly also claimed that the action plan out in place in response to people sleeping rough last Christmas had been more or less delivered.
The issue as regards rough sleepers, I believe, has been more or less dealt with. The real issue is how we can intercept people vulnerable families and children in particular. Certainly everything that is and can be done is being done in relation to that.
Kelly said that 800 properties for homeless people have been or are in the process of being provided through a number of different schemes so far this year.
He also called for greater cooperation from local authority members, saying proposals he had put to Dublin City Council in the past had been rejected. He said that councillors needed to "step up to the mark".
They've decisions to make when proposals are put forward that there isn't nimbyism in relation to homelessness, that they will accept proposals put forward by my department, and particularly by the city and county mangers and deal with the issue instead of finding other excuses and then saying we've a problem with homelessness.
The Labour deputy leader has come in for criticism in recent weeks over homelessness and other issues such as Irish Water.
Responding to being labelled "Comical Kelly" by Cowen last week, Kelly said dismissed this.
"I mean if he [Cowen] wants to engage in name calling that just tells you about where Fianna Fáil come from. Everyone's open to criticism, Barry Cowen's as open to criticism as I am. So everyone is open to criticism. Politics isn't an easy game. But that's irrelevant to be honest.
Asked if he was doing a good job as Minister for Environment, Kelly responded:
I think I am doing a good job yeah. I think I'm doing a very difficult brief with a very wide range of responsibilities, yeah. I'll let the people of Ireland and particularly the people of Tipperary decide that.
But Cowen was less than impressed with Kelly today, saying the minister had been "completely absent in recent weeks".
He said that people would be "surprised" by the Kelly's "triumphant return".
"Minister Kelly simply does not understand the extent of the homeless emergency that we are now faced with. This emergency, which began in Dublin, is now rapidly extending to other urban centres across Ireland as predicted," the Laois-Offaly TD said.
Meanwhile Minister Kelly continues to dismiss out of hand the concerns raised by those that have first-hand experience of the emergency. He is refusing to take on board the suggestions raised by the stakeholders who are dealing with this emergency day in and day out.
Speaking alongside Kelly earlier, Alice Leahy said that when the Trust Homeless Service was founded 40 years ago this year she thought it would not be needed within six months.
"Homelessness is hugely complex and governments have come and gone and ministers have come and gone and said it will be all sorted by such a date," she said.
Leahy said the issue was not just about the supply of housing but about homeless people with mental health issues who need help and support.