Liveblog
iPhone/iPad users: click here. Streams provided by HEAnet.
THE FIRST OF a two-night debate in the Dáil  on a motion of no confidence in Justice Minister Alan Shatter has concluded.
The motion, put forward by Fianna Fáil, will be voted on tomorrow. It is the second such motion that the party has proposed in less than a year.
Shatter has weathered a number of political storms in recent months – from the penalty points controversy to potential GSOC bugging and phone tapping at Garda stations – and, given the government majority, is likely to survive this one too.
However, a number of key questions surrounding recent events still remain unanswered.
Here's a blow by blow of everything that happened…
Good evening, it's Órla Ryan here. TheJournal.ie will be keeping you up-to-date on this evening's debate, as it happens.
Before this evening's proceedings kick off, here's the one link you need to catch up on everything that has happened in the GardaGate controversy to date.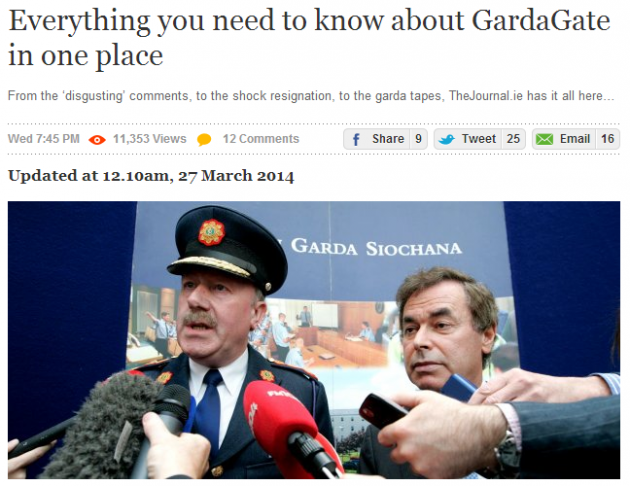 Fianna Fáil's Niall Collins kicks things off. He points out that this is the second no confidence motion in Shatter within a year. "Things under your stewardship have gone to worse."
Collins: It's typical of the government to "rubbish" Opposition when they criticise Shatter.
Some pretty shattering revelations in this story just posted by TheJournal.ie's Daragh Brophy.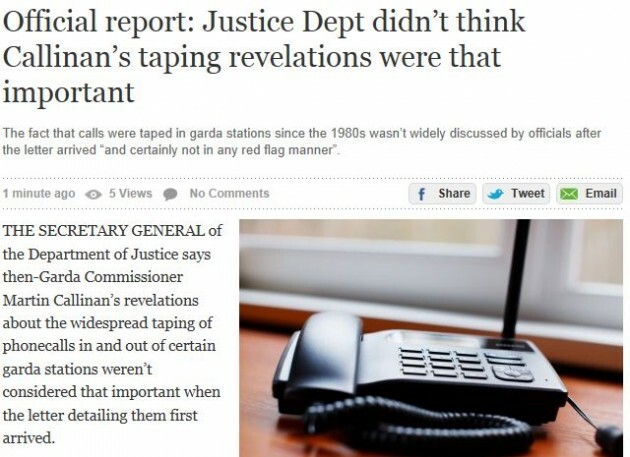 Collins: Leo Varadkar was a "hero" until he criticised Martin Callinan yesterday.
Collins: The timing of the phone tapping revelations was "convenient". "The public aren't buying it".
Collins: Government "wouldn't allow" Callinan to apologise to whistleblowers.
Collins: "Who knew what and when isn't clear".
Collins: Callinan was "shafted" by the government.
Fianna Fáil's Barry Cowen is up now. Says Opposition has been left with "no option" but to propose the motion.
Cowen: Comments by government ministers on the issue "have done nothing but raise further questions".
Cowen asks if it's only a Justice Minister that can "sack" a Garda Commissioner.
Cowen: Ministers "sealed fate" of Callinan by refusing to publicly state their confidence in him.
Cowen: Ministers "sealed fate" of Callinan by refusing to publicly state their confidence in him.
Cowen: What we have is "a scenario whereby one crisis was created to divert attention from another".
Willie O'Dea is speaking now.
O'Dea: When Shatter addressed the Dáil last week "There wasn't a word about Oliver Connolly … not a word about the secretary general's visit to the Commissioner … not a word about why the Attorney General sat on the information [on phone tapping]".
O'Dea: "Why has everything [Shatter] has touched turned to dust?"
O'Dea: Referencing Joan of Arc, says the "only voice Shatter listens to is his own".
O'Dea: "Why does everything Shatter touch turn to dust?"
O'Dea: Calls Labour party the "chinless leaders of 2014″.
O'Dea: The government's position has "all the credibility of Oscar Pistorius's defence".
O'Dea: "Frankly you are finished as Justice Minister."
Dara Calleary has the floor now.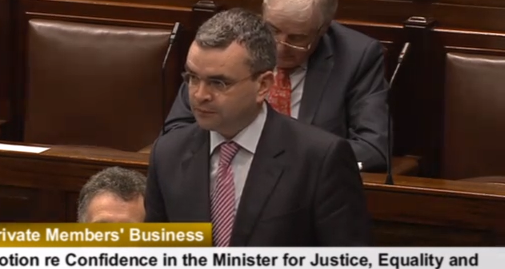 Calleary: Questions Kenny's handling of the situation. Says the fact the Attorney General did not want to discuss the Garda phone tapping issue on the phone suggests she has concerns about her own "security".
Calleary: If Kenny had confidence in Shatter, he would have informed him of the phone tapping sooner.
Calleary: Tells Shatter "they'll probably write songs about you in the future", but adds he's "like a learner driver – at the wheel but somebody else is in control".
Calleary: Colleagues can't really have confidence in a minister that has four inquires underway.
Calleary: Kenny might lose confidence in Shatter after the inquiries report.
Calleary: Why is it that we are here again nine months after the last no confidence in Shatter?
The man of the hour, Alan Shatter has the floor.
Shatter: Recalls volunteering in a free legal advice centre as a student in the 1970s, says he campaigned for legal reform at the time.
Shatter: That passion I had as a student "still drives me".
Shatter: I couldn't do what I do without support of colleagues in Fine Gael and Labour.
Shatter: "I don't have a monopoly of wisdom … we all get things wrong … I will continue to do the best job that I can."
Shatter: Apparently it's not acceptable for me to respond to personal taunts.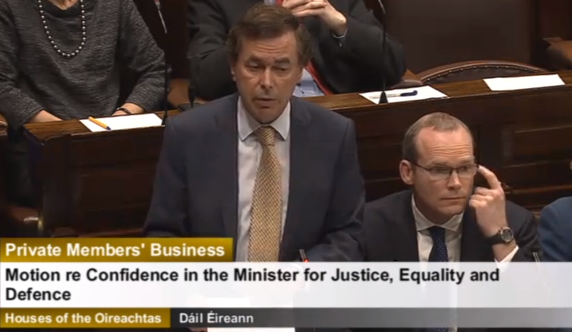 Shatter: On the recording of Garda calls: "We're now dealing with an issue of great seriousness".
Shatter: Opposition is trying to "distract from the real issues" and the fact that many of the current problems were also present when Fianna Fáil were in office.
Shatter: We don't know what's on the majority of the recordings from Garda station phones.
Earlier this evening, the much-discussed letter (sent on March 10) was released: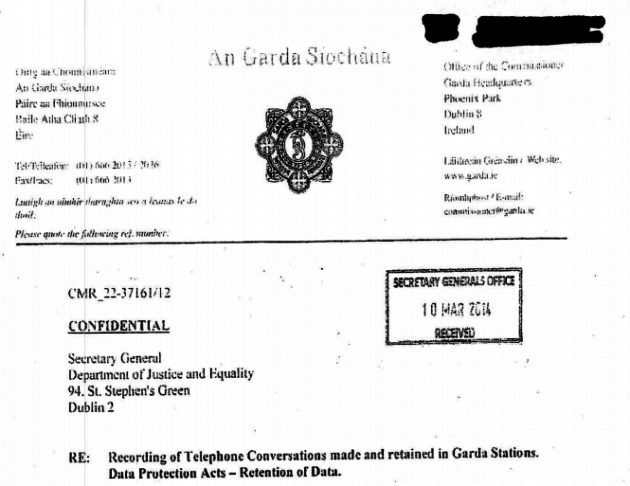 Shatter: The length of time (16 days) it took him to become aware of a letter from Callinan sent to the Department on phone tapping in Garda stations is being overly focused on in a "politically opportunistic" way.
Shatter: We need to stand behind An Garda Síochána.
Shatter: The Prison Service will release a statement on the recording of prisoners' phone calls "very shortly".
Shatter: Refers to work being done by the government on the Victims Rights Bill and next year's Marriage Equality referendum.
Agriculture Minister Simon Coveney is up next.
Coveney: I sit next to Alan Shatter in the Dáil and have gotten to know him very well.
Coveney: Shatter is a "reforming" minister and apologised for any mistake he made, such as saying the whistleblowers did not co-operate with the investigation into the penalty points controversy.
Coveney: Government is focusing on reform, such as the establishment of an independent policing board. Shatter is currently overseeing 5 bills and drafting an additional 4 bills.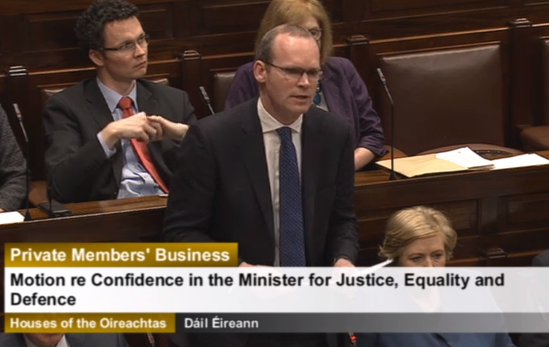 Coveney: Finishes up by saying the government has full confidence in Shatter and "won't be distracted" by the Opposition's attempt at "political gain".
Communications Minister Pat Rabbitte is addressing the Dáil now.
Rabbitte: "Moral authority is the most precious asset in the Garda inventory".
Rabbitte: The government's reforms to An Garda Síochána will last long after people will have forgotten about this motion.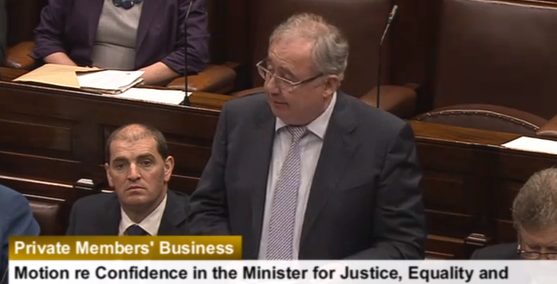 Rabbitte: "Much of the public dissatisfaction [with GardaGate] has been legitimate … the government must reflect on this."
Rabbitte: Shatter apologised to the whistleblowers after "an unconscionably long time".
Rabbitte: Fianna Fáil tabled this motion to beat Sinn Fein to it.
Rabbitte: Shatter needs to be allowed to do his job. Labour has "full confidence" in him.
Sinn Féin's Pádraig Mac Lochlainn is up now.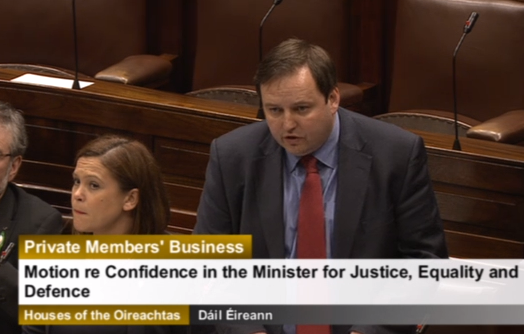 Mac Lochlainn: Shatter has been in consultation with the Attorney General about the Ian Bailey case, how could he not know about the phone tapping element?
Mac Lochlainn: Questions Shatter's handling of the penalty points controversy and his "attempt to discredit a political opponent" when he told Prime Time that TD Mick Wallace was warned by a guard about using his phone while driving.
Sinn Fein deputy leader Mary Lou McDonald is speaking now.
McDonald: The Justice Department's Magdalene Laundries report was "shambolic and the bare minimum that could have been delivered".
McDonald: Shatter took a very deliberate decision to "attack" whistleblowers and only apologised when it was "politically expedient" to do so.
McDonald: I'm "frankly baffled" that the Taoiseach and Tánaiste are standing by Shatter.
McDonald: The government has placed blame with Callinan, never Shatter.
McDonald: The dogs on the street know Shatter has to go, even if his colleagues don't.
Earlier this evening, McDonald tweeted that the government's 4-page defence of Shatter is "surely a record":
Independent TD Maureen O'Sullivan is speaking now.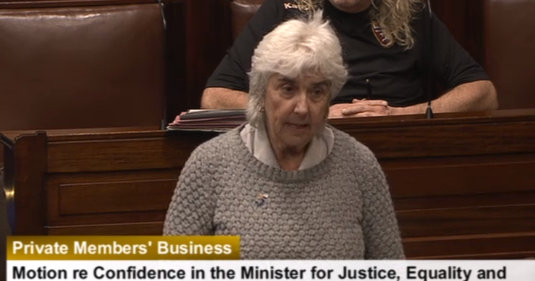 O'Sullivan: Praises work done by TDs Mick Wallace and Clare Daly to highlight the penalty points controversy and issues surrounding the Ian Bailey case.
Thomas Pringle is up now.
Pringle: Callinan should have resigned long before last week.
Pringle: Kenny did not have confidence in Shatter to ask his advice on the phone tapping in Garda stations.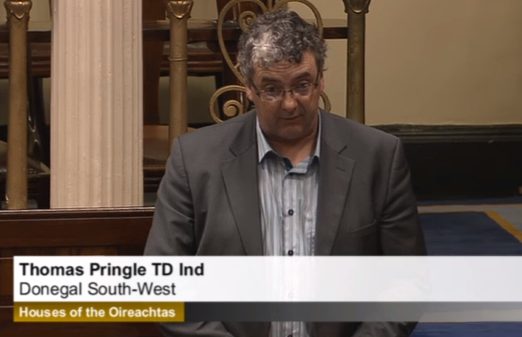 Contribute to this story: