THERE HAVE BEEN over 300 airstrikes on the Syrian city of Aleppo in the last ten days.
Thirty airstrikes a day, including yesterday, when there was a 24-hour ceasefire.
The Syrian civil war has raged for over five years and claimed anywhere from 250,000 to 385,000 lives. In truth, nobody knows and the true death toll probably won't be known for some time until after the fighting has stopped.
But that doesn't look like coming any time soon.
Today, before the UN's Security Council, the head of Medicins sans Frontieres (MSF) Dr Joanne Liu spoke about one of the 300 airstrikes which obliterated the Al Quds Hospital in Aleppo.
"They blew apart at least 55 men, women and children. It killed one of the last remaining paediatricians in the city.
"A murderous airstrike.
"Patients and doctors are legitimate targets. Women, children, the sick, the wounded and their caregivers, are condemned to death.
"Stop these attacks."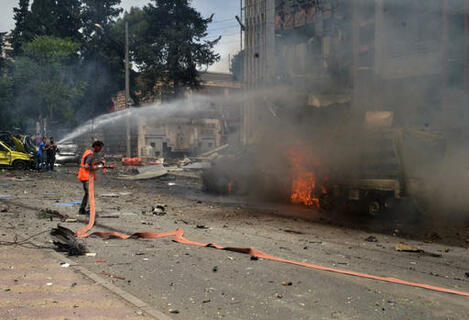 Syrian citizens and firefighters gather at the scene where one of rockets hit the Dubeet hospital in the central neighbourhood of Muhafaza in Aleppo. Source: SANA via AP
Liu's impassioned plea led to the Security Council demanding protection for hospitals and clinics in war zones.
French Ambassador Francois Delattre described Aleppo as the "martyred centre of the resistance" to Syrian leader Bashar al-Assad and said the city "has been under constant bombardment since 2012."
The council is expected to hold a meeting on the city's plight in the coming days.
"Aleppo is burning and it is crucial that we focus on this top priority issue," said British Ambassador Matthew Rycroft.
Fresh fighting
This 2012 photo shows a Free Syrian Army soldier standing on a damaged Syrian military tank in front of a damaged mosque, which were destroyed during fighting with government forces, in the Syrian town of Azaz, on the outskirts of Aleppo Source: Hussein Malla
Fresh fighting killed at least 16 people in attacks in the city today, including in rocket fire on a maternity hospital.
A surge of violence that erupted on April 22 has left more than 270 people dead in the divided northern city and undermined efforts to revive peace negotiations.
MSF's head of mission in Syria Muskilda Zancada says that people in Aleppo "have no choice but to stay and die".
"As airstrikes continue to target hospitals and civilian areas there is nobody left on the streets. People devastated by years of war are trapped in this nightmare, many are entirely dependent on humanitarian aid, and have no resources to leave.
"We ask what is being done to stop this carnage, where is the action to save what is left of Aleppo, and ensure that civilians are protected from the fire?"
As the fighting erupts, once more, Russia's Foreign Minister Sergei Lavrov said efforts were under way to agree a freeze in the violence.
"I am hoping that in the near future, maybe even in the next few hours, such a decision will be announced," Lavrov told reporters after meeting UN Syria envoy Staffan de Mistura in Moscow.
Washington and Moscow are working together to include Aleppo in a so-called "regime of silence" – a freeze in fighting – aimed at bolstering the broader truce brokered by both world powers.
With AFP reporting