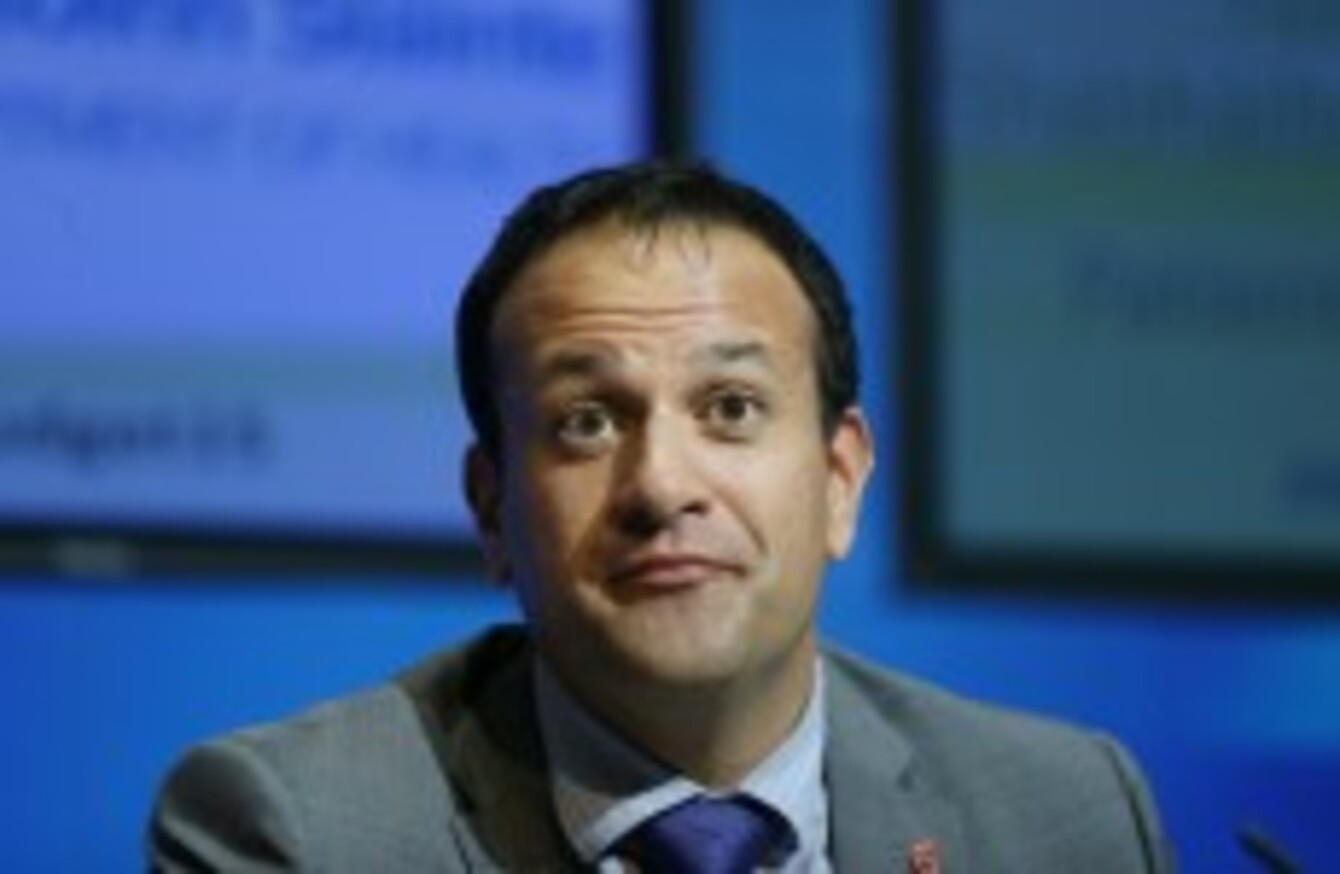 Leo Varadkar
Image: " Leon Farrell/Photocall Ireland
Leo Varadkar
Image: " Leon Farrell/Photocall Ireland
Updated 2.10pm 
HEALTH MINISTER LEO Varadkar has insisted it's not unusual that Irish Water is looking for people's PPS numbers in order to calculate their water allowances.
Speaking earlier today at the Royal College of Physicians,  Varadkar responded to concerns over Irish Water collecting PPS numbers.
"You can never dismiss peoples' concerns, but a couple of weeks ago my dentist asked me for my PPS number. It's not all that unusual. Barely a month goes by when somebody doesn't ask for my PPS number for some reason or other," he said.
The Minister also said that the Government's communication over Irish Water was still a concern.
Anytime you do something like this… you have to have an effective communications campaign – and that campaign has not yet been won.
Earlier Alex White said that the government "tried to bite off too much too quickly" with water charges. The Minister for Communications, Energy and Natural Resources made the comment while speaking on Newstalk this morning.
Asked about Irish Water, White said "we have been behind the curve" and the Government "I think, tried to bite off too much too quickly with this project".
'Learned some lessons'
"We've learned some lessons about this. I don't think this project is ready," added White, saying he thinks it is a great project and necessary.
White said they have to "make sure we get the thing right and get it done right".
The Economic Management Council will meet on the issue of water charges tomorrow. It is thought that the issue of a flat charge being issued until all meters are installed will be raised.
"We will respond, we need to respond but we need also to ensure that we have a reliable water system in this country, that we can get investment and attract investment," said White.
He described water charges as "a community-wide project" and said it "isn't just the Government coming along and imposing this on people".
"The Government is listening and Ministers are listening and we will respond," said White.
It may be that it won't happen quite as quickly as some people hope but it will happen.
He added that he hopes that the Government will address concerns when it is able to address a lot of the issues together.
"We don't live in a totalitarian state, people are citizens as well and we have to listen to them," concluded White.
Also today, Deputy Willie O'Dea defended his decision not to send his PPS number to Irish Water. Speaking to Pat Kenny on Newstalk, he said Irish Water "haven't convinced me that in order to operate their system as they intend to operate it, they need my PPS".
He said he will "declare truthfully" on his return form to Irish Water and rejected claims there could be widespread falsification or cheating on the forms.
He said he believes Irish Water should look at alternatives to taking PPS numbers, so there could be a system which leaves people reassured, "maybe with some small extra cost".
First published 09.52 
- additional reporting from Michael Sheils McNamee, Órla Ryan and Hugh O'Connell