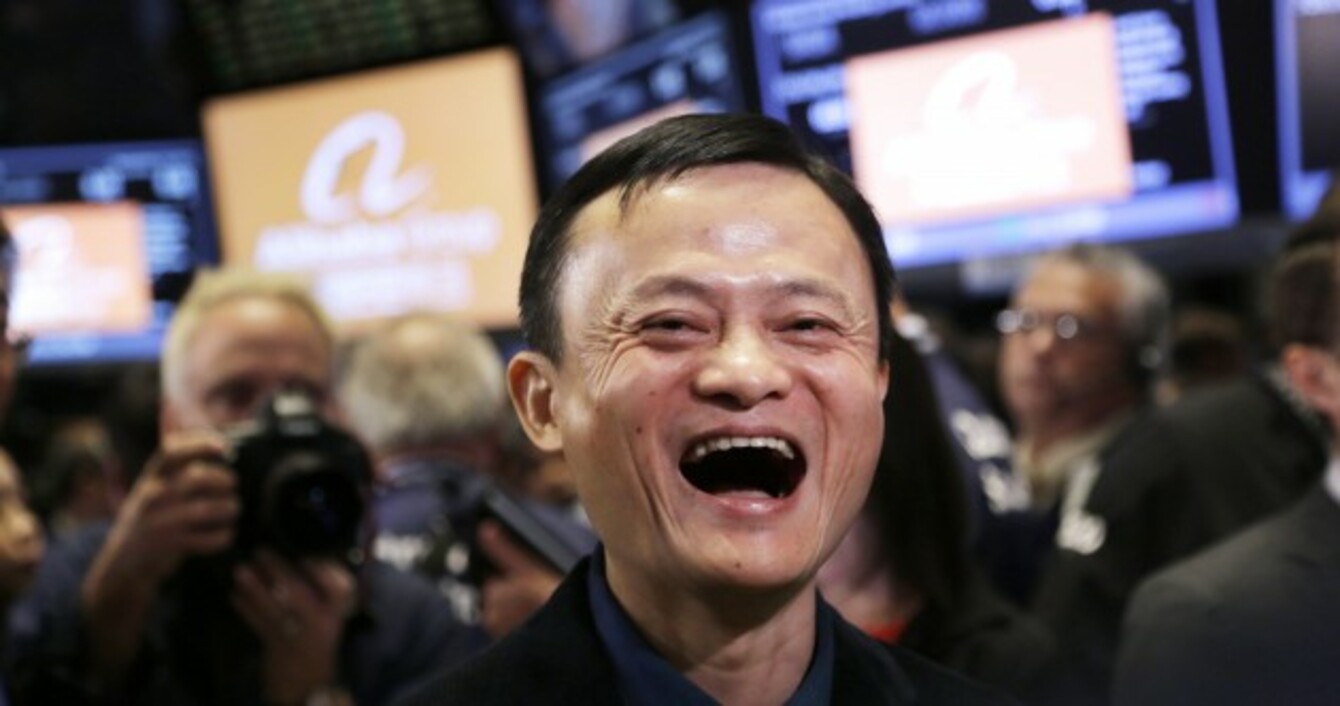 Alibaba founder Jack Ma
Image: Mark Lennihan/AP/Press Association Images
Alibaba founder Jack Ma
Image: Mark Lennihan/AP/Press Association Images
CHINESE E-COMMERCE MEGA-RETAILER Alibaba has clocked up €7.5 billion in 24 hours for its annual online "shopping festival".
The sale comes on "singles day", when millions of young, unmarried Chinese are encouraged to buy themselves gifts in a 24-hour spendathon.
It has turned into a shopping bonanza with rival e-commerce companies like Amazon China and HD also join the day-and-night sales push.
But Alibaba has made the date its own and this year recorded about €1.6 billion in sales during the first hour after midnight alone.
By 2pm Beijing time it had broken its previous record from last year of $5.8 billion (€4.7 billion) for the full 24 hours.
To put the latest spending binge in context, a UPC report recently put the annual value of Irish consumers' online spending at €5.9 billion.
At the end of the full 24 hours, Alibaba had clocked up a mind-boggling 278.5 million orders worth some CNY57 billion (€7.5 billion), according to a feed on the company's website.
Never heard of Alibaba? Now you have…
Alibaba set the record for the largest stock market float in history in September when it raised $25 billion in its initial public offering in New York.
It was founded by the former English teacher, now entrepreneur Jack Ma, whose personal net worth has been put at some $24 billion, a man known for spouting business and money advice.
When you have $1 million, you're a lucky person. When you have $10 million, you've got trouble, a lot of headaches," he said in September.
Although huge in China, the company was little known outside the world's second-biggest economy until the lead-up to its New York launch.
It offers everything from clothes to cars and medical products for sale, and the company has started rolling out international sites like its 11 Main online shop for US customers.
But 'singles day'? Seriously?
The "singles day" phenomenon started about 20 years ago as an excuse for students to celebrate, however five years ago Alibaba took over the date with heavy discounts and sales promotions.
The name comes from the date – 11 November, or 11.11 – being made up of four "singles" and it has also come to feature, somewhat ironically, everything from weddings to wild bachelor parties.
Alibaba was recently granted exclusive rights by the Chinese government to use the name "double 11″ for the event, which has been likened to one western retailer getting a monopoly on Valentine's Day.