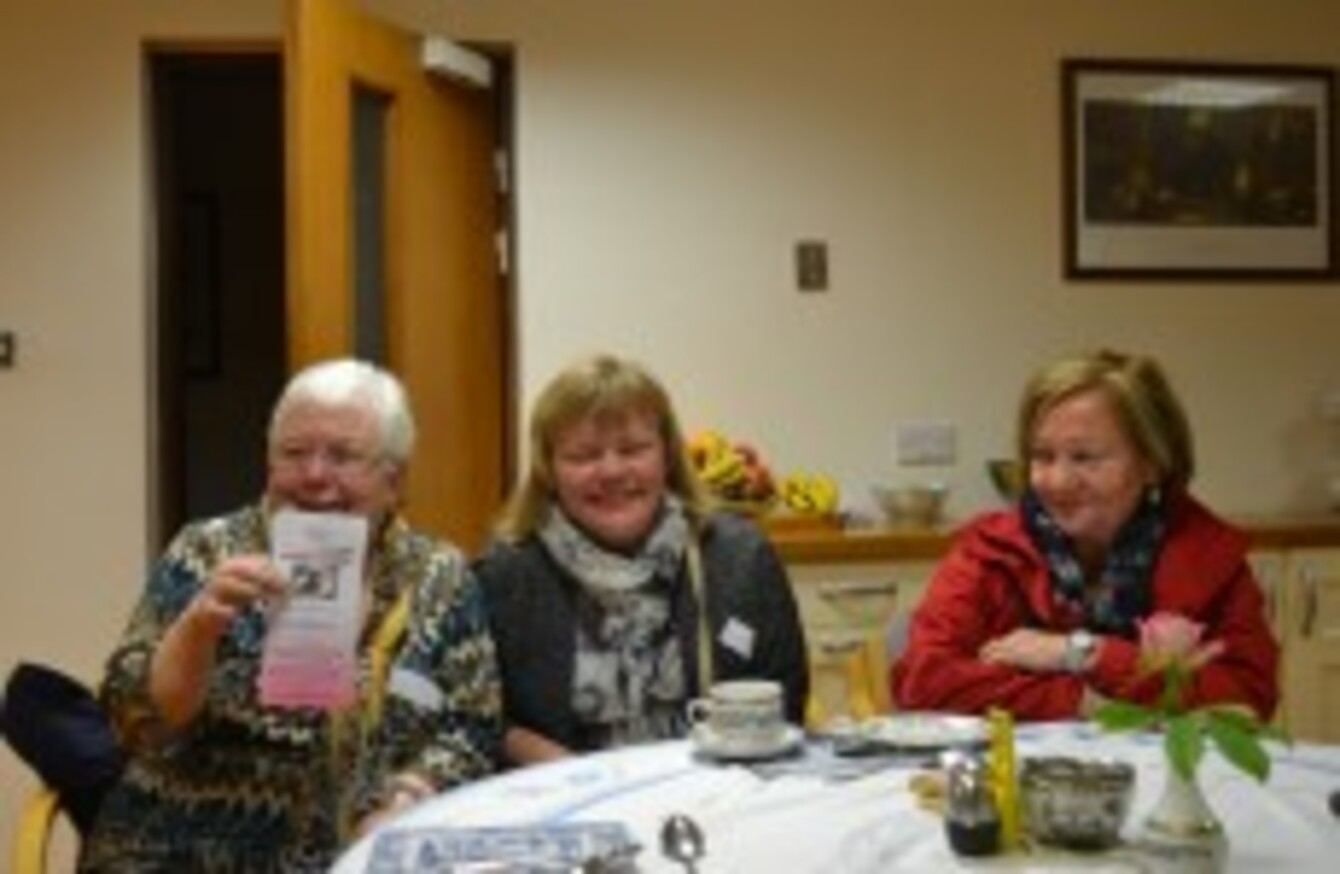 Babs, her daughter Catherine and Maeve at the Alzheimer's Café in Cabra
Image: Cormac Fitzgerald
Babs, her daughter Catherine and Maeve at the Alzheimer's Café in Cabra
Image: Cormac Fitzgerald
MAEVE HOGAN USED to have a quick wit when she was out with her friends. She would always be the first one out with a joke or a smart comment and have the others in stitches laughing.
"I have changed a lot over this year," she says.
I find my memory getting worse… and I find sometimes I have a problem with getting out words. As I said I used to have words for… Quick, you know? But I do find that it has changed a lot for me."
Maeve was diagnosed with early onset Alzheimer's Disease six years ago. She has six grown up children and lives alone in Cabra, on the north side of Dublin. In a small dining room in the Dominican Convent in Cabra, Dublin, she sips tea and talks about her life.
"I wouldn't have been old when I got it. Before this I was a young 69, I was full of life. I'm a world away from that person now."
Maeve is here for the Alzheimer's Café, a monthly event that invites people affected by dementia – and their families and carers – to gather in a safe, communal space where they can meet others in similar situations, drink tea and talk about their experiences, or just chat about anything they like.
The evening is split into informal chats around tea and biscuits, followed by a short talk from a guest speaker, and then more chats and tea.
The environment is calm, relaxed and welcoming, the aim being to give people who might feel isolated and alone in their illness or worries a place to go.
It's here that people such as Maeve can meet people like Babs Pritchley, whose husband Christopher (80) was diagnosed with a form of dementia five years ago.
"He was managing okay at first and I was managing at home with him. He was still able to go out for a few pints on a Saturday or Sunday and everything," says Babs.
Last October didn't he take a turn at the table.. he couldn't see the stuff that was on the plate for him – he was cutting the plate instead of the sausages.
Christopher had had a stroke and in the months following it his mental health deteriorated rapidly. He was admitted to a nursing home and has been staying there for nine months.
"He hasn't forgotten yet who I am, but he's forgotten his daughter Catherine," says Babs.
"I find it very difficult, even though I'm only visiting now. But although you're only visiting, you're still a carer, your heart is caring for the person that you love."
When I go to bed I'm thinking of him, when I wake up I'm thinking of him – thinking it's only a nightmare that I'm having… Feeling a very guilty feeling, and I've spoken to a good few people who feel the same."
Alzheimer's Café
The first Alzheimer's Café in Ireland was started in the Avila Centre Donnybrook in 2011. It followed on from a model in the Netherlands where there are almost 200 similar cafés. There are now four currently in Ireland.
"It's to help people to live with dementia," says Sister Edel Murphy, who runs the monthly night in Cabra, which started last year.
And also to educate the community to support people who have it to live with it as long as they can. It's the people that are living with it that are the most important people here."
Alzheimer's Disease is the most common form of dementia, a condition that affects the brain function and memory of people who have it. There are just under 50,000 people living with dementia in Ireland today, with the vast majority of them being cared for by a family member.
In Ireland, as our population ages and we live longer, this number is set to rise significantly over the next 30 years.
"[The cafés] are a safe haven for people who have been diagnosed to openly talk about their diagnosis," says Joanne Brennan, Dementia Advisor with the Alzheimer's Society of Ireland.
"Which in turn then lessens stress for the person and for the carer as well.
"As much as you have your friends' support, they never truly understand where you come from. Nothing beats speaking to somebody who's in the same situation as you and knows exactly what you're talking about."
The same situation
After everyone has had a cup of tea and is settled in their seats, the guest speaker Dr Siobhán Kennelly, Consultant Geriatrician at Connolly Hospital Blanchardstown, gives her talk.
Kennelly's speech focuses on the way people should care for themselves before and after they are diagnosed with dementia. Brain activity is important, she says, as well as exercise and healthy eating.
"One of the things that can happen to us when we have Alzheimer's is that it can affect our sense of taste and our sense of smell," says Dr Kennelly.
"And we mightn't feel as inclined to eat in the way that we did once upon a time."
At this point, Maeve starts to laugh.
"Maeve you're laughing like this is a familiar story," says Doctor Kennelly.
"No. I'm laughing because I can't stop eating – I'd love to be the other way!" she replies, and the whole room laughs with her.
Not enough care
After the talk, Dr Kennelly walks around to the different tables to answer any questions people might want to ask in private, while the rest of the room, a bit more relaxed, talk to each other.
Students from a nearby girls' school go about the room refilling mugs and offering biscuits.
Maeve knew that there was something wrong with her in the months leading up to her diagnosis, but when the doctor told her she had Alzheimer's in January 2010, she was still shocked.
"I came out of the doctor's at 4′o clock in the evening at it was pitch black and lashing rain," she says.
And I said to myself: 'Jesus, Happy New Year,' and I just started walking right into town in all the rain and I came home and told no one.
Maeve's biggest worry is her family and the trouble they might face in the future looking after her. She also doesn't believe that there is enough support out there for people who have dementia, but thinks that things are improving.
"It's a very unpleasant sickness," she says.
"And it's a sickness that there's not a lot known or understood about and I think that it doesn't get the support that it needs. I feel very strongly about that."
Babs feels that she will always be a carer for her husband, for as long as she lives. Her only wish is to live as long as Christopher so that she will be able to look after him.
"I hope that God gives me the strength to be here for him and my daughter and my son. I hope that God leaves me on this earth and doesn't take me before him," she says.
Although Christopher forgets things a lot of the time, he still remembers occasionally where he is, and Babs would like to be there to help him when he gets worried.
Both Babs and Maeve agree that it's events like this café that will raise awareness of dementia and the people and their families affected by it.
As the night draws to a close and people start to head home, Babs says that Maeve is a credit to herself, and will be okay for some time to come.
"She's a very jolly woman and she'll probably fight that as much as she can, whereas my husband was a worrier and he wouldn't let me know anything about his general health," she says.
"It's still there in the back of his mind that he has it, and he gets depressed – but wouldn't we all, wouldn't we all."
The next Alzheimer's Café will be held on Tuesday December 1.  Anyone looking for further information can contact Sister Edel Murphy on 086 1216919
Anyone affected by dementia can call the Alzheimer's Society of Ireland's Helpline on 1800 341 341 or visit www.alzheimers.ie