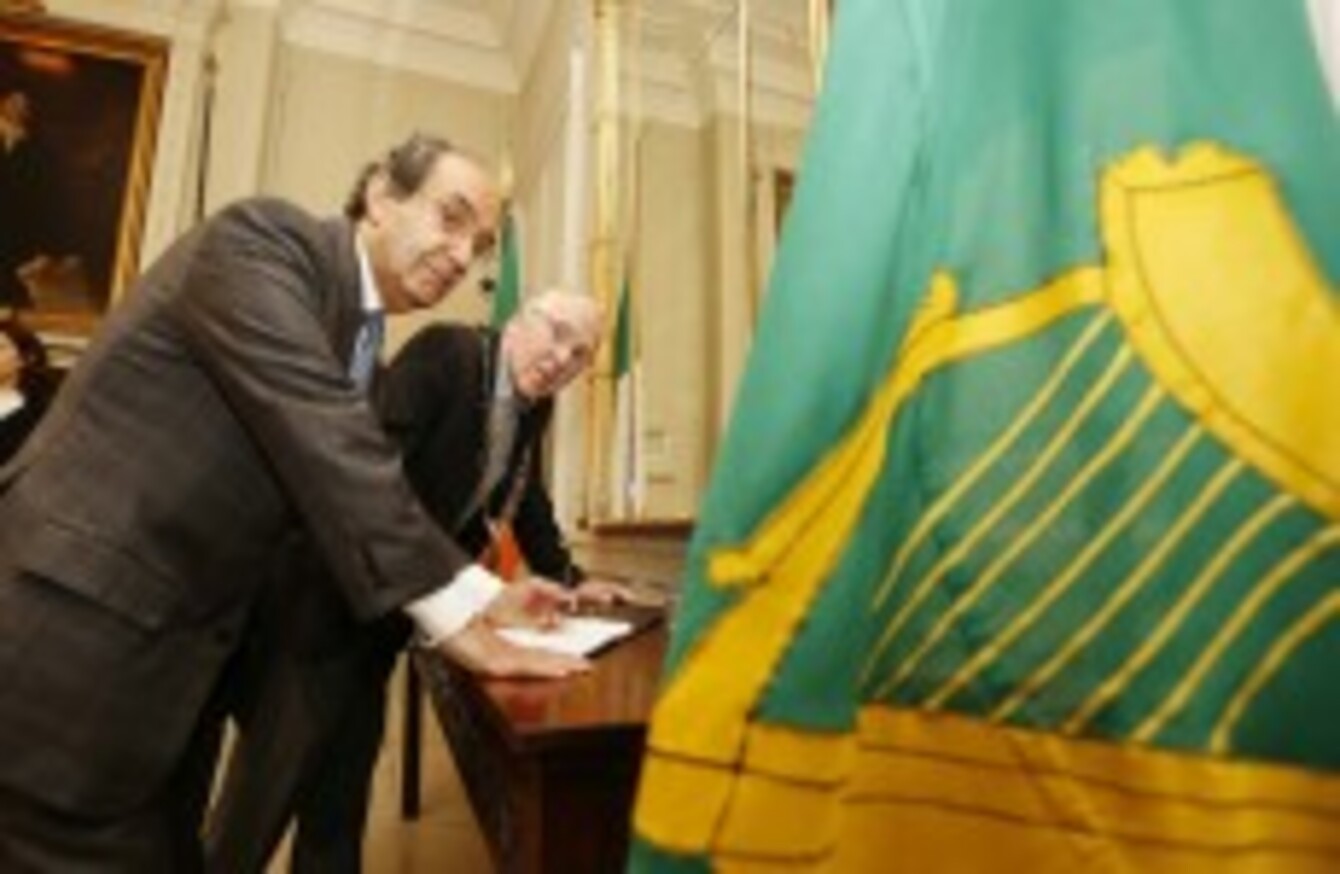 Abdelrazek signing the Book of Condolences for Gaza victims in the Mansion House.
Image: Sasko Lazarov/Photocall Ireland
Abdelrazek signing the Book of Condolences for Gaza victims in the Mansion House.
Image: Sasko Lazarov/Photocall Ireland
THE PALESTINIAN AMBASSADOR made numerous comparisons between Israel's occupation of Palestinian land to Britain's occupation of Ireland during a Dáil committee meeting today.
In his opening remarks to to the Dáil's Foreign Affairs and Trade Committee, Ambassador Ahmad Abdelrazek said that Ireland "sets a fantastic example in the field of peace building".
He also thanked the Irish people for their support during the recent conflict, something he said had "sent a message of hope" to the people in Gaza.
Abdelrazek also thanked Ireland's Minister for Foreign Affairs Charlie Flanagan following his condemnation of Israel's claim to more Palestinian land on Monday.  
"I would like to extend my appreciation for Charlie Flanagan's comments on the Israeli expansion in the West Bank and for Ireland's continuing commitment to the two-state solution," he said.
Abdelrazek repeatedly stressed that the Palestinian Authority wanted a two-state solution but he questioned Israel's commitment to the same goal.
During the course of over two hours in Leinster House, the Palestinian ambassador was questioned by TDs about the situation in Palestine and about the prospects for a lasting peace deal.
Fianna Fáil's Brendan Smith asked him whether he condemned Hamas's rocket attacks on Israel and if he felt Hamas's disarmament would help achieve a lasting peace.
"I deplore violence from any source it may emanate", the Cavan-Monaghan TD told the committee.
Abdelrazek did not directly talk about Hamas rockets in his response but said that the drawing of a roadmap for a peace process would likely help reduce violence in the region. 
"From the beginning we have said that there is a need for two-state solution," he said.
"Palestine does not to want have a military. If we were at peace there would be no need for weapons. You can't be an occupied people and accept being occupied."
On this point, Abdelrazek referenced Ireland when it was under British control and said that when it sought to achieve independence there were two opinions as to whether violence was required.
The Ambassador was also asked about Hamas's inclusion in talks on the future of the region, something Israel rejects.
"We cannot make peace with only one part of the Palestinian people," he said. "We need to include Hamas as part of the process."
Hamas are  part of the people in Gaza. You have seen that when people supported Hamas even in extreme circumstances. That is why when Israel cannot destroy Hamas, they try to destroy the people in Gaza. Because Hamas are part of the people in Gaza.
In response to questions from committee chair Pat Breen TD and Senator David Norris about the reported recent execution of people in Gaza who 'collaborated' with Israel, Abdelrazek said that Palestinian leader Mahmoud Abbas has condemned these killings.
The Ambassador also responded to questions about Israel's claims that Hamas used people as human shields during the conflict.
"We don't have any evidence that Hamas used people as human shields," he said. "We are awaiting a report from the UN Human Rights Commission who will go to Gaza and they will find out."
Boycott
Abdelrazek also spoke about the international response to the situation in Gaza.
"When there is injustice you can't be neutral. You have to work to end injustice," he said.
Asked about a boycott of Israel, Abdelrazek told the committee that "we are not calling for the extreme", just that Israel is treated the same as other countries when it comes to international sanctions:
Why, when they consider a decision to boycott countries because of breaches in the law. Why then when Israel breaches the law they are not treated the same. We don't understand.
The Israeli Ambassador to Ireland Boaz Modai was present in the committee gallery when Abdelrazek was speaking. He will answer questions from the committee when he concludes.