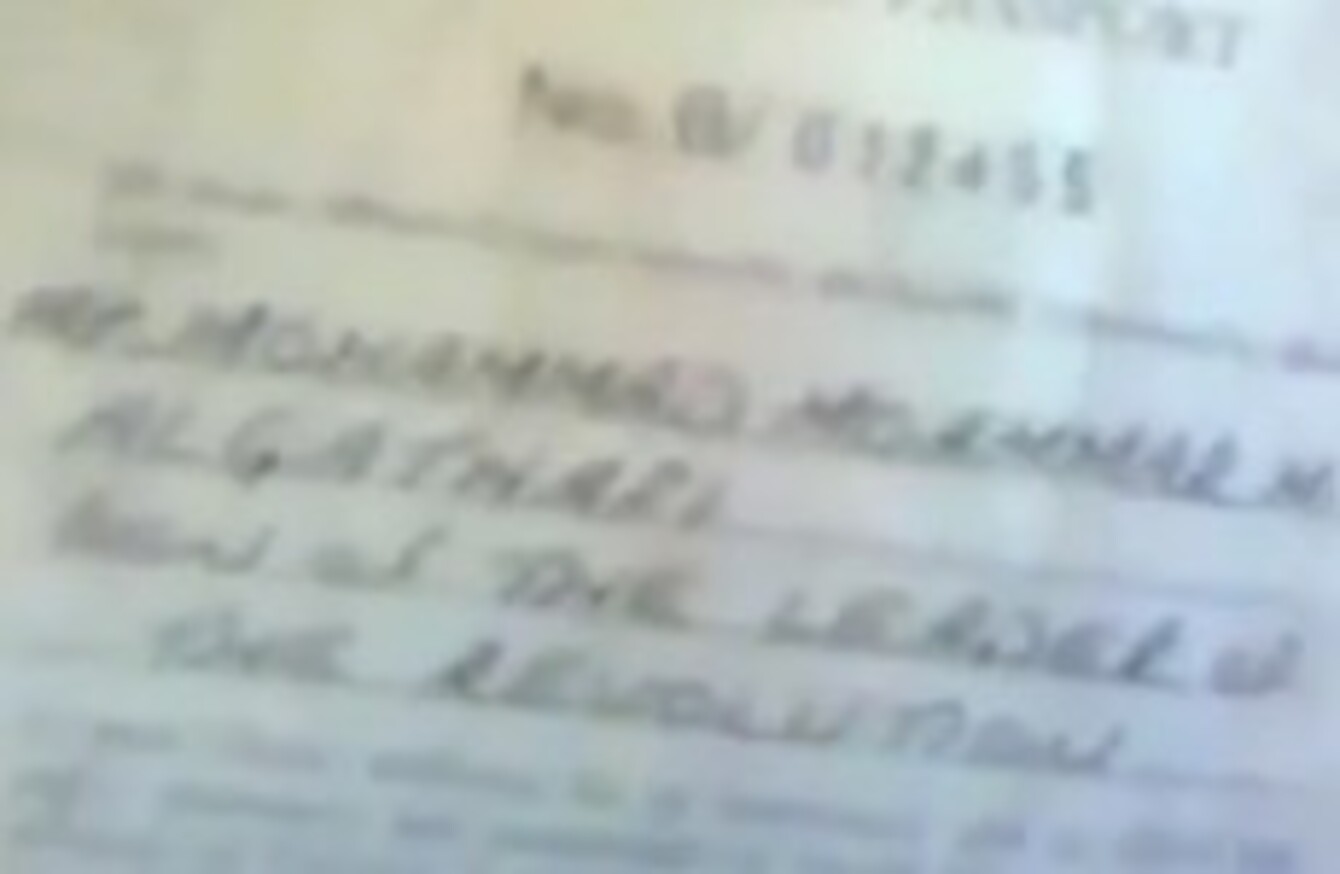 Still from a video which shows somebody flicking through the Libyan leader's diplomatic passport.
Still from a video which shows somebody flicking through the Libyan leader's diplomatic passport.
THE IRISH TIMES calls him Muammar Gadafy, the New York Times says its Qaddafi, while the US State Department has gone with Qadhafi.
However, it has been revealed that the longtime Libyan leader spells his own name Muammar al Gathafi.
The debate about the strongman's name has raged on for years, with ABC News even putting someone to work to see how many versions he or she could come up with.
The beleaguered staffer discovered 112 different variations of the leader's name before he visited the US for the first time in September 2009. The broadcaster explained that because of the difficulty in translating Arabic to English, alternative spellings are unavoidable.
Here at TheJournal.ie, we've stuck with the most common version – Muammar Gaddafi – but we've all been proven wrong.
The Libyan Youth Movement uploaded a clip to YouTube yesterday showing the autocrat's diplomatic passport, which was found when rebels stormed his compound in Bab al-Aziziya.
Although blurry, the video shows that he believed the proper spelling to be – Muammar al Gathafi.

So, who got it right?
The winner is…eh, well no mainstream Western media source has used that exact spelling in the past month. A quick "Google News" search reveals that the London-based Middle East Online has been spot on with the spelling but the website is virtually on its own.
Seemingly omniscient Google even has a different view. The search engine's handy "did you mean?" tool wants the Internet user to call him Gaddafi. If you type in any other variation to "Google Search", it will bring you back to the results for "Gaddafi".
The passport is rare proof of how Gaddafi himself would like his name denoted in English. He only speaks Arabic in public but a diplomatic passport must be written out in the Latin alphabet. If he had his way, he would be called "the king of kings of Africa" as he was introduced at a 2009 meeting of the United Nations General Assembly.
Blogger Slugger O'Toole uncovered this clip of The West Wing, which shows that the debate over the leader's name pervaded popular culture long before the revolution began.