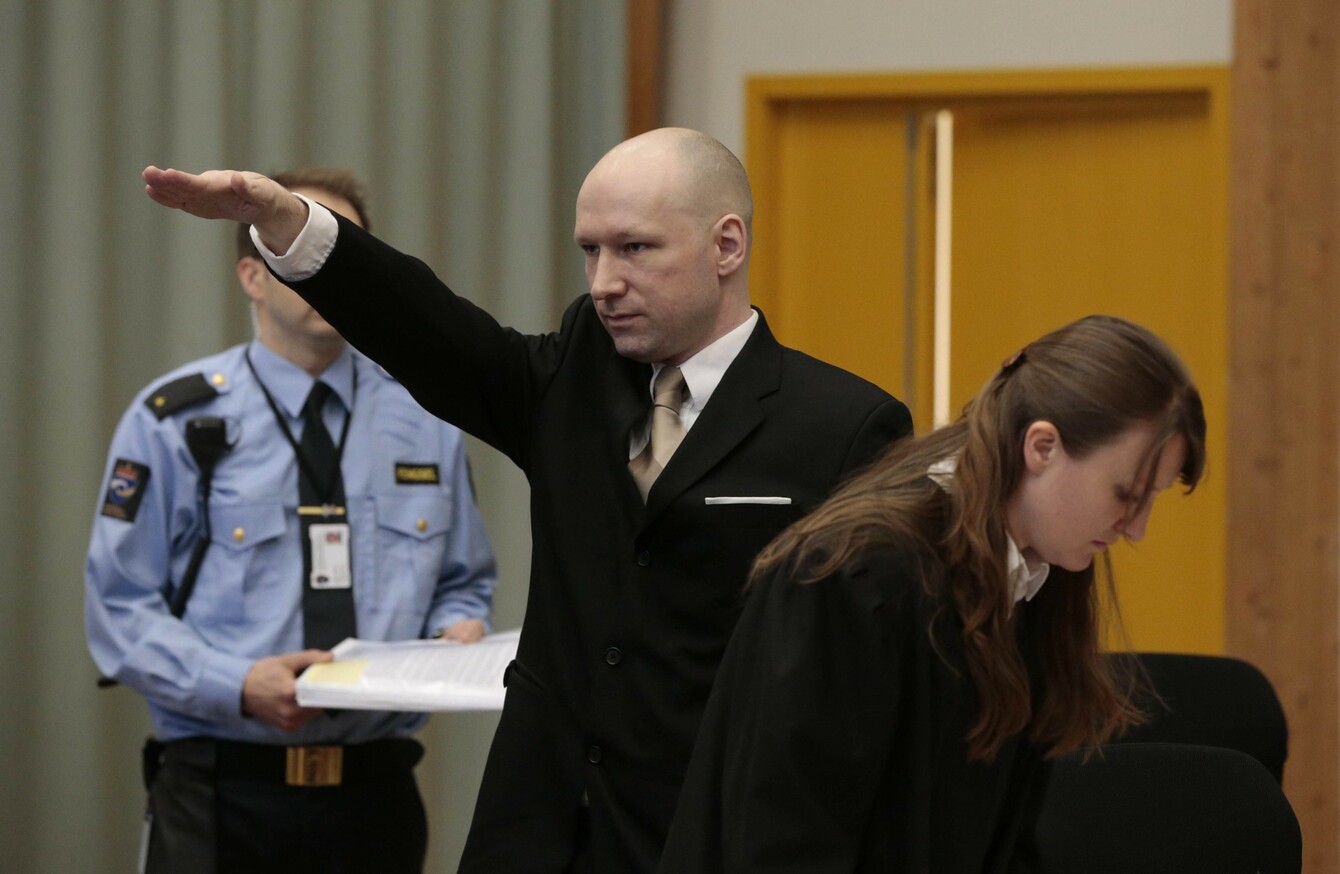 Breivik gestures as he enters a courtroom in Skien.
Image: AP
Breivik gestures as he enters a courtroom in Skien.
Image: AP
MASS MURDERER ANDERS Behring Breivik made a Nazi salute today as he arrived in court for his lawsuit against the Norwegian state, which he accuses of violating his human rights by holding him in isolation.
Appearing with a shaved head and clad in a dark suit with a white shirt, the rightwing extremist entered the courtroom – set up in the gymnasium of the Skien prison where he is being held – and turned toward the media before raising his right arm.
Breivik is serving a maximum 21-year sentence for killing 77 people – eight in a bomb attack outside a government building in Oslo and another 69, most of them teenagers, in a rampage at a Labour Youth camp on the island of Utoya in July 2011.
On several occasions during his 2012 trial, Breivik, made a variation of the Nazi salute by holding his closed right fist to his heart and then extending his arm.
In a letter sent to AFP on October 27, 2014, Breivik described himself as a "militant nationalist" and pledged his "allegiance to national socialism".
The 37-year-old, who has been held apart from other prisoners, has sued the Norwegian state for breaching two clauses of the European Convention on Human Rights, one which prohibits "inhuman or degrading treatment or punishment", and one which guarantees the right of respect for "private and family life" and "correspondence".
For security reasons the four-day court proceedings are being held behind high grey walls at the Skien prison, about 130 kilometres (80 miles) southwest of Oslo.