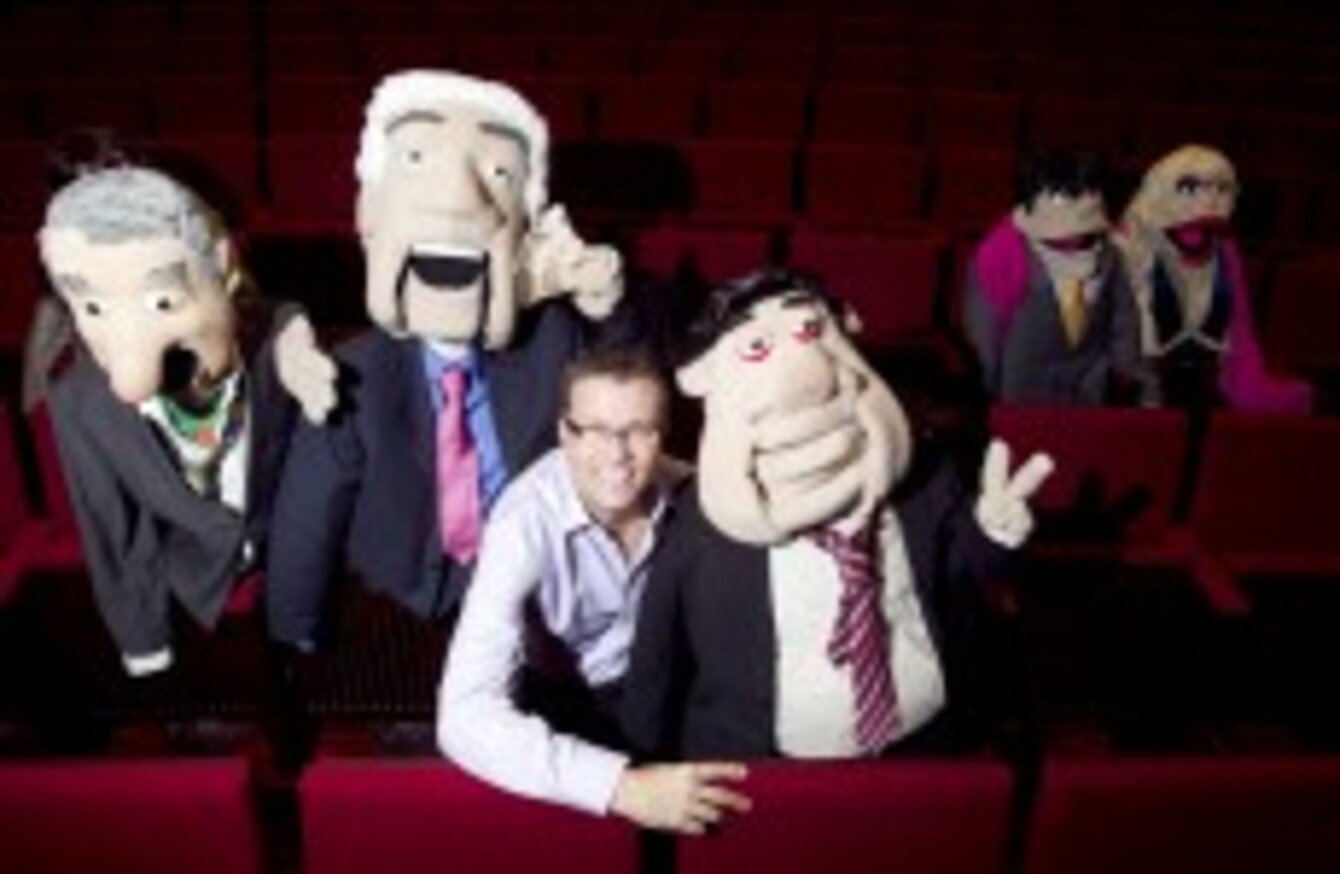 Paul Howard aka Ross O Carroll Kelly, poses with puppets: Bertie Ahern (left) Seanie Fitzpatrick (second on left) and Brian Cowen (third on right)
Image: Leon Farrell/Photocall Ireland
Paul Howard aka Ross O Carroll Kelly, poses with puppets: Bertie Ahern (left) Seanie Fitzpatrick (second on left) and Brian Cowen (third on right)
Image: Leon Farrell/Photocall Ireland
WHEN ANGLO: THE Musical opens on 14 November, one key character will be missing.
The musical, which "charts the rise and fall of a nation via a cast of puppets, bankers, politicians, developers and even the odd human being", will have to carry on without Seán Fitzpatrick the puppet, one of its producers confirmed today.
Speaking to TheJournal.ie today, Darren Smith of Kite Entertainment said the producers received a letter from the DPP and one from Fitzpatrick's solicitors advising that they should seek legal advice on the play which Smith said they were doing already.
The decision was made two weeks ago to write Sean Fitzpatrick, who would have appeared in the musical as a puppet, out of the script and a song called 'Putting on the Fitz' has also been taken out.
"We always knew things would change with court proceedings and if they did change we would have to be prepared for that," Smith said. "That's the reason we were getting the legal advice in the first place, we have to be responsible".
Writer Paul Howard told Newstalk today,that the show was inspired in part by Avenue Q, an American musical also featuring puppets. The musical about a couple who live on an island off the west coast of Ireland who take out a €819 million loan on foot of advice that they are 'underborrowed', in order to build a shopping and apartment complex.
"Lily-livered"
Smith said he wanted to assure people that the show is still "really funny" despite the recent script changes and said performers have had more than enough time to prepare with the new script.
"People might say 'they're lily-livered' or 'they're not standing up to the man' but those people haven't seen the play – only we know what's in it," he said. "We're incredibly excited and even proud of it and we're confident that we have a great show in the new script."
The play will also feature puppet versions of former Taoisigh Bertie Ahern and Brian Cowen but neither have voiced their opposition to references to them in the show.
"We don't expect them to either," Smith said. "We wouldn't be the first to do an impression of them and we won't be the last…but hopefully we'll be the best."
When asked if he thought people should learn to laugh at the economic situation, Smith diplomatically said he "wouldn't want to tell people what to do but personally I think humour can be a good release valve".
ANGLO: The Musical previews on 13 November and runs until 25 November in the Bord Gáis Energy Theatre.