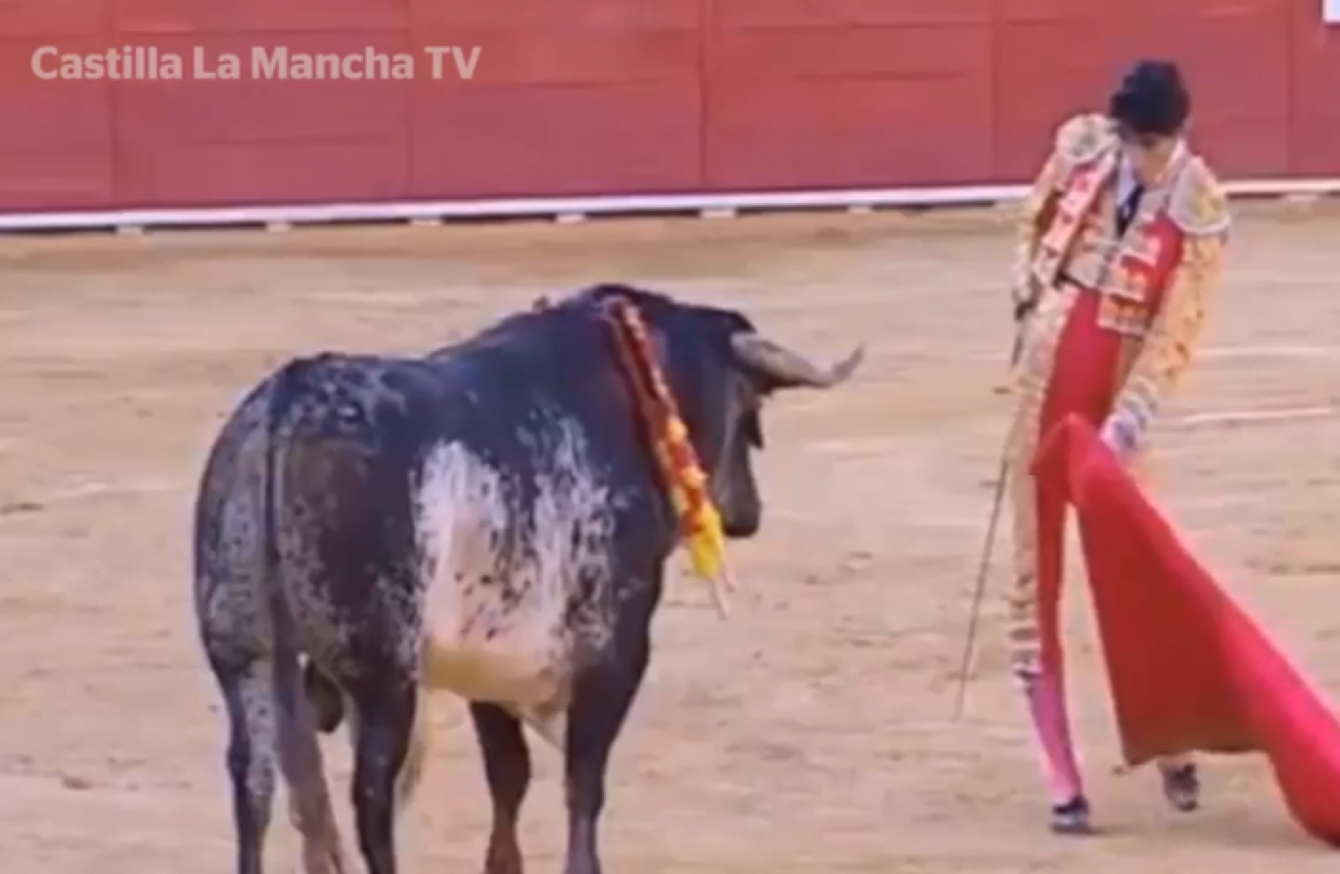 Victor Barrio before the incident on Saturday
Image: Castilla La Mancha TV
Victor Barrio before the incident on Saturday
Image: Castilla La Mancha TV
ANIMAL RIGHTS ACTIVISTS have hit out at a tradition that could see the killing of the mother of the bull that gored a matador to death in Spain on Saturday.
The 29-year-old bullfighter Victor Barrio became the first person to be killed in a bullring for more than three decades after being struck in the chest and tossed in the air.
Lorenzo – the bull that killed Barrio – has already been killed, and a Spanish tradition dictates that the mother of the animal should also be put down to ensure the discontinuation of the bloodline.
The proposed slaughter of the bull's mother, a cow called Lorenzo, has drawn the ire of Spanish animal rights' group PACMA.
It has launched a petition entitled: '¡Salvemos a la vaca Lorenza!' (Let's save Lorenza the cow!), and has issued a statement in which it has said that the group "reject traditions based in violence, revenge and blood" and also calls for the total abolition of bullfighting.
The group's campaign has drawn support on social media, with one Facebook post opposing the killing of the animal's mother drawing more than 5,700 shares and 8,600 likes.
Despite support for the campaign, reports in Spanish media have said that Lorenza has already been killed.
Spanish news site ABC.es has said that the bull's mother had already been put down due to old age.
In the wake of the goring a number of anti-bullfighting protesters took to social media to celebrate Barrio's death – something that prompted Spain's Civil Guard to tweet: "To wish for or rejoice in someone's death is not illegal, but shows nastiness".
- Contains reporting from AFP