Image: Laura Hutton/Photocall Ireland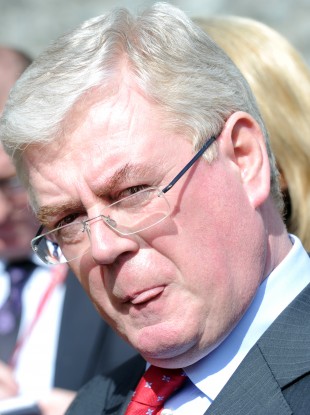 Image: Laura Hutton/Photocall Ireland
Updated 14.41
A CONFIDENTIAL EMAIL sent by the Labour Party chairman – and leaked to RTÉ's Morning Ireland earlier today - had suggested there was "another context" to events of recent weeks, including the primary care centre controversy and subsequent resignation of junior minister Róisín Shortall.
That "context" was discussed by party leader Eamon Gilmore at a news conference this afternoon. He said the coalition has a "job to do" to restore Ireland's economy and it is important the country has a stable government in doing so.
He said the "context" mentioned in the memo was the state of the country.
Asked whether he had supported Shortall, he said he had and that he continued to hold her in high regard. He regrets "very much" that she resigned and called her an "outstanding" public representative.
In the letter to party members, Colm Keaveney admitted that there has been "disquiet" over Shortall's resignation and the events surrounding it.
The matter was discussed during a phone call and face-to-face meeting between the chairman and leader.
"I am satisfied that there is another context to the story that he has not been able to publicly articulate, given the media atmosphere at this time. This context needs to be discussed with the party's members and he is considering how to do that at some point in the future," the letter said.
Keaveney also warned members to be cautious when making public comments as they could be "construed by the media to mean something other than what was intended".
"There are some in the media that are hostile to Labour and to our values and would only be delighted to use any internal tensions, not for our good, but for the detriment of what we stand for. There must be a degree of confidentiality concerning internal correspondence like this."
Fianna Fáil spokesperson Billy Kelleher called the letter "extraordinary", adding that it fueled fresh questions for the Tánaiste.
He said it showed that Gilmore "held back key information" from the Dáil over the matter.
Earlier today, the Labour leader's car was subjected to 'an egging' from a group of protesters outside The Base youth club on Blackditch Road in Ballyfermot.
-Additional reporting by Jennifer Wade