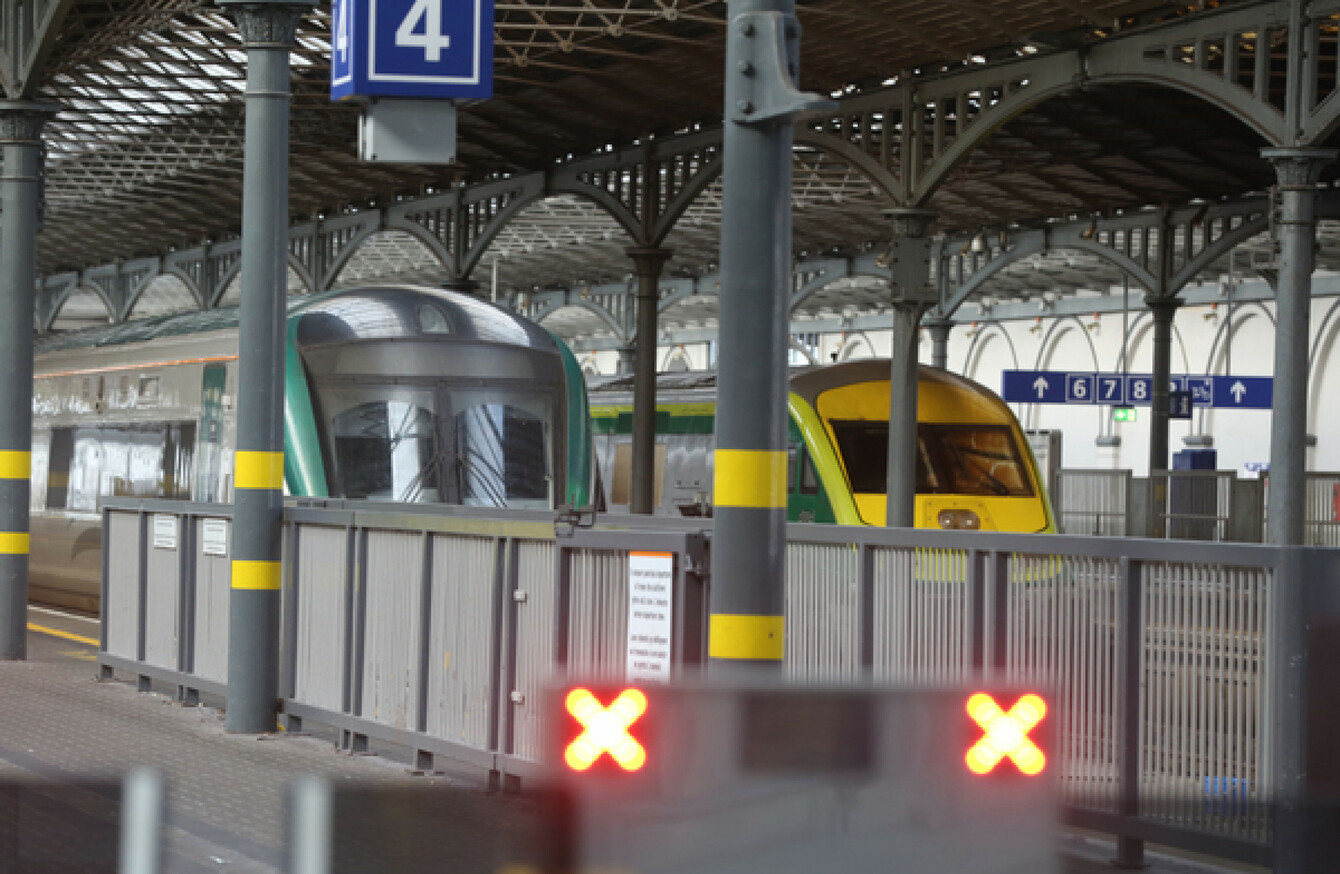 The NBRU is warning rail workers may take preventative measures in order to deal with anti-social behaviour.
Image: Sam Boal
The NBRU is warning rail workers may take preventative measures in order to deal with anti-social behaviour.
Image: Sam Boal
IRISH RAIL HAS described a stabbing on one of its services overnight as "unprecedented". 
A teenager was rushed to hospital, while a second was arrested following the incident between Killester and Harmonstown stations in Dublin last night. The boy suffered a stab wound to the chest, however his condition is not believed to be life threatening. 
Gardaí said "it appears that the victim and suspected offender were known to one another".
The incident brings to the fore concerns over anti-social behaviour on rail services in the capital, in particular. 
Irish rail spokesperson Barry Kenny told TheJournal.ie its protocols in dealing with incidents have been reviewed, "following a rise in anti-social behaviour the company has increased security patrols by 35% over the last 18 months". 
Kenny praised the Garda response to last night's incident as excellent: 
The key issue for public transport providers is that ensuring the response we get (to incidents) is excellent. It's not for us to dictate where Garda resources are deployed. 
Last night's stabbing follows chaos on late night dart services this summer following a Liam Gallagher concert in Malahide and a Taylor Swift gig in Croke Park. In that incident passengers pried doors open, smashed a window and ended up walking home along the tracks.  
In response to last night's attack the National Bus and Rail workers Union has written to both the Ministers for Transport and Justice renewing its appeal for a dedicated Garda Transport division. 
In the letter General Secretary Dermot O'Leary has said that anti-social behaviour has now been "normalised": 
It seems not a week goes by without another headline appearing across various media platforms highlighting yet another assault on our Public Transport system, last evenings serious incident on an Iarnród Éireann service between Killister and Harmonstown may serve to be a watershed moment in the ongoing debate on the issue of anti-social behaviour and outright thuggery on transport services, it has now reached crisis point.
O'Leary's letter continues to outline the level of concern amongst his members on the issue: 
It is no exaggeration to say that commuters, and staff travelling and working on public Transport, are doing so in constant fear of either being attacked themselves, or witnessing various forms of anti-social behaviour, up to and including serious assault. 
In a statement to TheJournal.ie a Department of Transport spokesperson said Minister Shane Ross is taking the issue seriously. The spokesperson said it has engaged in consultation with Iarnród Éireann and the Railway Safety Advisory Council on the matter: 
The views of Iarnród Éireann and the Railway Safety Advisory Council have now been received.  The Minister is now engaging with the Minister for Justice on this issue and has written to him to seek his views. 
However the spokesperson highlighted the deployment of Gardaí and Garda resources is a matter for the Garda Commissioner:
Any dedicated transport police that may be considered necessary would require additional resources.  The allocation of all Garda resources, including the manner in which Garda personnel are deployed, is solely a decision for the Garda Commissioner and his management team.
The NBRU said members had initially been hopeful with Minister Ross' openness to the idea this summer, however O'Leary said staff are now concerned they may have to take matters into their own hands: 
The mood among transport workers has changed dramatically on the back of a number of recent assaults across both our Train and Bus services, whilst they were encouraged by the Minister's initial response in early summer, they are now of the view that they may have to take their own preventative measures, inclusive of assessing service provision in particular hot spots and in areas with a high prevalence of anti-social behaviour.