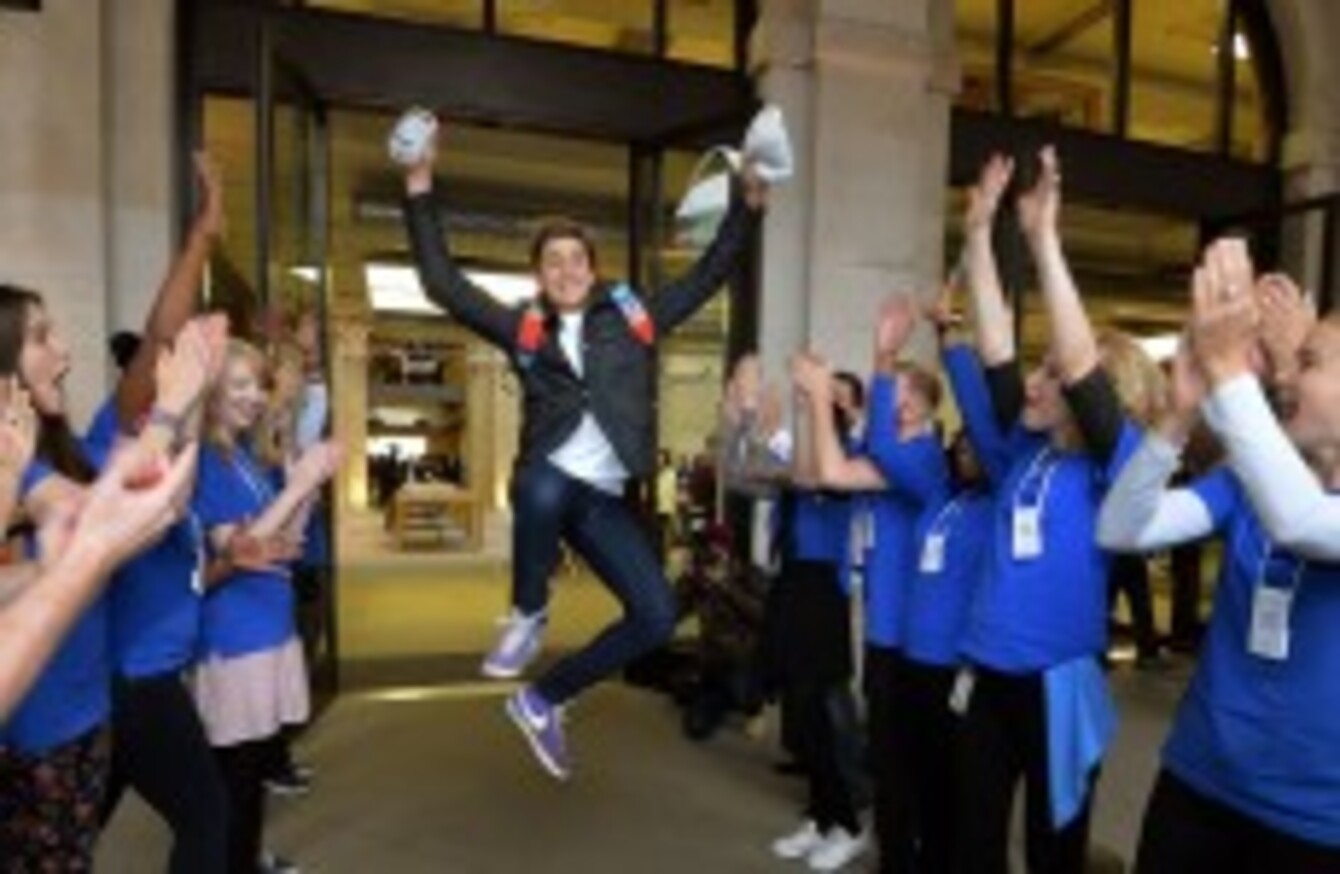 A teenager celebrates after buying a new iPhone at the Apple shop in London
Image: John Stillwell/PA Wire
A teenager celebrates after buying a new iPhone at the Apple shop in London
Image: John Stillwell/PA Wire
TO SAY THAT Apple had a good end to 2014 would be a bit of an understatement.
For those who missed it, it recorded its highest ever profit in a quarter - €15 billion to be exact - and revealed that it sold over 34,000 iPhones on average every hour during that period.
Its CEO Tim Cook called the demand for iPhones "staggering", but beyond the massive earnings, it was easy to miss some of the other talking points.
Apple is off to a great start in China, but that's only the first step 
So far, Apple's first proper entry in the Chinese market has got off to a great start – having launched the iPhone 6 and 6 Plus properly in the middle of October – but it's still has tough competition in the form of lower-cost handsets from the likes of Xiaomi.
The solution: expand your online and physical presence. Its online store is available in 350 cities and Apple plans to have at least 40 stores in the country by mid-2016 (it has close to 20 at the moment).
Part of Apple's appeal is that it creates a premium feel around its products, thanks to a mixture of design and advertising, and that's something Apple will be doubling down on when it continues to expand (As an aside, Cook mentioned that online revenue generated in China last quarter was more than the last five years combined, but that's somewhat misleading since the iPhone wasn't really available there until October).
The tablet market is still there for the taking
The iPhone may have been the main talking point, and for good reason, but other areas were covered during the Q&A session.
One of the questions put to Cook related to the iPad's future, and while he described his outlook as "very optimistic and bullish", he threw up an interesting thought.
Here's what I see when I look at it, and the reason I'm so optimistic. I see that the first-time buyer rates are very high and by very high, I mean when you look at the developed markets like the US, Japan, the UK, you would find that 50% of the people are buying the iPad for the first time. If you look in China it's over 70% and so when you have that kind of first-time buyer rates, you don't have a saturated market.
That's probably good news not just for Apple but all of its rivals, such as Microsoft, who are really pushing the tablet range as the future of devices.
He did acknowledge that there was "some level of cannibalisation" happening with the iPhone and Mac, but he reiterated that its strategy is looking at the long-term future of the iPad and not three or four months down the line.
How do you solve a problem like Apple TV?
While Apple was quick to talk about how successful the iPhone and Mac sales were, it ended up glossing over some topics pretty quickly, one of which was the future of Apple TV. All Cook was mentioned about it was that "25 million units had been sold now," and that it was "something that we will continue to look at and find a way to make an even greater contribution than what we're doing."
The key word in Cook's answer was 'now'. Apple TV has been available since 2007 and while it's not exactly a big issue for the company, it really needs something to help kick start it, especially since other rivals like Google, Amazon and Roku are in the market.
Also noticeable in its absence was the mention of the Mac business, especially since it also recorded a record for quarterly revenue – units sold were up 14% to 5.5 million – but it could either be saving that for WWDC in June, where new versions are expected to be announced, or the figure was so small compared to the iPhone that it wasn't worth mentioning.
No sign of Apple Pay over here (yet)
Calling 2015 "the year of Apple Pay", it also had a good start in the US with it making up more than two out of three dollars spent on purchases using contactless payment across the three major US card networks.
The caveat to that is contactless payment wasn't exactly popular to begin with, despite the efforts of Square and Google, but for an industry still in its infancy, it puts it in a prime position.
It may take a while, however, before it officially arrives over here. Cook mentioned there was a lot of "heavy lifting involved" when dealing with the different financial institutions, carriers and banks in each country, but said it was "not something that scares us or preventing us from viewing it as a big opportunity."
2015's hardware will make or break Apple's software products
While the release of Apple Pay is still uncertain, there are three products that will need to hit the ground running: Healthkit and HomeKit.
Apple Watch will be shipping in April and not only it will be interesting to see whether Apple can properly crack the smartwatch market, but the lifestyle market as well. The device is linked to fitness and activity, tying into the purpose of HealthKit, and it means the reception towards Apple Watch will greatly influence HealthKit's future success.
The other area is the automated home, something that Cook very briefly touched upon in his opening remarks. It's too early to say how this sector will unfold for Apple but like HealthKit HomeKit will live or die on the type of products that use it, and their usefulness.