APPLE HAS RESPONDED to criticism of iOS 8 with a number of changes that will appear in the next update iOS 8.1 on Monday.
The new update was announced at an Apple event held earlier today and will bring a few changes to the OS, as well as fixing the numerous bugs and issues that plagued the original release.
For one, it brings back Camera Roll, a feature which allowed you to view recent photos and removal annoyed many developers and users, as well as the many features that tie into the new Mac OS X, Yosemite.
Another feature that will be introduced is iCloud Photo Library, a beta feature that allows you to store photos from all of your devices in the cloud.
It will also have the necessary update to activate Apple Pay, which will be launched in the US on Monday.
The new update comes after a month of setbacks from the release of iOS 8. Some users were unable to download it as it required 5GB to be free if not connected to iTunes, and a minor update released a week later caused problems with cell reception and Touch ID.
The update will be made available to users on 20 October.
The presentation touched upon Yosemite which has been officially released today. The presentation covered the many features that were announced back in June, with Apple's senior VP of product engineering, Craig Federighi, mentioning that over a million people have signed up to the public beta of OS X Yosemite.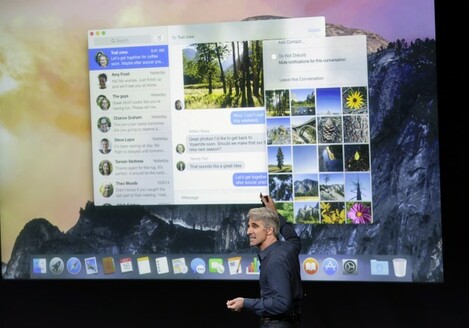 Source: Marcio Jose Sanchez
The major change is its ability to work with other Apple products like the iPhone and iPad. Users can take calls from their Mac and send and receive text messages from it (as well as iMessages), and allows you to sync work from one device to another.
The update coincides with the announcement of two new Mac devices. The first device is an iMac with Retina display which Apple describes as the "world's highest resolution display."
The device has a 27-inch screen and has a 5120 x 2880 resolution. The company noted that this gives it seven times as many pixels as a HD TV, 14.7 million in total, and is calling it a Retina 5K display.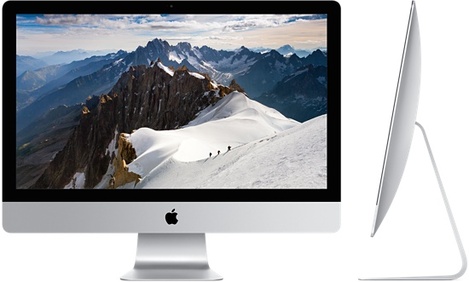 The iMac with Retina 5K display is 5mm thick and displays 14.7 million pixels on its 27-inch screen. Source: Apple
It also announced an updated Mac Mini, the first update for the device in two years, and will come in three different models, the basic version including a 1.4GHz dual-core Intel i5 model with 4GB of memory, 500GB of hard drive storage and Intel HD Graphics 5000 card.
The iMac with Retina 5K display will cost €2,699 while the Mac Mini will start €519.