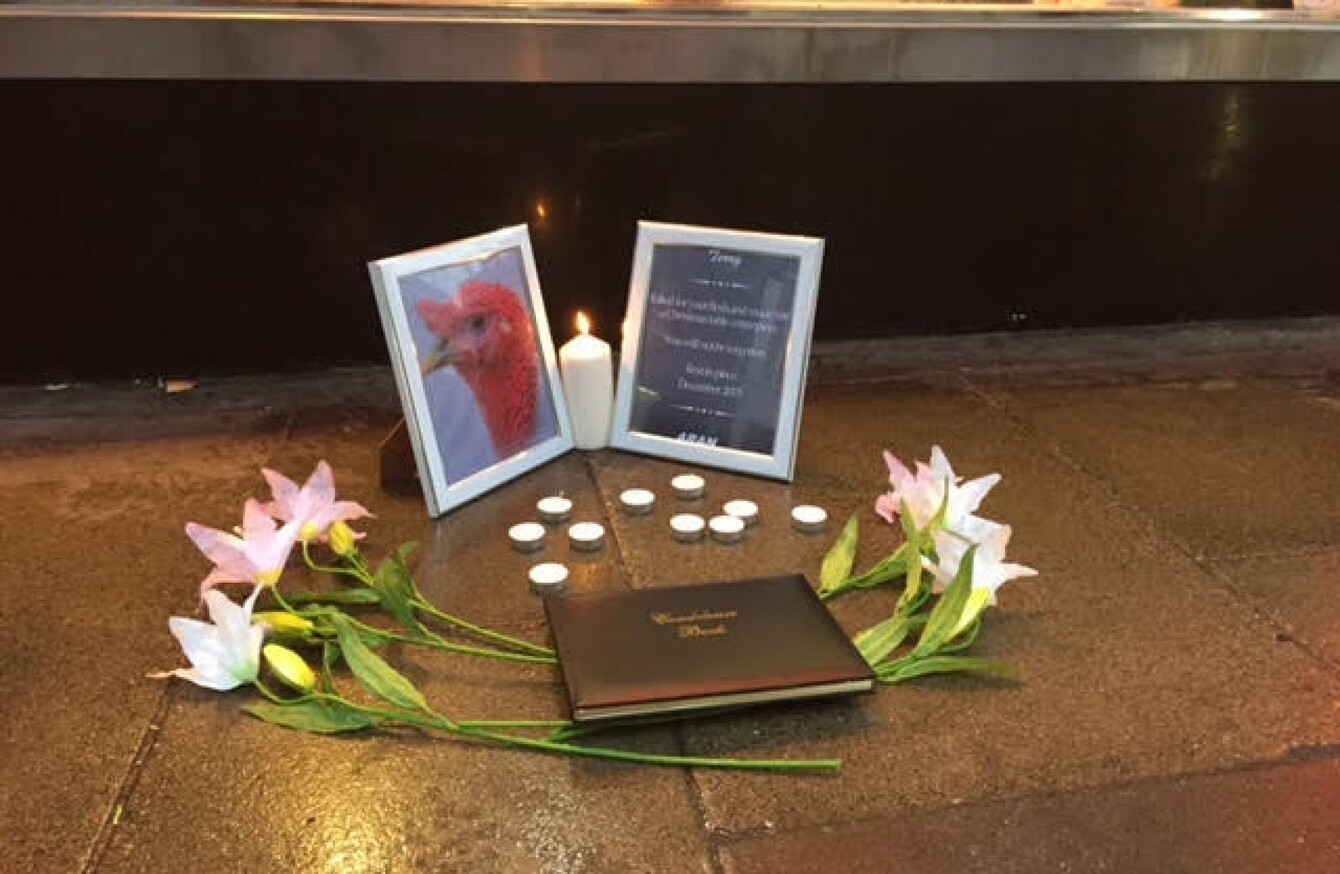 Image: Aran
Image: Aran
AN ANIMAL RIGHTS group is holding a memorial to slaughtered Christmas turkeys outside a Dublin butchers today.
The Animal Rights Action Network (Aran) said the event has been organised to remember the thousands of animals killed for the Irish market every festive season.
The memorial outside the FX Buckley butchers on Talbot Street features an image of a turkey – whom activists have called "Terry" – along with a remembrance note, candles, flowers and a book of condolence for passersby to sign.
"Most animals, unless they're a beloved family companion, don't get funerals – especially not those killed for their flesh in the run up to Christmas," John Carmody of Aran said.
Butchers would rather their victims remained out of sight, far from the minds of shoppers.
"We're giving a grave reminder to shoppers that they can pass on goodwill to all by choosing to leave turkey and other living, breathing beings off their plates this Christmas," he added.
Our memorial to Terry the turkey is a remembrance to the many victims who'll sadly end up being a table centerpiece on Christmas Day, a time when there are so many cruelty-free alternatives available.
Conditions
Carmody said the group also wants to raise awareness about the conditions in which many turkeys are held before being slaughtered.
These animals are usually kept in windowless sheds, with just the lucky few having limited access to outdoor areas. [They] are slaughtered in a production line style factory.
"Aran wants Irish consumers to know that turkeys are interesting animals with distinct personalities," he added.
They can live for up to 10 years. They create lasting social bonds and are very affectionate towards each other, rather similar to dogs. In the wild, they can also run at speeds of up to 50mph.
In stark contrast to the above, on factory farms they live for just a few months. They are kept in cramped quarters, where they compete for space, food and water and have no chance for friendly interaction with one another. They have no room to walk, let alone run.
However, Darragh Buckley of FX Buckley told TheJournal.ie that the butchers ensures all its turkeys are free-range.
He said the animals are sourced from a Carlow farm where they are "reared to the highest standard".
"We have visited the farm and seen their turkeys roaming around outside," Buckley said, adding that he thought Aran would be better off targeting other businesses with less regard for animal welfare.