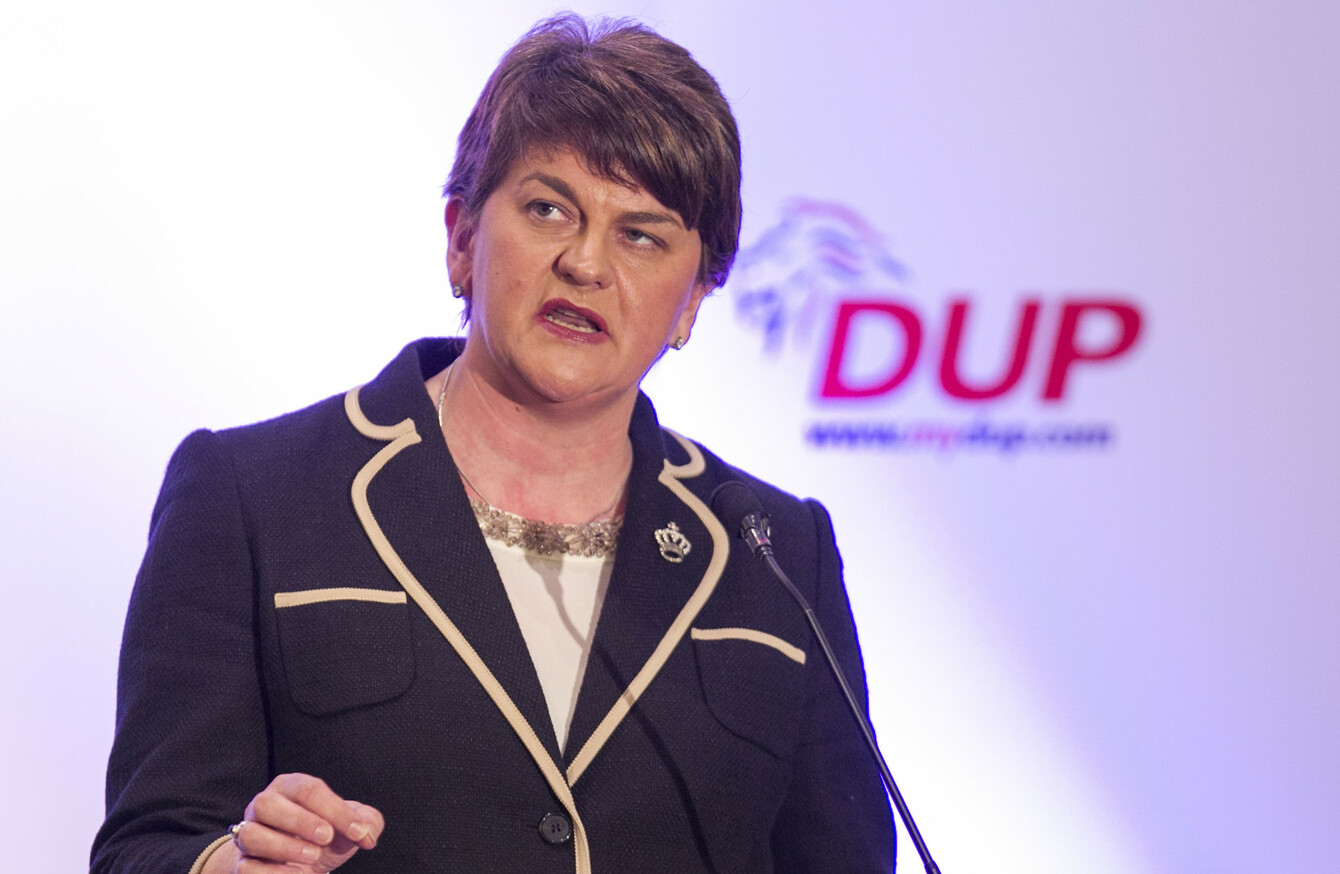 DUP Leader Arlene Foster
Image: PA Archive/PA Images
DUP Leader Arlene Foster
Image: PA Archive/PA Images
Updated Oct 2nd 2018, 3:00 PM
REACTING TO ARLENE FOSTER'S claim that the Good Friday Agreement could be altered to accommodate a final Brexit deal for the United Kingdom, Taoiseach Leo Varadkar said "it is not up for negotiation". 
In an interview with the Daily Telegraph, the DUP leader said it was "deeply frustrating" that the European Union and anti-Brexit voters saw the agreement as sacred.
She said: "It has been deeply frustrating to hear people who voted remain and in Europe talk about Northern Ireland as though we can't touch the Belfast Agreement. Things evolve, even in the EU context.
"There has been a lot of misinterpretation, holding it up as a sacrosanct piece of legislation."
She also suggested that the discussion about how Brexit will affect Ireland was turning people off the idea of leaving the European Union.
"We haven't been able to talk about the aspirations for the nation, we've spent so much time arguing about what's happened," she said.
"[How it's] going to be a disaster for Ireland in inverted commas…instead of actually focusing on what we can achieve in the UK with the Brexit negotiations."
In a wide-ranging interview, Foster praised Boris Johnson's "positive" vision for Brexit, saying she endorsed his "belief" and "spirit" and that she would work with him if he became Prime Minister.
The DUP leader – whose party supports the Conservative Party in the British Parliament under a confidence-and-supply arrangement – would not be drawn on which type of Brexit deal she preferred.
However, she did not rule out support for a Canada-style deal for Brexit if an agreement could be found on avoiding a hard border in Northern Ireland.
But she said she would have to see what any deal meant for Northern Ireland.
"All I can say to you is that whatever is proposed, we will look at our red line, we will judge it against that red line, and we will make a decision," she said.
However, Sinn Féin TD Pearse Doherty hit back at Foster's comments as "reckless".
Speaking on RTÉ's Today with Sean O'Rourke, he called on the Irish government to ensure that changing the Good Friday Agreement did not become an option, adding the the British government needed to "stop messing" and produce credible Brexit proposals.