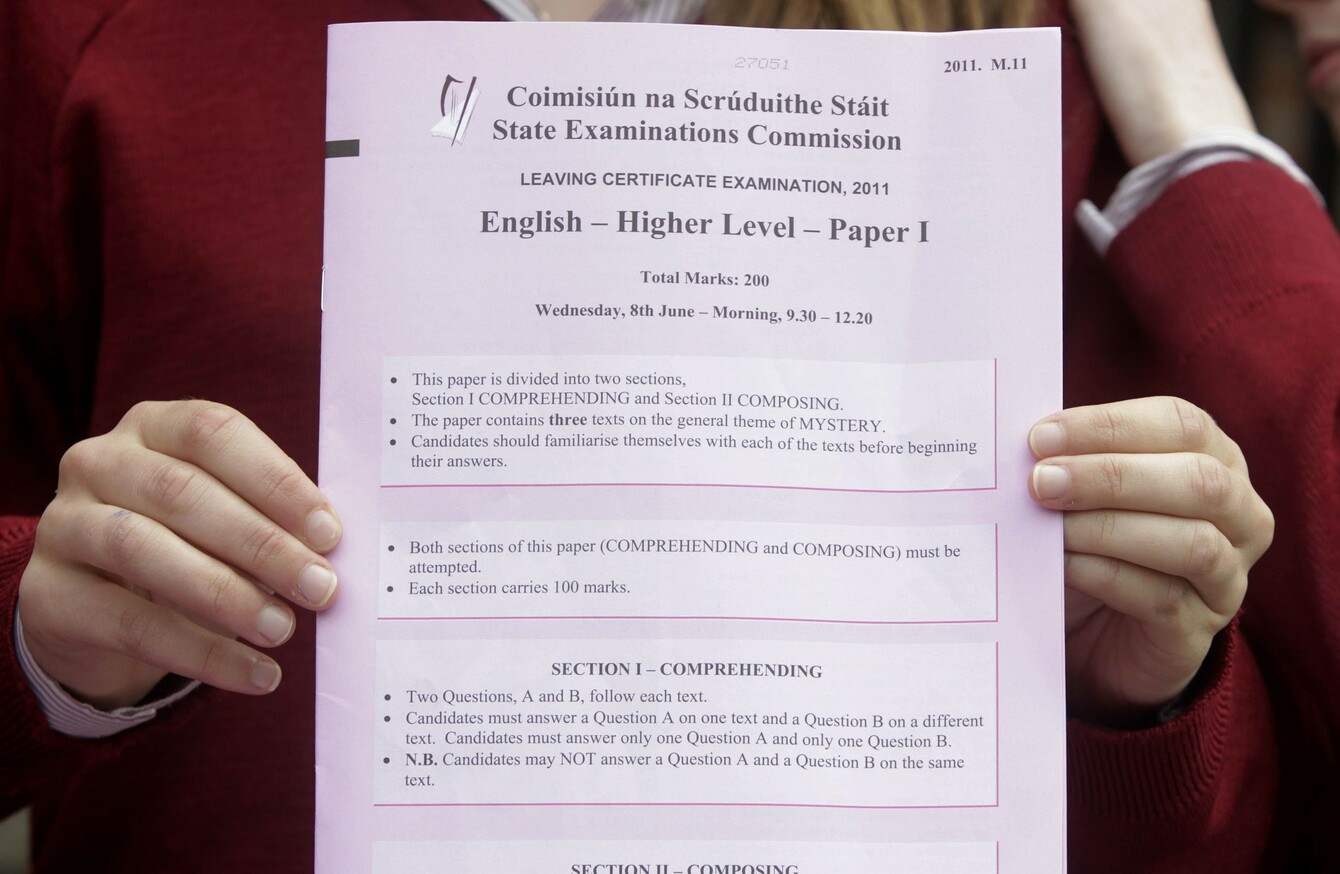 Image: PA
Image: PA
Updated Feb 12th 2021, 4:40 PM
THE ASTI HAS held 'constructive' talks with Education Minister Norma Foley this afternoon over the Leaving Certificate impasse. 
The teachers union agreed to attend fresh talks with Minister Foley this afternoon after they last night withdrew from the discussions. 
The talks are an attempt to avoid a crisis over how to hold this year's Leaving Cert, with confusion remaining over whether a version of the 'traditional' written exam will be held or whether the controversial system of Calculated Grades will be used again.
The government has been engaged in intensive talks with teachers unions and groups representing parents and students over reopening schools and this year's Leaving Cert. 
The ASTI had withdrawn from the Leaving Cert talks over concerns that there wasn't enough work done to assess the students in a Calculated Grades system.
The ASTI today said representatives had "constructive engagement with the Minister for Education Norma Foley and her officials today.
"More work is being done with a view to finding a resolution to the impasse.
"The ASTI will not be commenting further at this time," a spokesperson said. 
A spokesperson for the Department said: "The Minister reaffirmed her strong belief that the process of confidential engagement with all stakeholders agreed last Friday remains the best forum to advance discussions. She extended an invitation to the ASTI to reengage in this process.
"Minister Foley expressed her confidence that the collective wisdom of all stakeholders can ensure that a pathway forward can be found.
"Discussions continued with all the other partners today and will continue throughout the weekend." 
It comes after Higher Education Simon Harris said the ASTI's move to pull out of Leaving Cert talks last night was "beyond unhelpful" but that all stakeholders must now move forward. 
Speaking to reporters today, Harris said the move was a setback and that students "need a plan" as to how the Leaving Cert will be conducted. 
They need this uncertainty to be taken away. Minister Foley is working 24/7 to deliver that and she's engaging with all stakeholders very intensively, it is beyond unhelpful that anyone would walk away from that. But that was yesterday and today's a new day and I'm very pleased that the ASTI have accepted an invitation to meet the minister this afternoon.
"There are no perfect solutions and what Minister Foley is trying to do is find the best possible way forward to serve students that also has the confidence of teachers," he added. 
Harris said the aim of his department for the next college year is to maintain the ratio of 80% of students getting one of their first three options in the CAO. 
He said he believes this is possible due to the 2,000 additional places available next year and the expected reduced numbers of international students. 
Speaking at the same briefing in Government Buildings, Foley's Fianna Fáil party colleague Minister of State Niall Collins said "the country looked on in shock last night" at the ASTI's actions. 
"Why would any participant in the talks walk away without giving any advance notification? At the centre of the talks for all the participants has to be the students because they're at home, they're home-schooling and they're all struggling. That's a fact," he said. 
The ASTI, they haven't been asked to give up their mid-term break, they haven't been asked to reduce their Easter holidays. They haven't been asked to push the Leaving Cert out into July. What we're trying to achieve is what the students have asked for, which is a choice. So I think everyone has to pull together.
Calculated grades
Last year, a system of Calculated Grades was held that meant students were assessed based on previous work they had done in fifth year, and the judgement of their teachers.
These teacher-awarded grades were then 'standardised' by an algorithm in an attempt to bring them in line with previous Leaving Cert results.
For this year's Leaving Cert students, the government had initially said that it preferred to hold the 'traditional' Leaving Cert. But after group representing students, the ISSU, presented a survey and other evidence that suggested a choice between the two would be students' most preferred option. 
In response to the ASTI's decision last night, the Irish Second-Level Students' Union (ISSU) said that it was "shocked and disappointed".
"This statement has caused stress, anxiety and worry to skyrocket amongst students. It is adding fear into an already high pressure situation, and the delivery of clarity for students has been further pushed out due to this breakdown in talks.
"This is a time when students need cooperation between all stakeholders.
#Open journalism No news is bad news Support The Journal

Your contributions will help us continue to deliver the stories that are important to you

Support us now
"Students have been through a horrendous year and now may face an uphill battle in the months ahead – we need to show them compassion, we need to provide clarity, and the ISSU position remains that students deserve a choice."
Speaking on RTÉ Morning Ireland, a representative of the TUI, the other secondary teachers' union said that they are remaining in the talks to find "potential solutions that will address the concerns of teachers".
He said that the union believes that a written exam will be able to be held this year. 
Harris noted today that officials have more time this year to plan for an alternative to a traditional Leaving Cert and that this presents "a window of opportunity".  
"I think maybe the final model was probably agreed maybe a month later than when the original Leaving Cert was due to take place.
This year if we can reach a decision very shortly we're in the month of February and the next college year won't begin for seven or eight months. So that does provide us with a window of opportunity here to try and do everything we can to support students.
The minister added that he "genuinely believes" that September will "look extremely different in a positive way" in terms of Covid-19 and that there will be "a significant increase in onsite attendance" for third-level students next year.
- With reporting by Rónán Duffy and Cónal Thomas