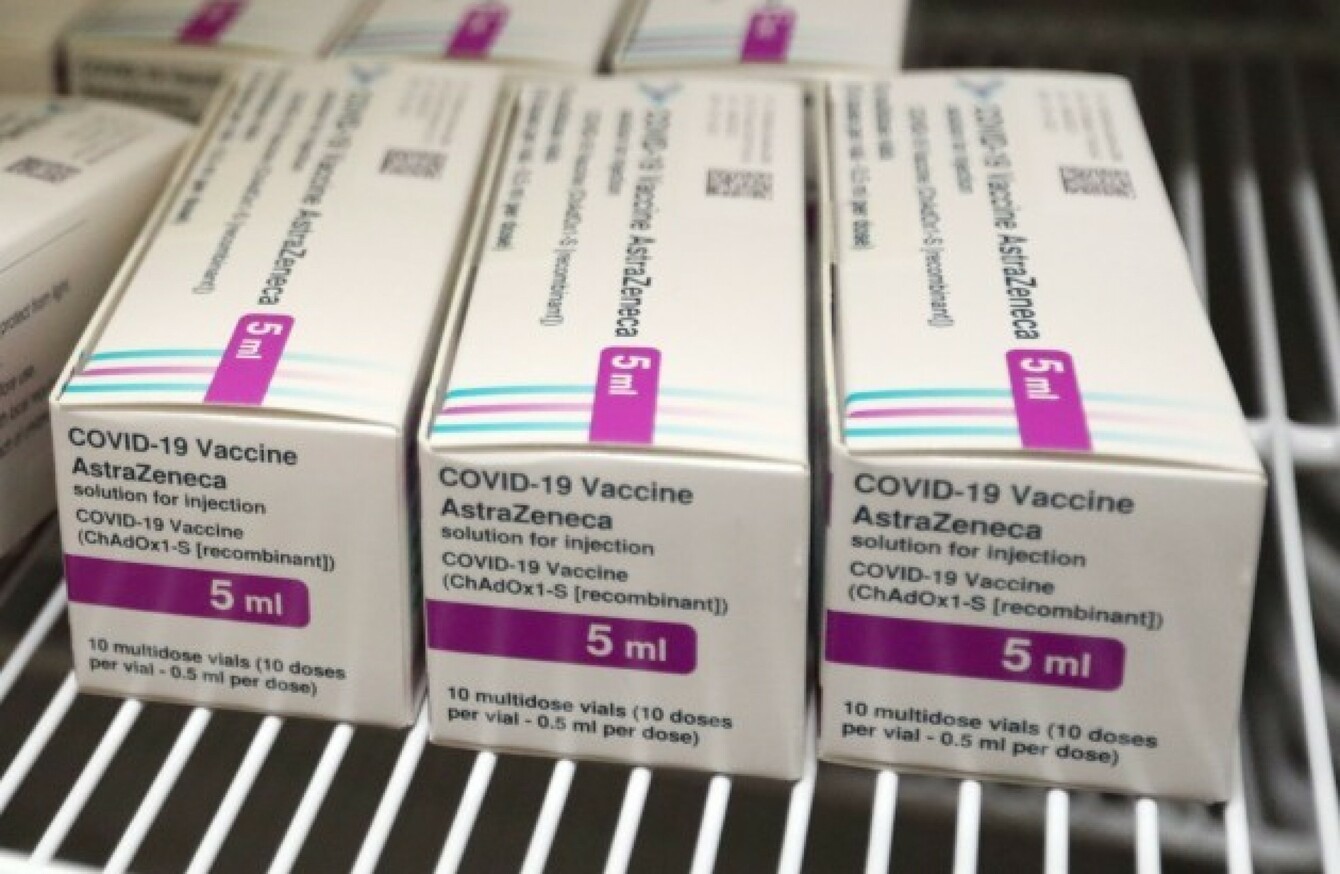 Image: RollingNews.ie
Image: RollingNews.ie
Updated Apr 12th 2021, 9:08 PM
THE NATIONAL IMMUNISATION Advisory Committee (NIAC) has recommended that the Oxford/AstraZeneca Covid-19 vaccine should only be given to those aged 60 and over only.
The committee met this morning to review the vaccine following a warning from the European Medicines Agency (EMA) last week that unusual blood clots should be listed as a "very rare side effect".
NIAC discussed the EMA's statement and has consulted with EU colleagues, and is expected to recommend restricting the use of the vaccine in certain age groups as a precautionary measure.
In a statement this evening, NIAC outlined that, under its revised advice to the Department of Health, the AstraZeneca vaccine (known as Vaxzevria) is not recommended for those aged under 60, including those with medical conditions with very high or high risk of severe Covid-19. 
NIAC said that a second dose of the AstraZeneca vaccine should not be given to anyone who developed unusual blood clots with low platelets after the first dose. 
NIAC's advice for those who have received a first dose of the AstraZeneca vaccine is: 
Those aged 60 and older should receive their second dose 12 weeks later as scheduled.
Those aged under 60 years with a very high risk or high-risk medical condition should receive their second dose 12 weeks later as scheduled.
Those aged under 60 years without a very high risk or high-risk medical condition should have the scheduled interval between doses extended to 16 weeks to allow further assessment of the benefits and risks as more evidence becomes available.
Cancellations
The HSE has this evening confirmed that it has written to all hospital groups and healthcare organisations to advise that all AstraZeneca Covid-19 vaccination clinics planned for tomorrow should be cancelled.
The HSE said the clinics should be cancelled in light of the updated guidance received from NIAC today. 
"Anyone due to attend an AstraZeneca clinic is therefore advised not to do so," the HSE said. 
It said it will be in contact with patients in due course to rearrange their appointment. 
"We apologise for any inconvenience," the HSE said. 
Speaking at a press briefing this evening, Deputy Chief Medical Officer Dr Ronan Glynn said the HSE needs to be given "at least a couple of days" to model the impact of the recommendations on Ireland's vaccine rollout. 
Commenting on the new advice in a statement this evening, NIAC chairperson Professor Karina Butler said: "NIAC realises the need to balance the significant benefits of a national vaccination programme with the very rare risk of these reported events.
"While this is an extremely rare condition, consideration must be given to the fact that it has a very high risk of death or severe outcome. As the risk/benefits of Vaxzevria Covid-19 AstraZeneca vaccine may vary by age and as alternative Covid-19 vaccines are available NIAC has revised the recommendations for use of this vaccine.
"In developing these recommendations, NIAC is informed by the available scientific evidence and the risk/benefits of the vaccines. New evidence will be reviewed once available and any further required recommendations will be notified to the Department of Health.
"We strongly encourage everyone to accept the Covid-19 vaccine they are offered. A high uptake of vaccine in every age group is needed if Covid-19 is to be controlled, so that public health restrictions may be safely removed."
Concerns
Last week, the EMA said that most of the rare cases of blood clotting that had been reported so far had occurred in women under 60 years of age within two weeks of their first vaccine dose. 
Specific risk factors have not yet been confirmed.
Symptoms include: shortness of breath, chest pain, leg swelling, persistent abdominal pain, neurological symptoms such as persistent headaches or blurred vision, and tiny blood spots under the skin beyond the site of injection.
However, EMA Executive Director Emer Cooke highlighted that the benefits of the vaccine in preventing Covid-19 outweighed the risk of any potential side effects. 
The EMA said the chance of these rare clots occurring is "very low" but that people should be aware of symptoms in order to receive prompt treatment if needed.
Speaking at tonight's press briefing, Dr Ronan Glynn said the age cut off of 60 years was taken "as an abundance of caution". 
Dr Glynn said anyone under the age of 60 who has recently received the AstraZeneca vaccine "should be reassured that they've got a very effective vaccine". 
"I would fully appreciate the fact that they may have concerns, that they may have some anxiety," Dr Glynn said. 
He added that people who have received the vaccine who have concerns "should contact their GP". 
"Information has gone to all practitioners across the country in recent days," Dr Glynn said. 
Dr Niamh O'Connell said at the briefing that "it is not uncommon for people to have mild headache, mild aches and pains, mild fever and fatigue in the first 72 hours after having any vaccine and people should not be concerned about that". 
"What we're really asking people … is that if they have persistent or severe headaches that in particular occur from day four onwards, up to day 28, but particularly in the first two weeks after the vaccine, if those headaches are associated with any other symptoms such as weakness in the arm or leg, blurred vision or seizure activity, of course people should seek medical attention if those occur," Dr O'Connell said. 
AstraZeneca response
In a statement this evening, AstraZeneca said it "recognises" the decision taken by NIAC.
"Implementation and rollout of the vaccine programme is a matter for each country to decide," AstraZeneca said.
"Reviews from the regulatory authorities in the EU and UK have reaffirmed the vaccine offers a high-level of protection against all severities of Covid-19 and that these benefits continue to far outweigh the risks," it said.
#Open journalism No news is bad news Support The Journal

Your contributions will help us continue to deliver the stories that are important to you

Support us now
The statement went on to say: "AstraZeneca has worked closely and quickly with regulators to implement changes to the product information and understand the epidemiology and possible mechanisms that could explain these extremely rare events.
"We will continue to collaborate with the NIAC in order to provide all available data to inform their decisions."
AstraZeneca is expected to supply 813,000 doses to Ireland in Q2 – 224,000 in April, 262,000 in May and 327,000 in June. 
NIAC in February recommended that people aged 70 and over should receive mRNA vaccines – from Pfizer/BioNTech or Moderna – "where practicable and timely". 
The HSE at the time said that these vaccines are "preferential" for older people, based on current evidence of the efficacy of this type of vaccine against Covid-19. 
Pfizer and Moderna vaccines use messenger RNA (mRNA) technology, while the vaccine from Oxford/AstraZeneca is a viral vector vaccine.
Chief Medical Officer Dr Tony Holohan said that mRNA vaccines should be administered "to all those over 70 years in order to provide the highest level of protection available to this population. 
With reporting by Stephen McDermott