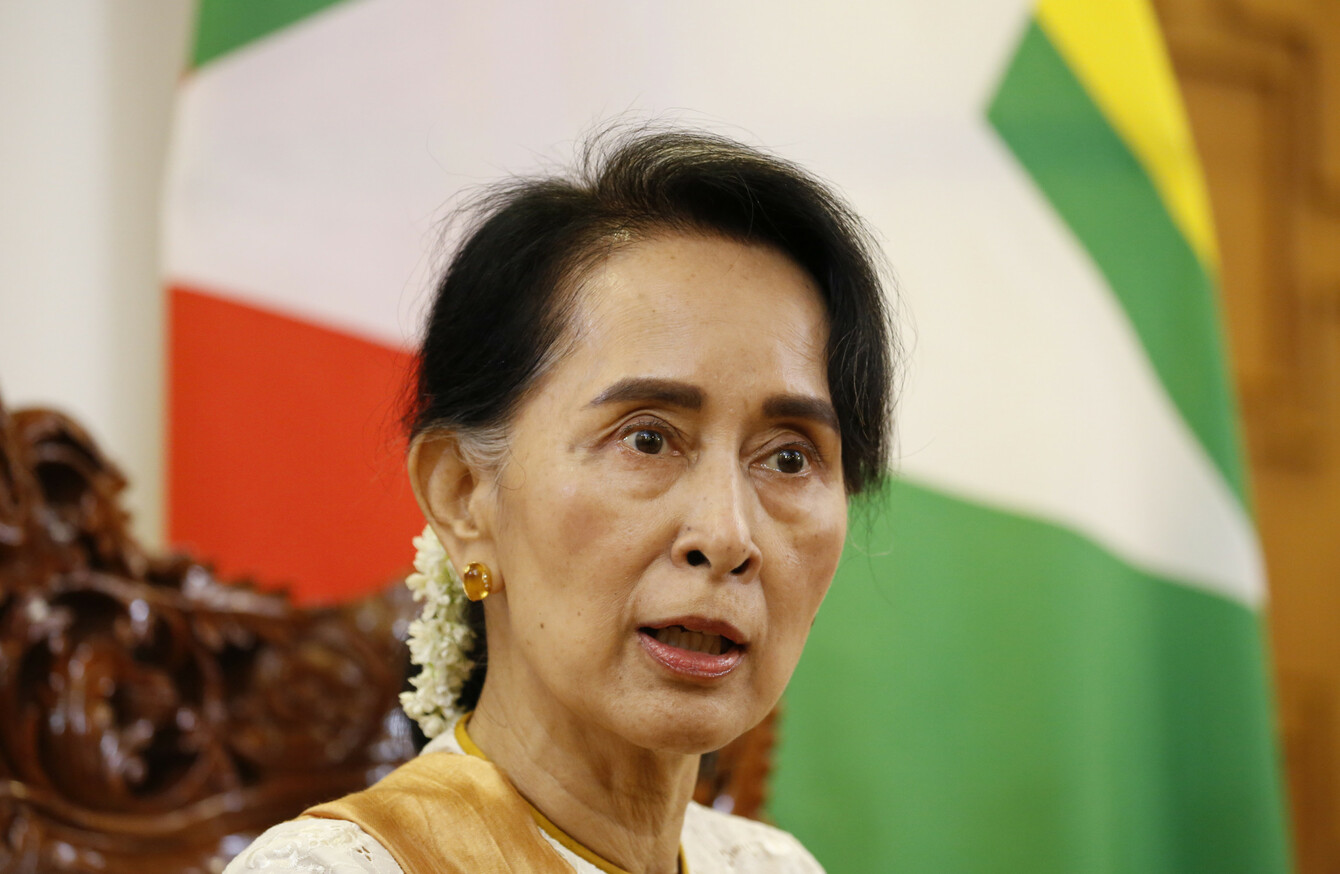 Myanmar leader Aung San Suu Kyi
Image: PA Images
Myanmar leader Aung San Suu Kyi
Image: PA Images
AMNESTY INTERNATIONAL HAS announced that it has stripped Myanmar leader Aung San Suu Kyi of the Ambassador of Conscience Award, its highest honour.
The organisation's Secretary General Kumi Naidoo wrote to Suu Kyi yesterday to inform her that it was revoking the honour, given to her in 2009 and awarded to her in Dublin in 2012.
The group said it had decided to do so in light of Suu Kyi's "shameful betrayal of the values she once stood for".
As de facto leader of Myanmar's civilian-led government in April 2016, Suu Kyi has repeatedly come under fire after her administration was actively involved in the perpetuation of human rights violations.
Naidoo expressed disappointment that, halfway through her term in office and eight years after her release from house arrest, Suu Kyi had not used her political or moral authority to safeguard human rights, justice or equality in Myanmar.
He also cited her apparent indifference to atrocities committed by the Myanmar military and increasing intolerance of freedom of expression.
"As an Amnesty International Ambassador of Conscience, our expectation was that you would continue to use your moral authority to speak out against injustice wherever you saw it, not least within Myanmar itself," Naidoo wrote.
"Today, we are profoundly dismayed that you no longer represent a symbol of hope, courage, and the undying defence of human rights.
"Amnesty International cannot justify your continued status as a recipient of the Ambassador of Conscience award and so with great sadness we are hereby withdrawing it from you."
During the campaign of violence unleashed against the Rohingya people last year, Myanmar's security forces committed thousands of murders, rapes and acts of torture, while burning hundreds of homes and villages to the ground.
More than 720,000 Rohingya fled to nearby Bangladesh, with a UN report later calling for senior military officials to be investigated and prosecuted for the crime of genocide.
"Aung San Suu Kyi's failure to speak out for the Rohingya is one reason why we can no longer justify her status as an Ambassador of Conscience," Naidoo added.
"Her denial of the gravity and scale of the atrocities means there is little prospect of the situation improving for the hundreds of thousands of Rohingya living in limbo in Bangladesh or for the hundreds of thousands of Rohingya who remain in Rakhine State.
"Without acknowledgement of the horrific crimes against the community, it is hard to see how the government can take steps to protect them from future atrocities."
Last year, Dublin City councillors also revoked Suu Kyi's Freedom of the City, with singer Bob Geldof also returning his own award in protest at being included on the city's list of freemen alongside her.