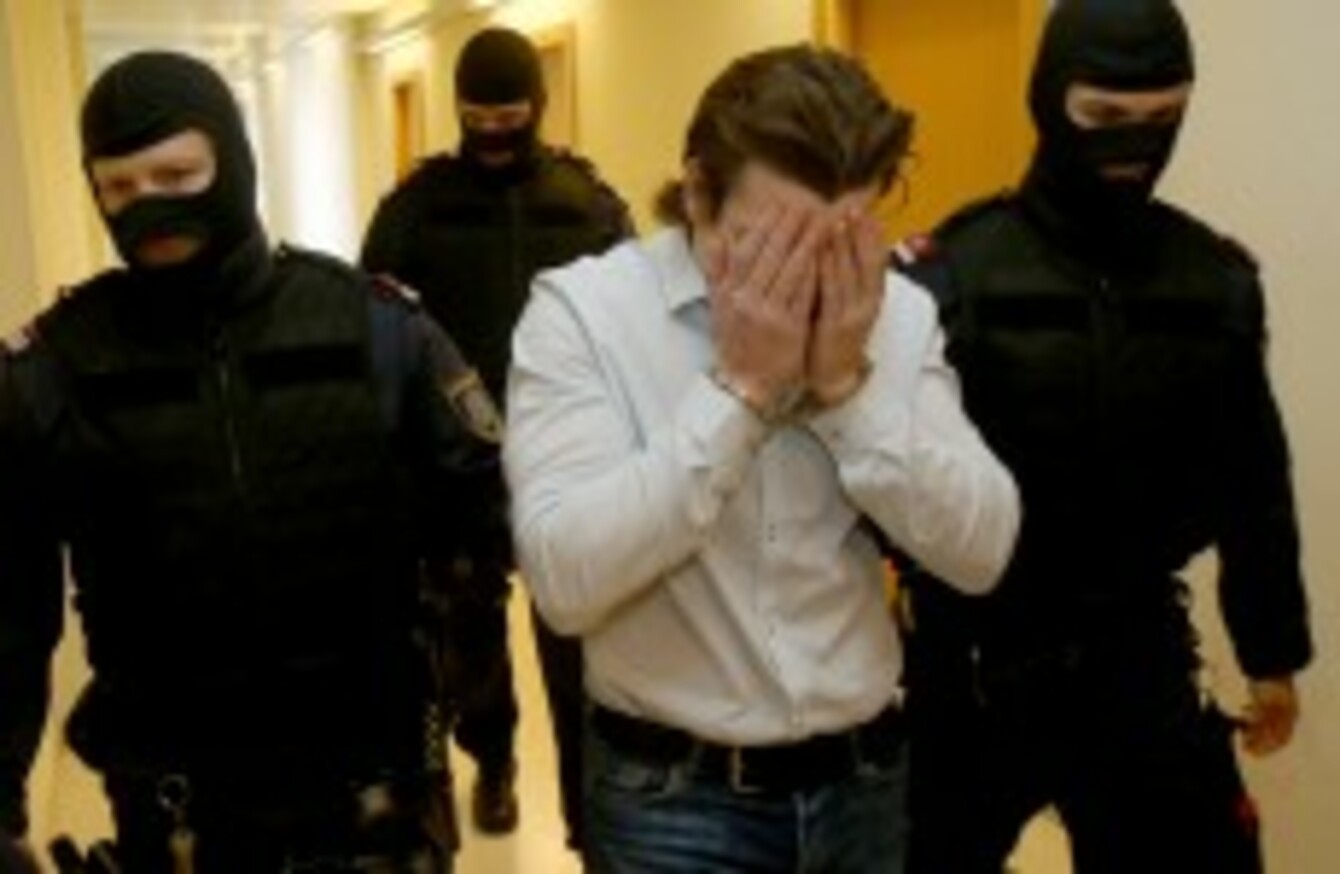 A 19-year-old suspected Islamic State supporter, center, is surrounded by officers when arriving for his trial at the main court in Vienna, today.
Image: Ronald Zak
A 19-year-old suspected Islamic State supporter, center, is surrounded by officers when arriving for his trial at the main court in Vienna, today.
Image: Ronald Zak
A 14-YEAR-old Austrian schoolboy was convicted today of planning to bomb a Vienna train station in the name of the Islamic State group and sentenced to eight months behind bars.
The teenager of Turkish origin was found guilty of belonging to a "terrorist" organisation and given an additional suspended jail sentence of 16 months by a court in his hometown of Sankt-Poelten.
According to the charge sheet, the teenager, who emigrated from Turkey in 2007, wanted to carry out the attack before travelling to join "holy war" in Syria alongside the Islamic State (IS) group.
Explosions in public places
Police had said at the time of his arrest in October 2014 that the boy made "concrete enquiries about buying ingredients" for a bomb and "planned to explode the devices in public places, such as the Vienna Westbahnhof," a major train station.
His lawyer Rudolf Mayer said his client — who he said grew up "without a father" and who turns 15 in the coming days — had only been "playing with the idea" of making a bomb.
Placed in a special school for troubled children where "prospects for professional development are almost inexistent", the boy had "looked for recognition, to belong to something," Mayer told the court.
Imagine the power of propaganda that says to young people who feel they are living an empty existence: 'You can do something good, and get money and women'.
It was his own family who alerted authorities to his growing radicalisation.
Police found violent images and IS propaganda on the teen's computer, mobile phone and games console. The public prosecutor told the court that the defendant expressed "no feelings of guilt".
The baby-faced teenager appeared in court in a grey hooded top. He listened in silence to opening comments from the prosecution and his attorney before media were ejected.
The authorities asked the media not to name the boy because of his age.
He has been in custody since January after breaking the terms of his bail. Because of his young age he had faced up to five years behind bars.
'Children get raped'
A 16-year-old girl who went on trial separately in Vienna today, but was acquitted on charges of belonging to a "terrorist" organisation.
The girl, wearing an Islamic dress, told the court that she converted to Islam in 2014 because it was "for me the most beautiful religion" and because in Christianity "children get raped", the Austria Press Agency reported.
Last year she got to know on the Internet Jusip D, an 18-year-old of Chechen origin who wanted to join IS. The two got married under Islamic law and the next day he left for Syria.
She wanted to follow him but her mother prevented her from leaving and took away her passport.
In February she tried again to leave, saving up €300 for a bus ticket to Istanbul, but was arrested the day before her intended departure.
She told the court that she believes her husband has been killed fighting in Syria.
"When you love each other then you want to be with your husband. I imagined I could live as a housewife," she said, doing "cooking and cleaning".
"In Austria I get insulted and spat at when I go out veiled," she said. The killing of non-Muslims is "not good at all. But it is an Islamic state and they are brothers in Islam".
She said she plans to move to an Islamic country "when I am an adult".
A 19-year old man suspected of being an Islamic State supporter also went on trial today.