Updated at 10.20am
A BRITISH AIRWAYS flight from London to New York has been delayed overnight in Dublin after a medical emergency forced it to divert to the Irish capital.
Flight BA01749 from Heathrow to JFK was due to land in New York at 9pm yesterday (local time), but diverted to Dublin at around midnight last night as a precautionary measure due to a medical emergency on board.
In a statement to TheJournal.ie, British Airways said its crew cared for an ill customer on board the flight and diverted to Dublin "as a precaution for further medical assistance".
"We would like to apologise for the inconvenience but our priority is always the safety and welfare of our customers and crew," they added.
The plane is now due to leave Dublin at 5.30pm today, and should arrive in JFK Airport at 7.20pm today, local time.
The BA flight scheduled to leave JFK for London Heathrow at 7.15am (local time) today, has been cancelled. Passengers affected by the cancellation are advised to contact the airline for a refund or to rebook their flight.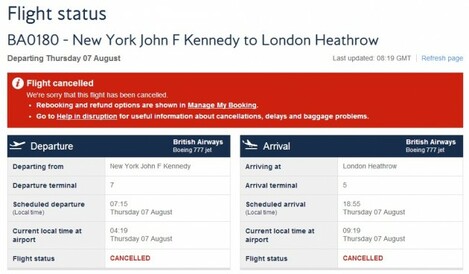 Source: Screengrab/BritishAirways.com