THE CHILD AND Family Agency, Tusla, has been granted a care order for the baby found abandoned in Dublin on Friday.
The child, named Maria by those working with her, was found on a lay-by in Rathcoole last week by a driver who stopped to go to the toilet.
Gardaí have not been able to track the mother and are concerned for her safety.
Speaking on Today With Séan O'Rourke, Valerie Cox, who was in the family court, said that Tusla had told the judge the child had needed a lot of care.
The judge said the child's health and welfare had been neglected and avoidably impaired and there was a report from a consultant neo-natologist from the Coombe.
It said the child needed a lot of medical attention and needs ongoing treatment in both the Coombe and Our Lady's Hospital, Crumlin. He anticipated a good outcome but an Interim care order was needed so that treatment could be given.
The court was told that the child would be DNA tested in the event that the mother comes forward.
If she does, the court was told, she would be given access.
The court order allows doctors to care for the child for 28 days.
The future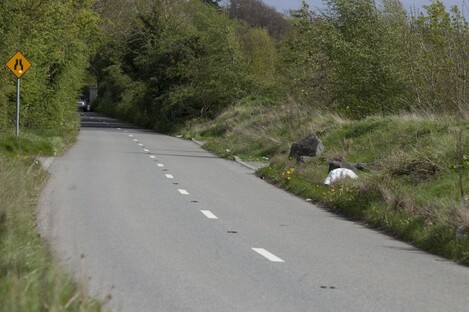 The area on Steelstown Road outside Rathcoole County Dublin, where the child was found. Source: Eamonn Farrell/Photocall Ireland
However, the long-term future of the child is unclear.
In most cases, a parental order is needed to make a child eligible for adoption. Allied to that, the law in Ireland is set to change regarding adoption due to the forthcoming enactment of the 31st Amendment to the Constitution, meaning this case is even more complicated.
Primarily, Tusla says it is focused on reuniting the child with her mother.
While Tusla does not comment on individual cases, in the current situation the Child and Family Agency would urge the baby's mum to come forward so that she can receive the help she needs and so that she can be consulted on her baby's future.
In all cases regarding babies who are found, the first priority is the medical well being of the child. When the baby is ready to leave hospital appropriate care is arranged for the child. Decisions regarding the baby's future, in the absence of parental contact, are overseen by the courts.
Anyone with information regarding the mother and/or the newborn child are urged to contact gardaí at Clondalkin on 01 6667600, the Garda confidential line or any Garda station.
First published 6pm