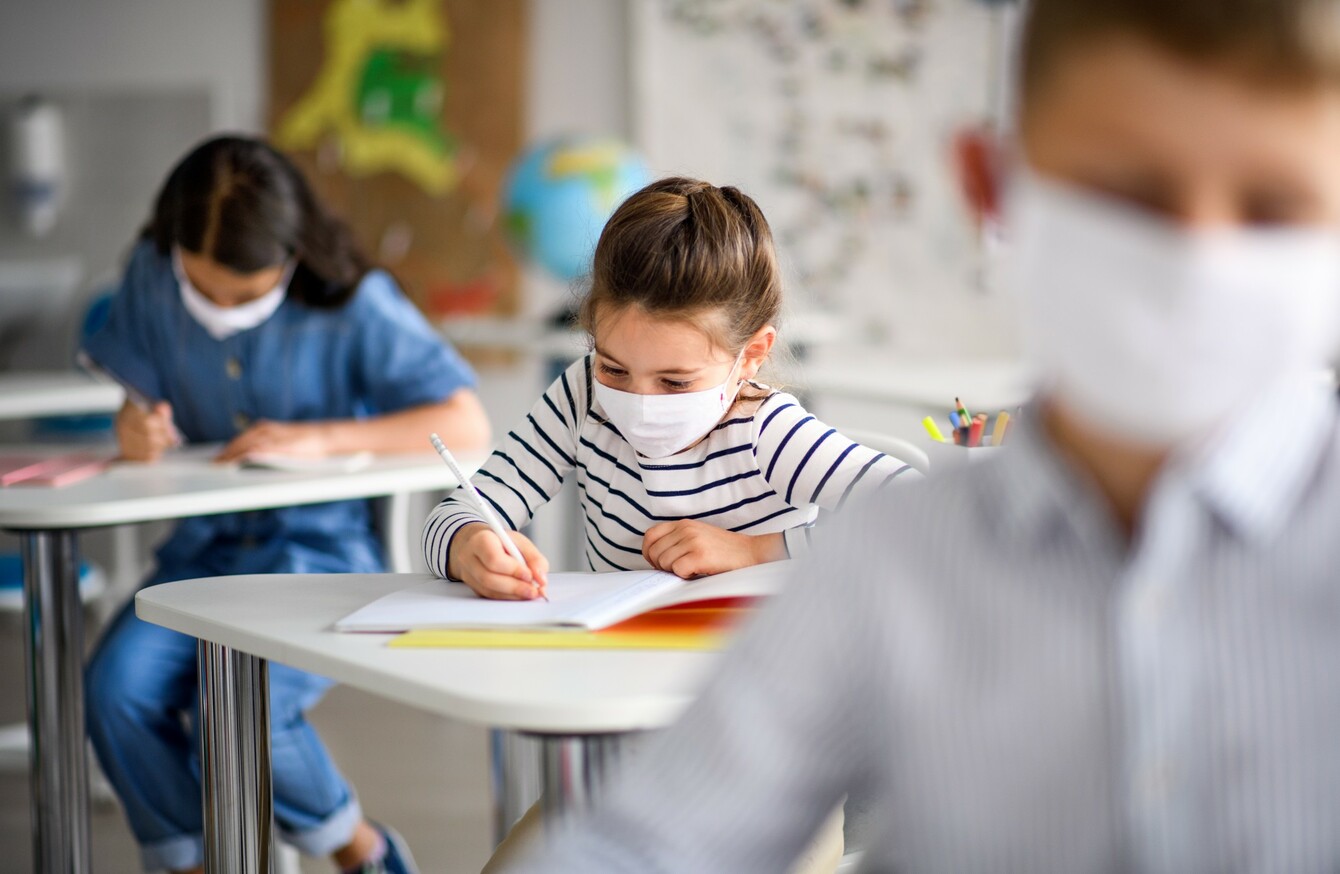 File photo
Image: Shutterstock/Halfpoint
File photo
Image: Shutterstock/Halfpoint
Updated Aug 26th 2020, 3:03 PM
PARENTS AND STAFF at a national school in Athlone, Co Westmeath, have said they are angry with the Department of Education over its lack of back-to-school preparation. 
RTÉ News this morning reported how children at Clonbonny National School will have to be put in a garden shed if they start experiencing Covid-19 symptoms. 
The shed is the only area to place children, suspected of having the disease, as there is no more room left. 
The school had already turned its canteen into a makeshift classroom. Clonbonny NS, which has five teachers and about 125 students, had requested a portacabin from the government in a bid to tackle possible overcrowding at the school.
Labour TD Aodhán Ó Ríordáín said the plans for going back to school should have been released much earlier to give schools enough time to get things in place. 
He said: "For the love of God. This is why the package for re-opening should have been announced in May at the latest. We won't get to ask the Minister about this until next week at the earliest."
The school's principal Joan Donnelly said she had asked the department for a prefab and an additional special needs assistant as there are children in four different classrooms who require the expertise of an SNA.
This means that the current number of SNAs will be required to move between classrooms, creating a higher risk of contracting or spreading Covid.
Speaking to RTÉ's News at One, Donnelly acknowledged that using the shed as an isolation unit is "not ideal".
"If we didn't have this shed, the only space we have is a staff toilet. It's not ideal, but it does allow us to remove a child who would display symptoms and it does allow us to move them off the premises in a safe (way)."
Donnelly said 37 children are sharing a classroom, even though there is not a distance of one metre between the desks.
She said it is the best the school could do, as the department had not responded to its appeal for more space to be provided.
Donnelly said she initially tried to obtain a prefab but was advised by the department that she wouldn't have planning permission to bring it on site, and there would also be an issue with a fire cert.
"They advised me to knock internal walls," she said, adding: "we think that there is potential to knock internal walls of the classroom that we have our 37 children in".
"Had we pursued and proceeded with the plan here, we would have made this building redundant and we wouldn't be in a position to open our doors today."
'Accommodation issues' 
A spokesperson said the department is in contact with the school about its "accommodation issues".
In a statement, they said: "Given that each school setting is different, individual schools are best placed to decide on the appropriate re-configuration measures for their school which are necessary to facilitate school re-opening.
"The Department is in contact with the school in relation to its accommodation issues. The configuration of classes may need to be reviewed by the school given that it has 5 classroom teachers (one of whom is a Teaching Principal) for the 125 pupils."
The spokesperson noted that if a child develops symptoms suggestive of Covid-19 while in school, "they should tell their teacher or designated staff member straight away" and "they will be taken to a designated isolation area".
"Ideally, the isolation area should be a separate room (resource permitting), but it may be an area within a classroom or within the school building where a distance of at least 2 metres from all other people can be strictly maintained."
They added that the department brought forward to August the payment of the annual minor works grant to primary schools, totalling approximately €30 million, which typically is paid in December or January each year.
"In addition, an enhanced minor work grant, which matches the 2019 payment, has also been issued directly to schools. This amounts to €60 million which has now been issued directly to primary schools in minor works grants since the publication of the Roadmap."
An earlier statement from the department in relation to SNA allocation at the school stated: "Clonbonny National School submitted a request for an exceptional review of their SNA allocation for 2020/21 school year as they were of the view that their allocation was insufficient to meet the needs of their students for the year.
#Open journalism No news is bad news Support The Journal

Your contributions will help us continue to deliver the stories that are important to you

Support us now
"The school was given an increase in SNA resources of 0.34 posts under this review process. However, the school appealed the outcome of this review.
"The appeal was not upheld and the school was advised of this in writing on Friday 21st August 2020.
"The NCSE allocates SNA resources in line with the Department of Education and Skills policy. There is no provision for schools to apply for additional temporary SNA resources from September in order to support social distancing in schools."
With reporting by Órla Ryan