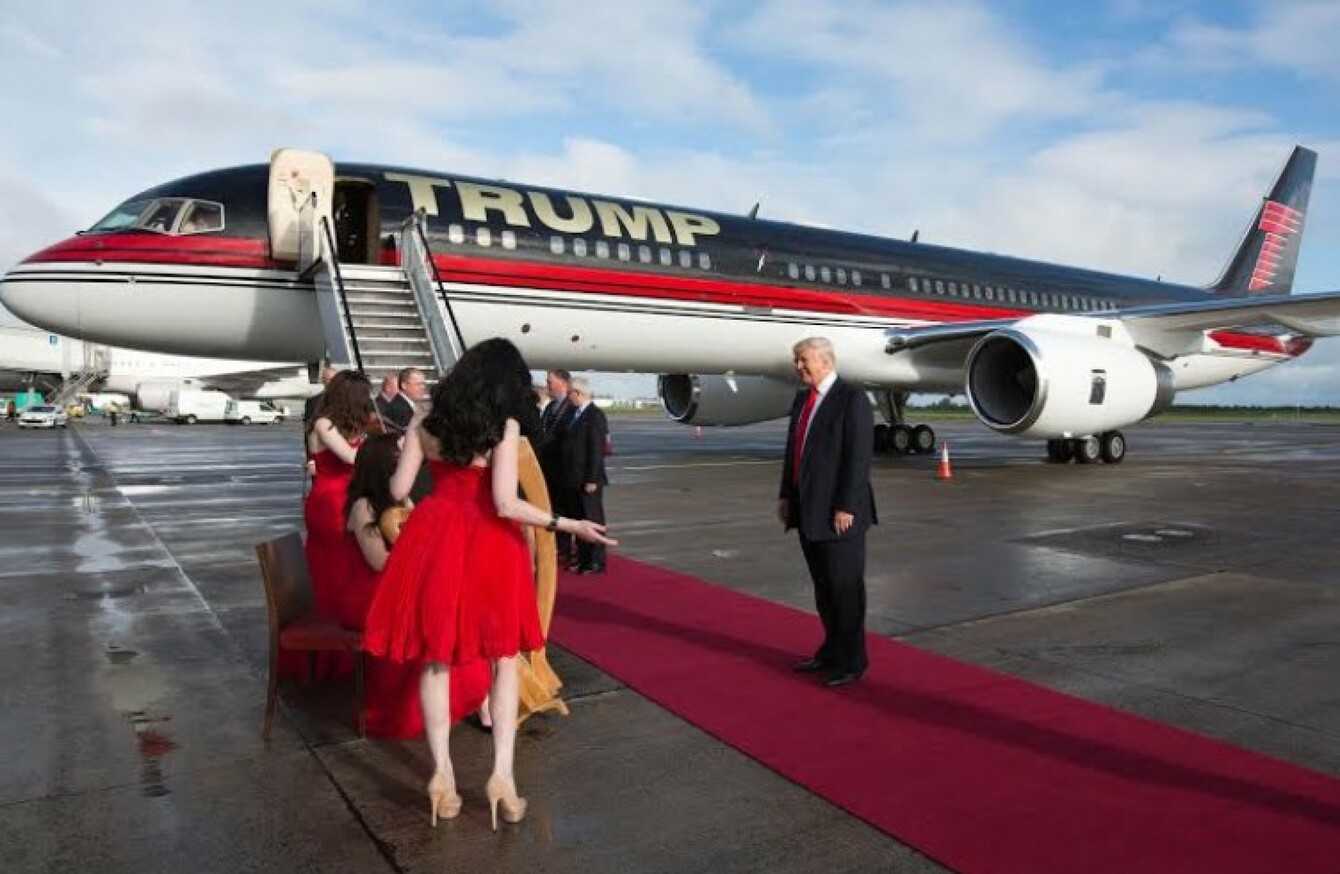 Trump arrives in Shannon in 2014.
Image: Sean Curtin
Trump arrives in Shannon in 2014.
Image: Sean Curtin
TDS AND SENATORS will discuss two petitions calling for Donald Trump to be banned from Ireland.
The proposal will be addressed in coming weeks by the Joint Committee on Public Service Oversight and Petitions.
The panel, who deal with suggestions submitted directly from the public, will also address a petition calling for UFC champion Conor McGregor to be featured on the €1 coin when it meets today.
The Trump entreaties were submitted in December in the wake of the Republican presidential candidate's hugely controversial comments about banning Muslims from America.
His remarks were met with outrage in the US and around the world, and even earned an indirect mention in Barack Obama's final State of the Union address overnight.
Elaine Mernagh's submitted petition is entitled 'Ban Donald Trump from Ireland', while one from Mr Aniq Jawad calls on politicians to 'Ban Donald Trump from Entering Ireland'. Both are being examined to make sure they comply with standing orders.
What will happen?
The Trump and McGregor petitions are unlikely to make much progress beyond being briefly discussed by the TDs and senators who make up the committee, it's expected.
The standing orders, amongst other things, dictate that a petition can't be considered if it "contains the name or names of individuals".
That said, both issues are likely to prompt some debate at the committee: several members chimed in with their two cents when the panel discussed a proposal to enter Father Ted's My Lovely Horse in the Eurovision.
The petitions system, aimed at giving voters a direct influence in parliamentary business, was introduced in September of 2012.
Once considered by the committee, proposals from members of the public can be brought up with the relevant minister, the secretary general of the relevant department, or other officials.
The minister of the day can also be brought before members to answer questions on a given topic.
Speaking in the wake of Trump's incendiary comments last month, Enda Kenny described them as "not acceptable" while Fianna Fáil's Micheál Martin rounded on the government for literally rolling out the red carpet during the businessman's headline-grabbing 2014 visit to Shannon and Doonbeg.