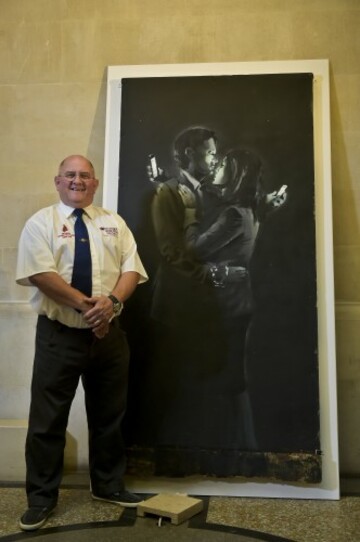 Source: Ben Birchall
A PIECE BY mysterious British street artist Banksy has sold for £403,000 (that's €506,270), and helped save a youth club from closure.
The artwork, which is called Mobile Lovers, shows a couple embracing while gazing at their phones, and appeared on the wall of Bristol's Broad Plain Boy's Club in April.
But as it was attached to a piece of wood and screwed onto the wall, the club's members were able to remove it with a crowbar and sell it.
Mobile Lovers by Banksy Source: Ben Birchall
Confirmed
Banksy confirmed that the club, which is based in the southwestern city of Bristol, owned the artwork in a rare letter to owner Dennis Stinchcombe.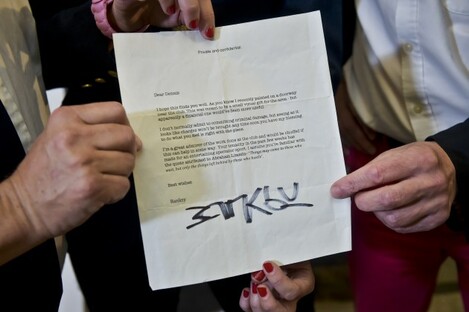 A letter addressed to Dennis Stinchcombe, of Broad Plain Boys' Club in Bristol, saying that Banksy artwork 'Mobile Lovers' is his to do what he feels is right with the piece Source: Ben Birchall
The £403,000 it scooped was more than three times what the centre needed to save it from closure.
Stinchcombe said that the club was "incredibly lucky" to have had the piece donated by the artist.
Within 12 months we could have well been closed, which means 120 years of exceptional youth work in Bristol would have been lost.
That would have been a tragedy for Bristol… Banksy came along at the right time.
What was put in place of the Banksy piece? A mural by the club's members that reads: "Thanks Banksy".
Here's Dennis Stinchcombe, of Broad Plain Boys' Club in Bristol, left, and Bristol Mayor George Ferguson shaking hands as the sale and handover of Mobile Lovers to a collector is completed at the Bristol Museum & Art Gallery.
Source: Ben Birchall
Additional reporting - © AFP, 2014