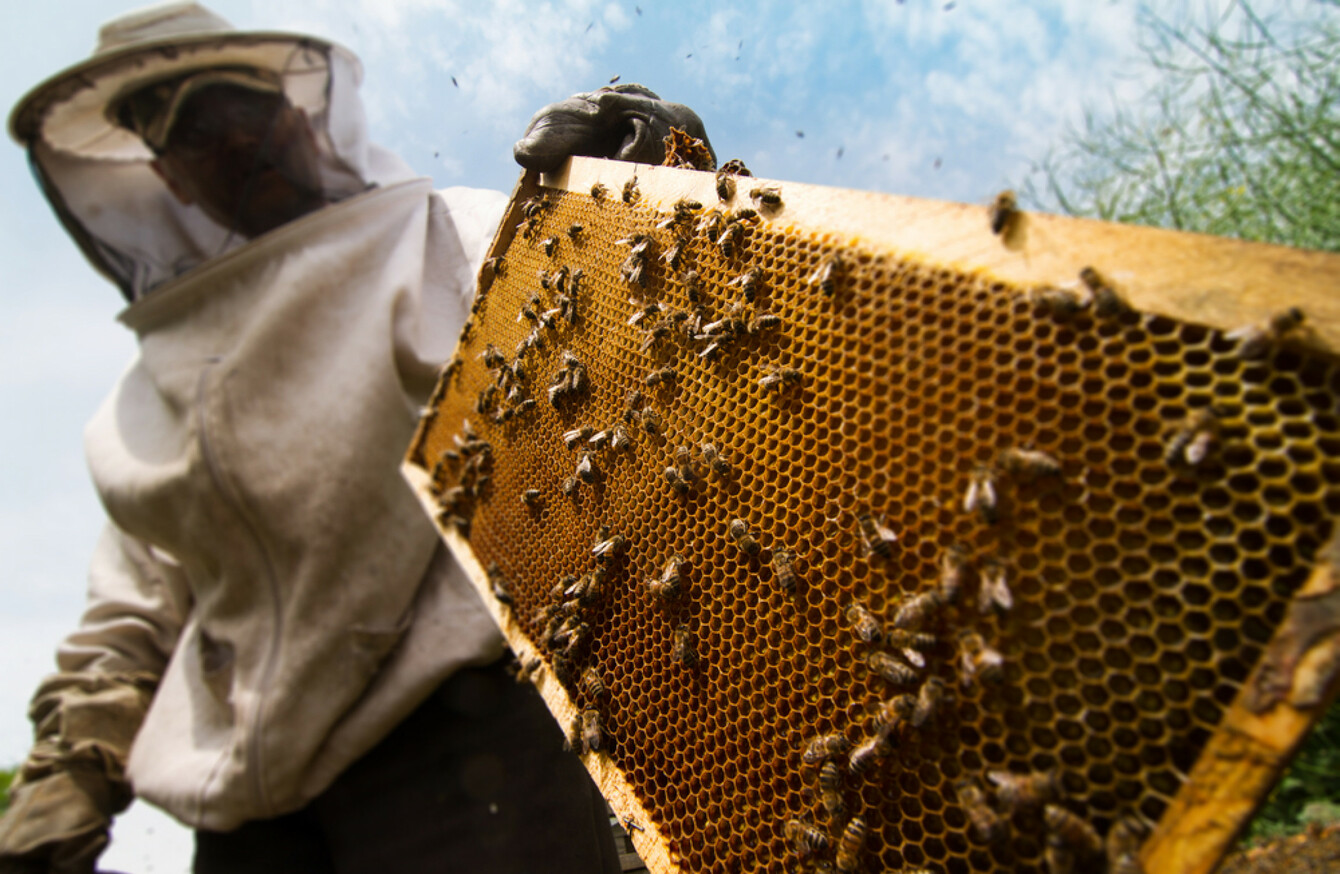 Image: Macondo via Shutterstock
Image: Macondo via Shutterstock
WHAT HAPPENS AT beekeeper's school?
From Sunday to Friday last week, around 600 bee enthusiasts gathered at the Franciscan College Gormanstown, Co Meath, where the 71st annual Beekeeping Summer School was hosted by the Irish Federation of Irish Beekeepers' Association.
"We had people from all parts of the UK, France, Denmark, Germany, Japan, Australia, and New Zealand and a displaced person from Syria now living in Ireland," organiser Michael Gleeson told TheJournal.ie.
Some students are there just for the day – others sign up for the week and stay overnight to learn the craft.
So what are students taught exactly?
Among the topics covered across the courses were queen rearing, encaustic art, microscopy workshops, bee disease recognition, colony evaluation, and bumble bee identification (there's actually a pretty big difference between these and the honey bee).
Those topics are spread across three levels of expertise: beginner, intermediate, senior and include workshops and nature walks.
"The beginners level is structured so that at the end of the week a total novice should be well capable of managing a couple of hives of bees," Gleeson says.
The course covers both theory and practical, with the 65 beginners taking part in a number of hands-on demonstration at the 10 hives of bees brought on site.
The intermediate level is structured for those who are beekeeping a few years and the senior level is suited for experienced beekeepers.
There was also a display of a wide variety of liquid and comb honey, beeswax, mead, candles, and bee art as part of the Irish National Honey Show, which presents producers with awards.
At the end of the week, education awards and certificates are presented to students, ranging from preliminary all the way up to 'Honey Judge'.
'An international event'
During his 16 years as National Secretary of FIBKA, Gleeson says he's travelled abroad to many beekeeping events and noticed that 'Gormonstown' is a known institution.
While beekeepers in many other countries hold short weekend courses, I know of no other country that hold a week-long course similar to the Gormanston course that covers all aspects of beekeeping education.
"From small beginnings in 1947 the course has grown to be a truly international event today," he said.
They had their own guests in attendance this year – including the presidents of the Ulster Beekeepers Association and The British Beekeepers Association, a representative from the Tree Council of Ireland and guest speaker Dr Ralph Büchler from Bee Institute in Germany.
Gleeson says there are already 80 places booked for next year's event.
If you wish to learn more information visit www.irishbeekeeping.ie or email gormanston@rishbeekeeping.ie with any bee-related queries you might have.