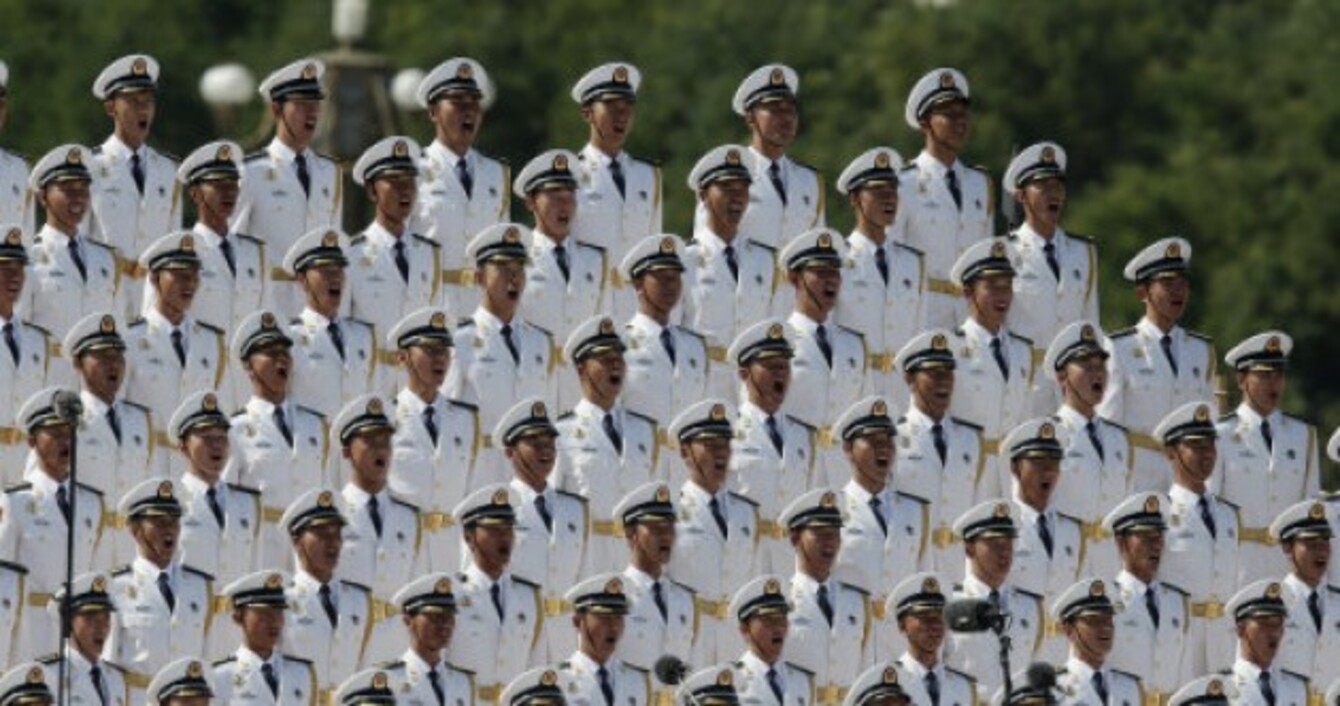 Image: AP/Press Association Images
Image: AP/Press Association Images
IT WAS THE best of shows, it was the worst of shows: as 12,000 troops and hundreds of tanks and missiles rolled through Tiananmen Square in front of invited guests and foreign leaders, Beijing residents were barred from watching.
Barricades were set up hundreds of metres from the parade marking 70 years since Japan's World War II defeat, and squads of police and blue-shirted volunteers blocked access to the deserted streets.
Residents whose homes overlooked the route itself were ordered not to go onto their balconies or even open their windows.
Crowds of around a hundred citizens gathered at intersections to try to catch a glimpse of the hardware as it rolled by in the distance, but were disappointed.
"Of course I'm proud, I'm Chinese," translator Zhao Yufeng told AFP. "But I think more people would feel more involved if we could see the soldiers and tanks."
Instead most watched the live broadcast on mobile phones, as the city took on an atmosphere of years past, with residents sitting out on the streets chatting or playing cards.
A man in his 20s surnamed Guo said he understood the need for security, but was sceptical of the authorities' handling of the event.
"We've been brainwashed from such a young age to hate Japanese, we call them ghosts, so it's easy for the leadership to justify a massive show of force today," he said.
But as President Xi Jinping began speaking, Guo cut the live broadcast and pocketed his smartphone. "He's not going to say anything interesting," he said.
For some, the parade restrictions were an expensive imposition.
Wang Xingyu and his wife have a noodle shop close to the parade route and sleep in a room behind the kitchen. They only go home to visit their families in the mountainous northern province of Shaanxi once a year.
They are open seven days a week, but their hard work has been interrupted by the commemorations, which saw them forced to close for two days.
"We're losing money and no one cares about us," Wang said, visibly flustered. "Maybe if we could open, people would come, eat and they could watch theparade on our television.
"Instead, everyone is just standing around here with nothing to do," he added. "And we can't even see anything!"