POLICE IN BELFAST were attacked yesterday and cars were torched by youths after the removal of wood from a nationalist bonfire site.
Police Service of Northern Ireland (PSNI) Superintendent Andrea McMullan said officers were dealing with "localised disorder in the Friendly Street area of the Markets", which she said was caused by a small group of youths.
The unrest broke out after Belfast City Council removed wood from a bonfire site. Bonfires will be lit in nationalist areas later this week to mark the anniversary of the introduction of the internment without trial policy in 1971.
"There has been some stone-throwing, damage to parked cars and a number of petrol bombs have also been thrown," McMullan said yesterday.
"Local residents of the Markets do not want this kind of activity on their doorsteps and we would urge those engaged in violence and criminal damage to stop – and go home."
Police later thanked locals who "helped settle tensions" and urged for calm to remain.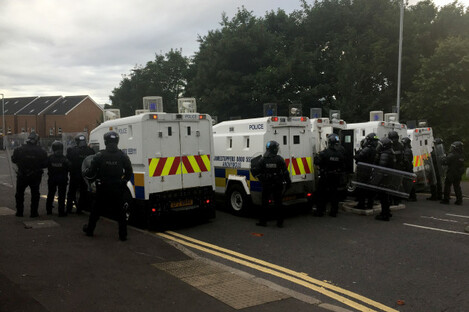 Petrol bombs were thrown at police last night and a number of cars were torched. Source: David Young/PA Images
Local Sinn Féin councillor Deirdre Hargey described the disorder as "unacceptable".
"Both commuters and residents have been affected. Cars have been smashed with stones and several have been set alight. It is nothing short of mindless vandalism," she said.
"There is no defending this behaviour at all and it needs to stop now.
"I'm asking all parents to take responsibility for their children and know where they are at all times.
"The community does not want this type of behaviour and it's not representative of the people of this area."