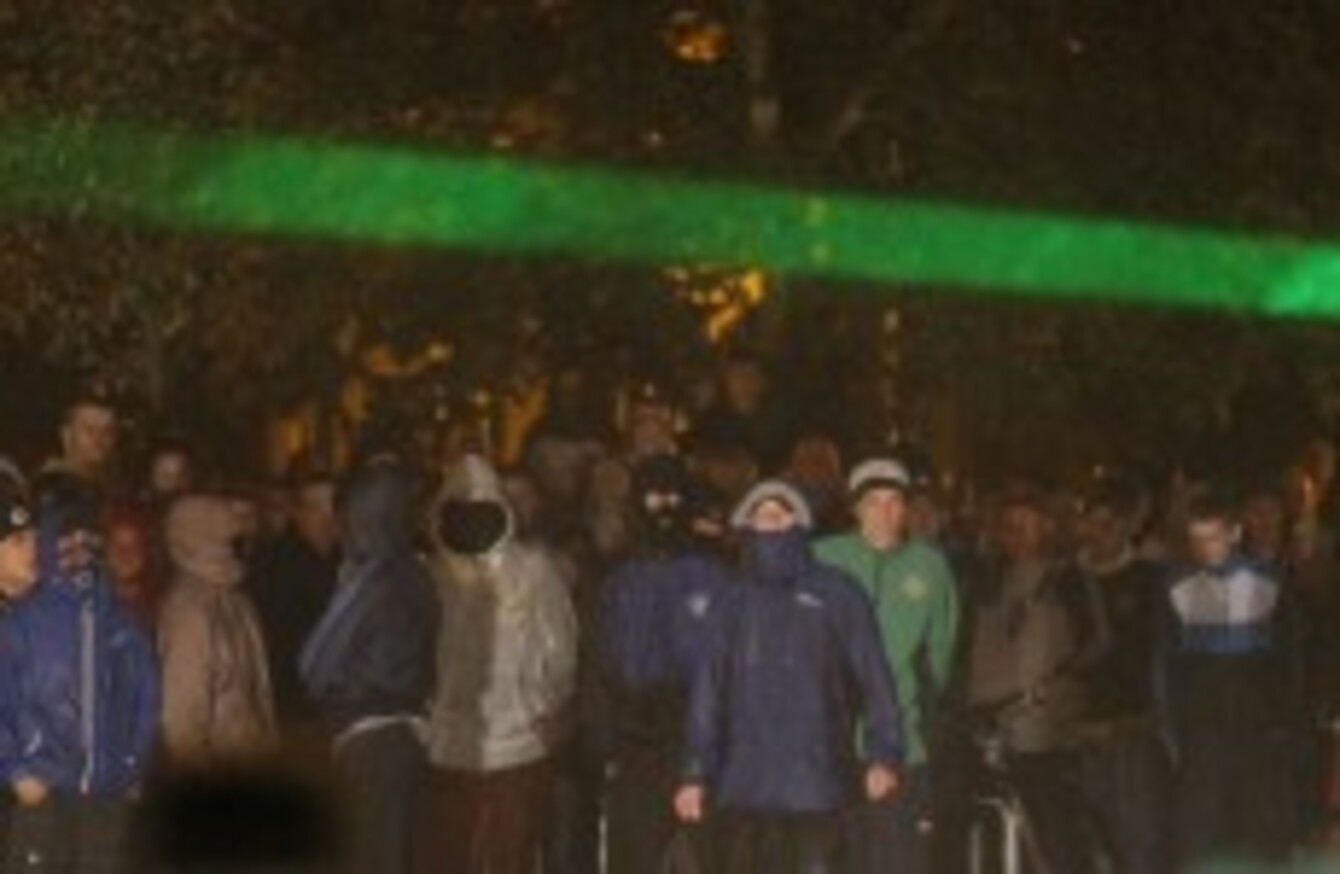 Masked people gathering at the scene of disorder on Sunday night
Image: Peter Morrison/AP/Press Association Images
Masked people gathering at the scene of disorder on Sunday night
Image: Peter Morrison/AP/Press Association Images
DISORDER HAS CONTINUED overnight in the Carlisle Circus area of North Belfast, with fifteen police injured, three of whom were hospitalised.
Police released six AEP (Attenuating Expanding Projectile, which replaced 'rubber bullets') baton rounds and employed water cannon during the "serious disorder".
The disorder centres on a Republican parade passing through the area.
The PSNI said yesterday morning that 47 police officers had been injured since Sunday night in the disorder.
Last night, missiles including petrol bombs (15 in total) and fireworks were thrown at police.
A van was also hijacked on Denmark St and pushed into police lines. The area returned to calm at approximately 3am today.
The BBC reports that police said up to 350 loyalists were involved in the rioting on Sunday.

(Oscars2013/Youtube)
Arrest
A 17 year old male has been charged with riotous assembly, assault on police, assault occasioning actual bodily harm and resisting arrest.
It is believed the charges relate to the public disorder in the Carlisle Circus and Clifton Street area of Belfast on Sunday. He is due to appear at Belfast Youth Court today.
Saddened
Assistant Chief Constable Will Kerr said following last night's violence:
I am very proud of how my colleagues stood in the face of danger, working to bring this situation under control but I am saddened and angry that again we find ourselves subject to serious violence from the communities we serve. Let me be clear, we have made seven arrests already and with a robust criminal justice strategy in place, there will be more.
He added that the community of North Belfast "needs to see a resolution to this issue now".
Collectively, we cannot afford to wait and we cannot have night after night of violence on our streets. Following two nights of disorder, we have a number of police officers who are no longer available to deliver their core policing duties, protecting the communities they serve.
He also said that the huge impact on Northern Ireland "cannot be ignored". "As we strive to promote our positive image, the negative effect of these violent pictures on jobs, tourism and investment cannot be underestimated," said the Chief Constable.
We do not want to take a backward step. I urge all those with influence to urgently use it to bring a resolution to the violence and work towards a longer term solution for the issues affecting this area.