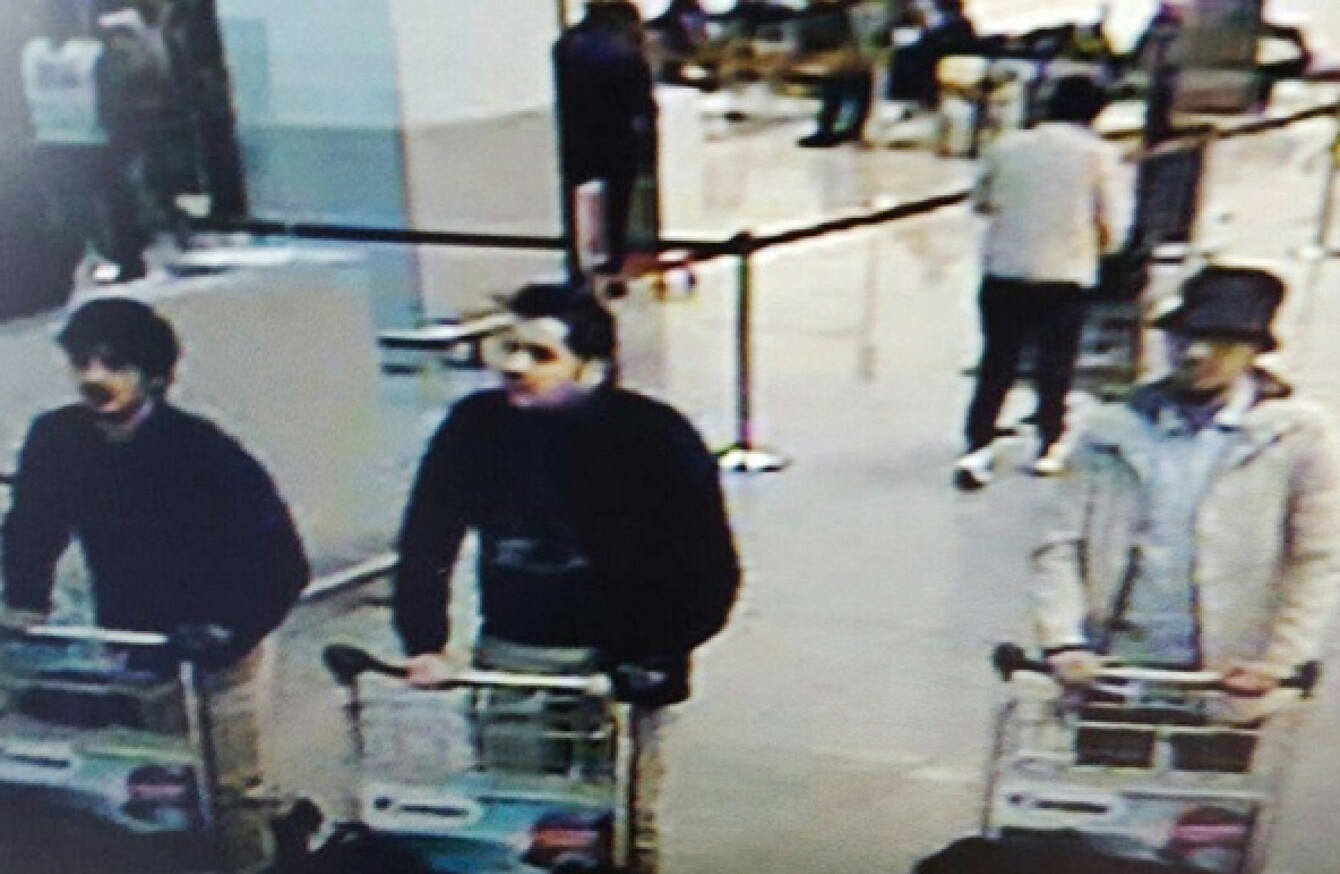 BELGIAN AUTHORITIES have said that two brothers carried out the suicide attacks at Brussels airport and on a metro train that killed 31 people and wounded 270.
Ibrahim El Bakraoui blew himself up in the check-in hall of Zaventem airport while Khalid El Bakraoui attacked a metro train at Maalbeek station near the EU headquarters, authorities said.
The second suicide bomber at the airport has now been identified as Najim Laachraoui, reports AFP quoting police sources.
Laachraoui had earlier been misidentified as being the third suspected bomber who did not kill himself in the suicide attack.
It was also wrongly reported by Belgian media that Laachraoui had been arrested in Anderlecht. It was subsequently confirmed that it was a different individual who had been detained
Belgian federal prosecutor Frederic Van Leeuw confirmed in a press conference that police are still searching for the third suspected bomber.
"The third man is on the run; he left his bag with the biggest bomb in it which exploded later because it was so unstable," Van Leeuw said, adding that the suspect remained unidentified.
Turkey, meanwhile, has said that the country previously detailed and deported Ibrahim El Bakraoui.
President Recep Tayyip Erdogan said Turkish authorities detained the attacker in June last year close to the Syrian border and then deported the "foreign terrorist fighter" to the Netherlands at his request.
"One of the Brussels attackers was detained in Gaziantep and then deported," Erdogan told reporters in Ankara.
Erdogan said the Belgian authorities had failed to confirm the suspect's links to terrorism "despite our warnings" following his deportation.
He said Belgian consular authorities were formally notified of his deportation on 14 July 2015, adding that he was then released by the Belgian authorities, without giving a timeframe.
"Despite our warnings that this person was a foreign terrorist fighter, the Belgian authorities could not identify a link to terrorism," he said.
Erdogan said the man had initially been deported to the Netherlands at his own request and that Dutch authorities had been informed.
He did not specify how he had been transferred from the Netherlands to Belgium.
Paris links
Moroccan-born Laachraoui's DNA was found on explosives used in the 13 November Paris attacks.
His DNA was also found at an apartment in Brussels where bomb-making equipment and a fingerprint from Salah Abdeslam — prime suspect in the Paris attacks — had been found in December.
Belgian investigators named him earlier this week as a suspected accomplice in the 13 November attacks.
Laachraoui had previously been known by the false name of Soufiane Kayal. He used the alias to travel to Hungary in September with Salah Abdeslam – the last known survivor of ten people who carried out the wave of shootings and suicide bombings in the French capital, and who was captured by police on Friday.
Laachraoui is also believed to have travelled to Syria in February 2013.
Traces of his DNA were found on the explosives used in the gun and suicide attacks in Paris, a source close to the French investigation told AFP.
Ibrahim El Bakraoui – who was also being hunted by police – left a rushed will in a trash can saying he did not know what to do after police were hunting for him.
It said he was "in a rush", "I don't know what to do, hunted everywhere, no longer safe" and "I don't want to end up in a cell next to him", Frederic van Leeuw said at a press conference.
That appeared to be a reference to Paris attacks suspect Salah Abdeslam, who is reportedly linked to Bakraoui, and who is in custody in Belgium after being captured last week.
With reporting from AFP, Rónán Duffy and Catherine Healy.
Originally published: 7.55pm