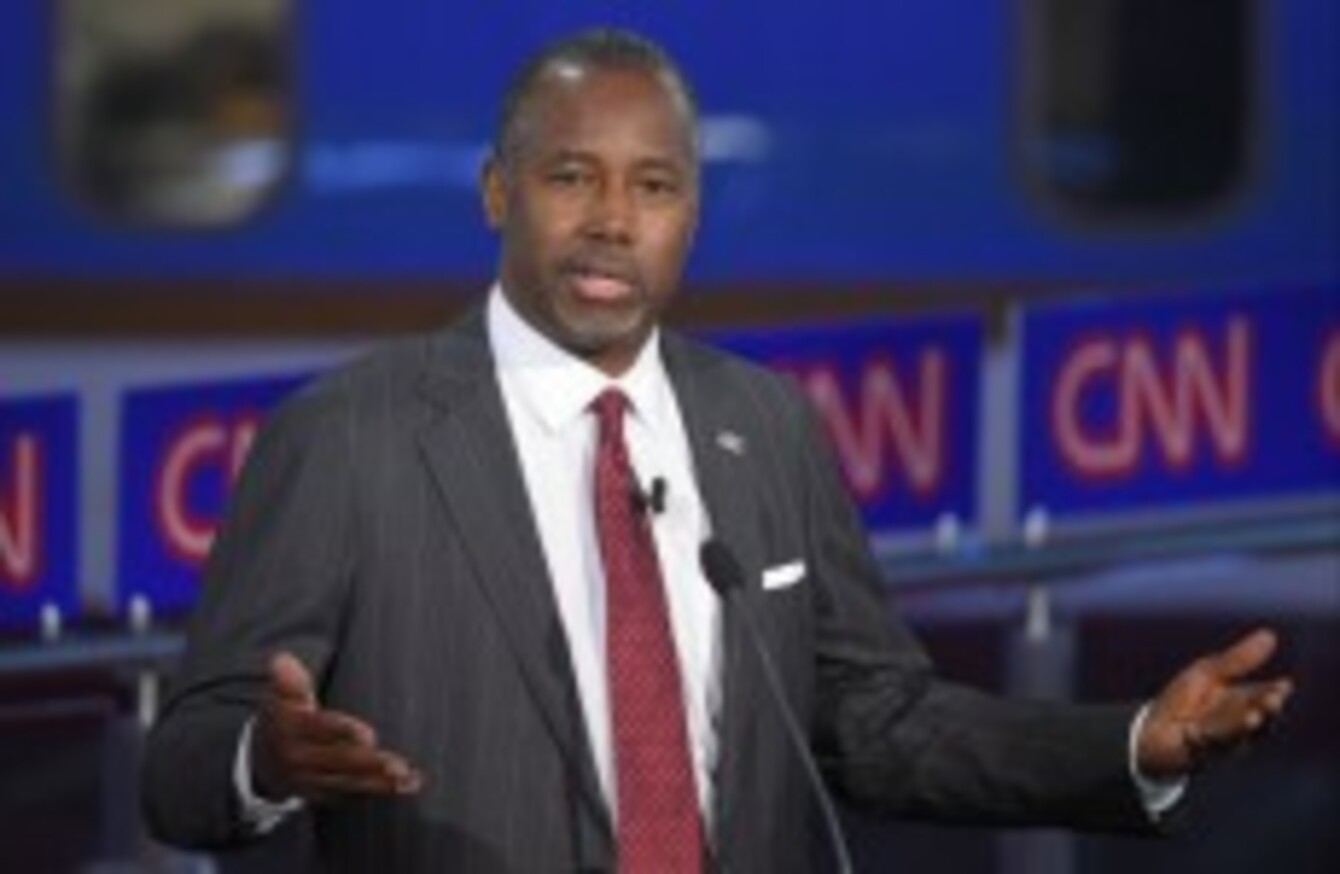 Ben Carson has seen his support rise in recent polls.
Image: Mark J Terrill/AP/Press Association Images
Ben Carson has seen his support rise in recent polls.
Image: Mark J Terrill/AP/Press Association Images
Updated – 15:40pm
US REPUBLICAN PRESIDENTIAL candidate Ben Carson has said that Islam is antithetical to the country's constitution, and that he doesn't believe a Muslim should be elected president.
Carson, a devout Christian, said a president's faith should matter to voters if it runs counter to the values and principles of America.
Responding to a question during an interview broadcast on NBC's Meet the Press today, he described the Islamic faith as inconsistent with the constitution.
"I would not advocate that we put a Muslim in charge of this nation," Carson said. "I absolutely would not agree with that."
He did not specify in what way Islam ran counter to constitutional principles.
Fallout
Carson's comments came amid lingering fallout over Republican Donald Trump's refusal last week to take issue with a man during a campaign event who wrongly called President Barack Obama a Muslim and said Muslims are "a problem in this country." Obama is Christian.
GOP candidates have since been split over whether to criticize Trump, who has been a vocal skeptic of Obama's birthplace and faith.
In the NBC interview, Carson said he believes that Obama was born in the US and is Christian, saying he has "no reason to doubt" what the president says.
Carson also made a distinction when it came to electing Muslims to Congress, calling it a "different story" from the presidency that "depends on who that Muslim is and what their policies are, just as it depends on what anybody else says".
Congress has one Muslim member, Democratic Rep Keith Ellison of Minnesota.
"If there's somebody who's of any faith, but they say things, and their life has been consistent with things that will elevate this nation and make it possible for everybody to succeed, and bring peace and harmony, then I'm with them," Carson said.
Poll
Meanwhile, a new poll released today found that support for frontrunner Donald Trump has slipped after this week's Republican debate, while former Hewlett-Packard CEO Carly Fiorina shot to second place.
The CNN/ORC poll had Trump still leading the field, with 24% of Republican voters supporting him, but that total was down eight percentage points from earlier this month.
The poll had Fiorina at 15%, just ahead of Carson.