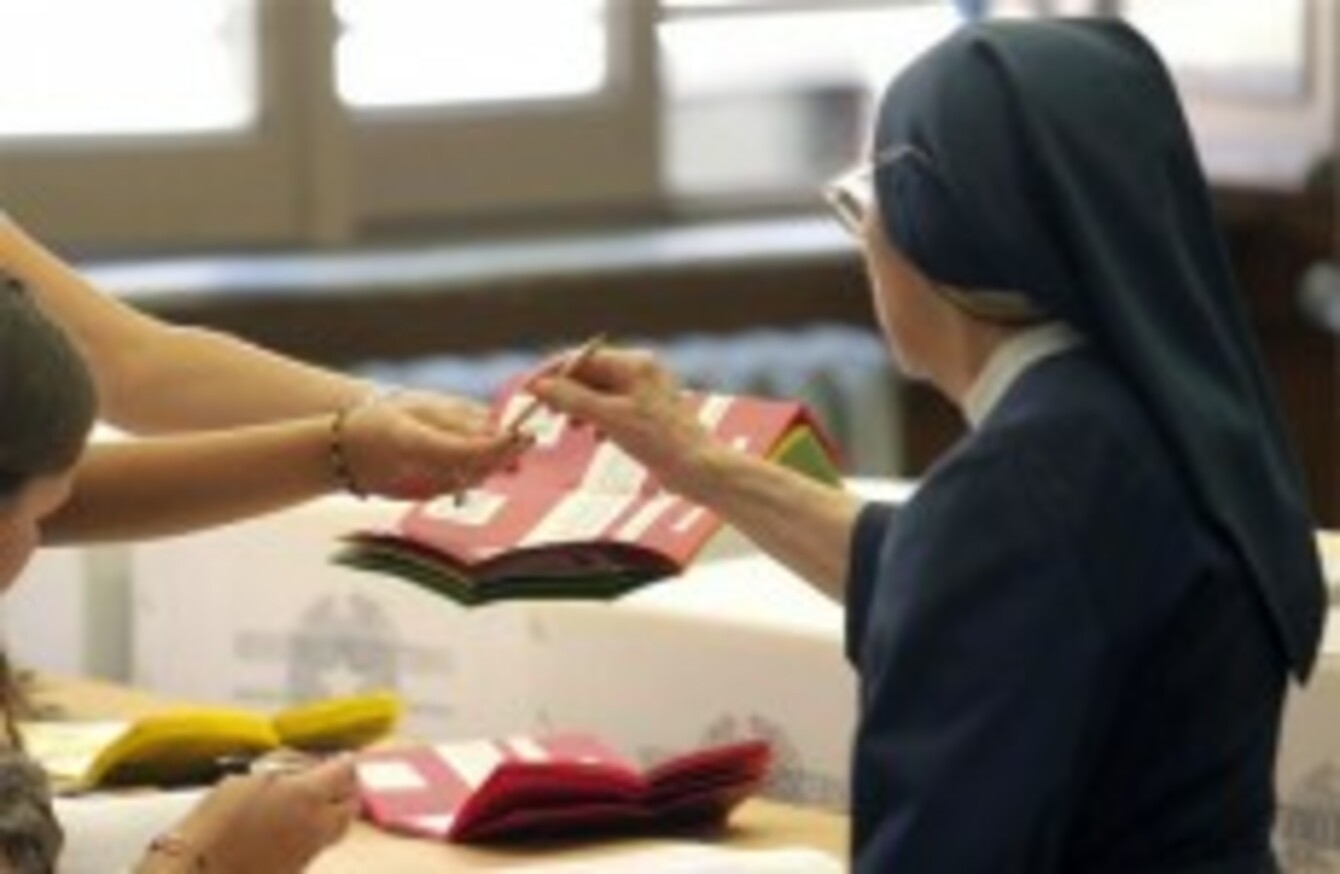 A nun prepares to cast her ballot at a polling station in Rome yesterday in the first of two days of voting.
Image: AP Photo/Mauro Scrobogna, Lapresse
A nun prepares to cast her ballot at a polling station in Rome yesterday in the first of two days of voting.
Image: AP Photo/Mauro Scrobogna, Lapresse
PREMIER SILVIO Berlusconi conceded today that Italy will "probably" have to give up plans to revive nuclear energy in a tacit acknowledgment that the referendum challenging government policies has succeeded.
If confirmed, the outcome would be a serious political defeat for Berlusconi, just two weeks after his candidates in local elections lost key votes in his political stronghold of Milan and in trash-choked Naples.
"Italy, following the decision that the Italian people are taking in these hours, probably will have to bid farewell to the question of nuclear power plants," Berlusconi said at a news conference with Israel's Prime Minister Benjamin Netanyahu.
The nuclear disaster in Japan, following the March 11 quake and tsunami, was expected to have a powerful impact on voter sentiment. The Italian referendum on nuclear energy comes just weeks after Germany announced plans to abandon its nuclear program by 2022, in the wake of Japan's Fukushima disaster.
Italian voters appear to have ignored Berlusconi's example, turning out strong in Sunday-Monday voting for a series of referendums that would block a revival of nuclear power, the privatisation of the water supply and undo a law that offers the Italian leader a partial legal shield in criminal prosecutions.
First validated referendum in over 15 years?
Interior Minister Roberto Maroni said that experts in the ministry project turnout in the two days of voting will be above the 51 percent needed to validate the vote. If confirmed, it would be the first time in Italy since 1995 that a referendum has been validated.
Berlusconi and many of his allies abstained from voting on the ballot questions that were direct challenges to both Berlusconi's policies and his legal tactics in criminal cases in Milan. Turnout when the polls closed on Sunday night was 41 per cent. Voting was continuing today.
Italy's nuclear power plants were shut down by a 1987 referendum after the Chernobyl disaster. Berlusconi's government tried to block the nuclear referendum, abrogating its own law relaunching nuclear power to give the country time for reflection. However, the country's highest court said the referendum, backed by 750,000 signatures, could go ahead.
The government also passed a law mandating that the water supply be privatised by the end of 2011, saying private funds were needed to improve aging delivery systems and cut waste. Roman Catholic clergy joined the campaign to revoke the law, saying that water was a human right that should not be subject to market rules.
The referendum on whether top government officials could continue to enjoy a "legitimate impediment" from defending themselves in court due to official business was the most direct swipe at Berlusconi. Italy's highest court already weakened the law, unfreezing criminal prosecutions in Milan earlier this year. The court said, however, that Berlusconi's lawyers could present official conflicts preventing Berlusconi's appearance on a hearing-by-hearing basis.
The strategy could create delays in ongoing cases, possibly pressing up against the statute of limitations, as Berlusconi's defense seek to schedule court appearances in four cases amid the premier's official duties.
Berlusconi, who for years failed to appear in court as is permitted for defendants in criminal cases in Italy, has changed his legal strategy, saying he wants to defend himself in court.
He currently is facing four criminal cases in Milan, including his trial on charges of having paid for sex with an underage teen and then using his influence to cover it up. That trial continues Tuesday, although Berlusconi is not expected to attend the technical hearing.
Berlusconi denies all wrongdoing in that, and other cases.
- AP