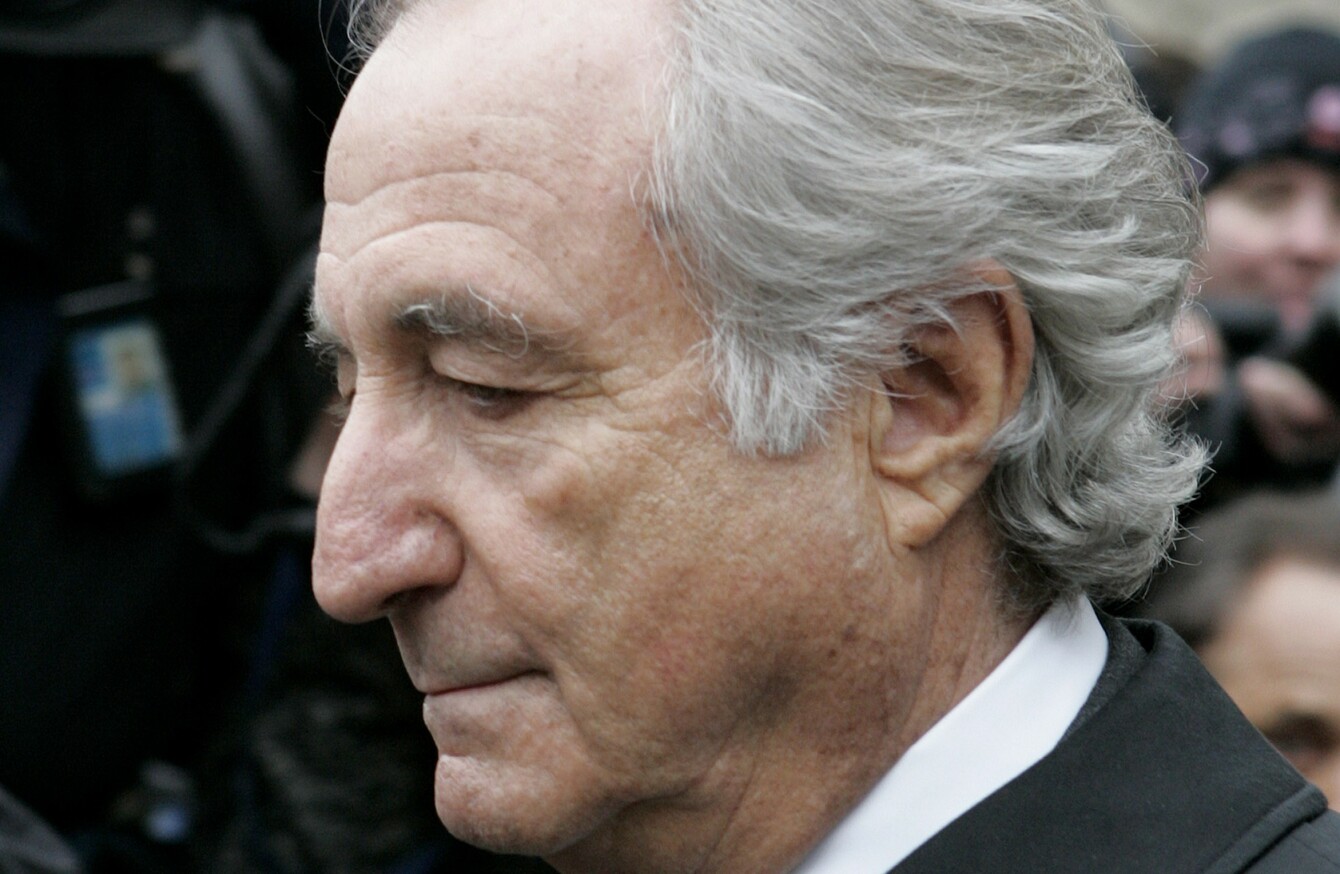 Bernard 'Bernie' Madoff
Image: AP/Press Association Images
Bernard 'Bernie' Madoff
Image: AP/Press Association Images
AN INVESTMENT FUND is appealing the dismissal of its $2.2 billion (€2 billion) damages claim against the Irish arm of HSBC relating to an investment in the massive Ponzi scheme run by fraudster Bernie Madoff.
The lawsuit, taken by a fund called SPV Osus, relates to an investment made by another company called Optimal Strategic US Equity (OS).
OS is a vehicle set up to hold assets by an investment company called Optimal Multiadvisers Limited which is part of the Santander Group, a Spanish bank that is the largest in the eurozone by market value.
In 2002 HSBC agreed to act as the administrator for OS. OS invested nearly all of its assets in funds managed by Bernie Madoff, who ran the largest Ponzi scheme in US history which resulted in his victims losing an estimated $18 billion when it collapsed in 2008.
Madoff Ponzi scheme
Madoff, in perhaps the most famous Ponzi scheme ever, lured in investors by promising unusually high returns in a short space of time.
He used money from new entrants in the scheme to pay off earlier adopters. Investors were told they are making large returns and encouraged not to withdraw their investments.
Madoff promised double-digit returns, far above normal market rates, which attracted investors in their droves. In addition Madoff was well-respected among Wall Street elites. His first company, Bernard L. Madoff Investment, helped progress technology used to develop the Nasdaq, which is now the second largest exchange in the world.
The scheme went up in smoke when his clients tried to withdraw $7 billion and his hedge fund, Ascot Partners, only had $300 million available.
Although some older investors did receive returns, thousands were out of pocket. It is estimated that investors lost a combined total of about $18 billion. Madoff was arrested in December 2008, pleaded guilty to charges of fraud and was sentenced to 150 years in prison.
OS claim
OS had a claim as an unsecured creditor of the Madoff bankruptcy and also had a potential claim against several third parties.
SPV Osus, which was incorporated after the Madoff scheme collapsed, argued that OS transferred that claim to it.
SPV Osus, which is registered in the Bahamas, then took a case against HSBC Institutional Trust Services (Ireland) Limited (HTIE) in the High Court in December 2014. It claimed that HTIE did not properly monitor companies controlled by Madoff and attempted to pursue OS' original claim.
The fund was seeking damages of just over $2.2 billion (€2 billion).
#Open journalism No news is bad news Support The Journal

Your contributions will help us continue to deliver the stories that are important to you

Support us now
HTIE argued that OS' claim was not transferred to SPV Osus, meaning SPV Osus should not be able to pursue a lawsuit against it.
In HSBC's 2015 annual report published earlier this week the bank revealed that the High Court found in favour of HTIE in October 2015 and the case was dismissed.
The judge who struck out the lawsuit said the transfer of the claim from OS to SPV Osus amounted to "professional trading of litigation", which is prohibited by Irish public policy. It was found that SPV Osus did not have enough of a connection with the underlying claim that related to OS' Madoff investment.
However, SPV Osus is still holding out hope it can claim some damages and has filed an appeal which is scheduled for hearing in January 2017.
Feeder fund in Dublin
The case is one of several taken in Ireland relating to the Madoff case. One of Madoff's feeder funds was based in Dublin. The Thema fund acted as a feeder fund for one of Madoff's investment companies. London-based HSBC Holdings, the fifth largest bank in the world by asset value, acted as a custodian for the fund. As of the end of 2008 it was estimated that the fund had a net asset value of $1.1 billion. However, the real value of the fund turned out to be just $312 million. In his book on the Madoff scandal, 'Pyramid Games', British journalist Michael Leidig claims the Central Bank may have been able to find evidence of Madoff's fraud long before 2008. Officials from the Central Bank questioned the executives behind the Thema fund before it was incorporated in 1996. However, those behind the Thema fund managed to get around the regulators questioning by using a complex Austrian listing. The prestige from a European listing helped Madoff to attract more investors. As well as SPV Osus a number of investors brought legal proceedings against Madoff related funds through Irish courts. In 2011 HSBC agreed to pay $62.5 million to settle a group of lawsuits in New York related to the Thema fund. Comments are closed as the case is under appeal