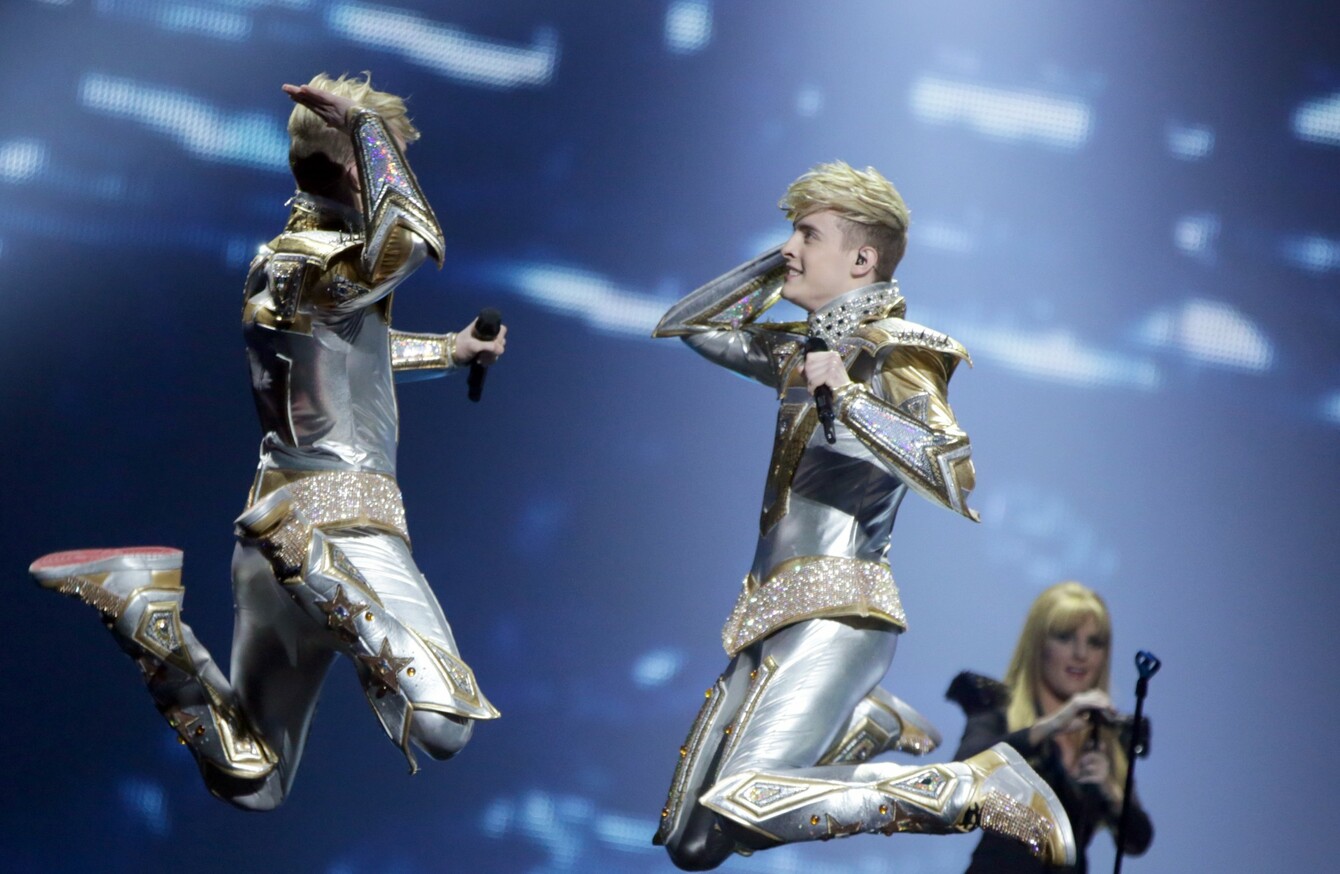 Image: DPA/PA Images
Image: DPA/PA Images
DESPITE TECHNICALLY BEING a "song contest," Eurovision has always been more of an entertainment event than a musical one.
The so-bad-they're-good lyrics, the on-stage gimmicks, and of course, the costumes, combine to make the annual competition – the final of which airs tonight at 8pm live from Kiev – a guilty pleasure for viewers worldwide.
It's hard to pinpoint what makes a Eurovision song into a classic, but there have definitely been a few entries whose influence has lasted long after voting ended. Here are just some of the songs we bet you'd still unashamedly belt out the lyrics to, from dance anthems to love ballads to Finnish heavy-metallers…
1. Rock 'N' Roll Kids – Paul Harrington and Charlie McGettigan (Ireland, 1994)
Source: Paul Harrington/YouTube
Johnny Logan might have had two wins, but he never had the beautiful bromance that existed between Paul Harrington and Charlie McGettigan. Cynics will claim that Paul and Charlie's Eurovision entry was a deliberate attempt by RTÉ to save money by not winning, but the people of Europe spoke, awarding Rock 'N' Roll a massive 226 points.
2. Euphoria – Loreen (Sweden, 2012)
Source: Eurovision Song Contest/YouTube
One of the few entries to have shed its Eurovision legacy and become a floor-filler in its own right, Euphoria has been pumped from the speakers of many an Irish nightclub since it won for Sweden in 2012. Loreen put in a bid to represent Sweden again this year, but lost out to Robin Bengtsson with another Euro-banger worthy of a listen.
3. Rise Like A Phoenix – Conchita Wurst (Austria, 2014)
Source: Eurovision Song Contest/YouTube
With a runaway win in 2014, Tom Neuwirth's drag queen alter ego Conchita Wurst became an LGBT icon across Europe, performing at London's Pride parade and walking the couture runway for John Paul Gaultier. Earlier this year, Tom told a German paper he was retiring Conchita, and was working on a "new persona."
4. Allez Ola Olé – Jessy Matador (France, 2010)
Source: Eurovision Song Contest/YouTube
Another hit you may not be aware was a Eurovision entry unless you're a truly dedicated fan, Allez Ola Olé only finished 12th in the 2010 contest. It's use as the French promo song for the 2010 World Cup meant the song soon became something of a sneaky hit across Europe, even beating Justin Bieber to become the French number one of that summer.
5. Jedward – Lipstick (Ireland, 2011)
Source: Eurovision Song Contest/YouTube
The first of Jedward's two (!) consecutive Eurovision entries, Lipstick was Ireland's best-performing entry in eleven years, finishing eighth overall. It was just off-beat enough to be a Eurovision hit, and catchy enough that you can probably still recall all of the lyrics even now.
6. Olsen Brothers – Fly On The Wings Of Love (Denmark, 2000)
Source: IslaBonitaTV/YouTube
Before DJ Chuckie's dance anthem, there was the original: the Olsen Brothers' Eurovision winner from 2000. Granted, it now seems unbearably slow compared to the 137-BPM version we know and love, but it's still a classic.
7. Waterloo – ABBA (Sweden, 1974)
Source: mozpiano2/YouTube
The original and best. Agnetha, Björn, Benny and Anni-Frid went on to have success far beyond the Eurovision stage, but Waterloo was where it all began for them. The costumes, the catchy chorus: it was a winner waiting to happen.
8. Hard Rock Hallelujah – Lordi (Finland, 2006)
Source: Eurovision Song Contest/YouTube
Probably the toughest song on this list to sing along to, Lordi are still deserving of a mention for turning the idea of a Eurovision-winning formula on its head. Yes, Hard Rock Hallelujah has pop undertones, but it's the closest to heavy metal the contest had ever – and probably will ever – come. Choon.
The final of Eurovision 2017 kicks off live from Kiev tonight, Saturday May 13, at 8pm. Fancy winning two VIP tickets to the Graham Norton Show in London, plus flights and four-star hotel accommodation?
Simply pick up a bottle of GN wine in your local Centra store, share a pic of you enjoying it during the Eurovision using #centralovesgraham, and you could be jetting off to London. Don't forget to tag @CentraIRL in your entry!  Open to over 18s only.  Drink Alcohol Sensibly.
Source: TheJournal.ie Commercial/YouTube