SEVERAL REPRESENTATIVES FROM RTE were in front of the Communications Committee at Leinster House today to discuss the question of bias within the media.
For the most part however the hearing descended into a barrage of political point-scoring with representatives from across the spectrum taking the opportunity to get certain things off their chest.
First up was committee chair, Fine Gael's John O'Mahony who suggested that the worst of the editorial bias at RTE is to be seen in their light entertainment coverage as opposed to current affairs. Without being specific he most likely was speaking with reference to the Late Late Show or Brendan O'Connor's now-cancelled Saturday Night Show.
RTE Deputy Director General Kevin Bakhurst acknowledged that it was a 'valid' question and that the state broadcaster 'doesn't always get it right'.
Patrick O'Donovan Source: Oireachtas.ie
Another Fine Gael TD, Limerick's Patrick O'Donovan, was far more animated in his questioning, and had very specific points he wanted to make:
That coverage at RTE is so imbalanced towards Dublin that 'if you put two pigs flying up O'Connell Street it'd be the number one news item on RTE'

That RTE's editorial bias was wholly evident in both the 'Mission To Prey' debacle and the issues of Tweetgate, which he claimed cost Seán Gallagher the 2011 presidential election, and that lessons needed to be learned

That Eamon Dunphy's appearance as an independent reporter on Claire Byrne Live recently is shambolic given that he openly admits to voting Sinn Féin

That RTE have an obligation to reveal what they pay their presenters
O'Donovan further accused RTE of 'fixing things that aren't broken' by cancelling certain programmes, specifically Questions and Answers. The John Perry saga (where the Fine Gael TD and former minister was revealed to have employed his wife in a job with a €38,000 salary) from last week was also obviously a sore point for him.
"I don't suppose if we trawled through the HR files at RTE we'd find any evidence of nepotism going on there would we?" he said.
Bakhurst replied that Eamon Dunphy's report from France was an 'authored piece, not an independent one', and that it was designed to be 'provocative'.
Regarding O'Donovan's assertions of regional bias Bakhurst acknowledged the broadcaster had erred in not covering the crowds in Limerick in greater detail as it became European City of Culture last year.
That was a mistake as I've said before. We did one full piece on the Six-One News but we should have done more.
As for Questions and Answers, it was cancelled before my time I'm afraid. But you don't want a great programme like that to wither away, it's a difficult balance to strike.
RTE Deputy Director General Kevin Bakhurst Source: Oireachtas.ie
He was unequivocal on the charge of nepotism however.
There is none. We're very public about the competitions we have. We wouldn't stand for it, and if I knew of any I would take a very, very dim view of it.
As for what our presenters are paid, we do reveal it, but we do it with a timelag to maintain competitiveness. We operate in a highly competitive market, and as you know we've lost presenters in recent times because rivals have known exactly what they had to pay in order to poach our people.
O'Donovan's assertions regarding the 2011 presidential election were not addressed.
Fianna Fáil's Michael Moynihan described RTE as having 'a sort of groupthink' going on in current affairs.
He further accused RTE of blatant bias in not having any Fianna Fáil representative on discussion programme Claire Byrne Live in its first six weeks of operation, and of ignoring certain submissions they had made on childcare.
Current Affairs head David Nally replied that 'someone will always feel aggrieved'.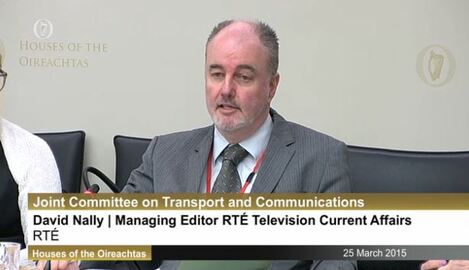 David Nally Source: Oireachtas.ie
"Look at it objectively and impartially as we do," he said.
The shareout is very fair. On Claire Byrne the government has had close to half of the appearances, the opposition a little bit more.
Of the opposition Fianna Fáil have made the most appearances.
"That's because you had to let us on after we kicked up an almighty song and dance over it," replied Moynihan.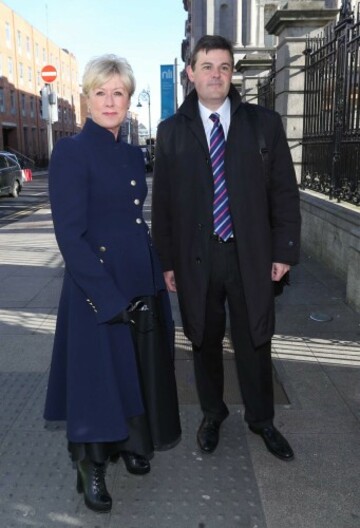 RTE Chairperson Moya Doherty and Kevin Bakhurst arrive at the Communications Committee today Source: Sam Boal/Photocall Ireland
The hearing was attended by Moya Doherty (Chairperson of RTE), Bakhurst, Nally, Tom McGuire (head of RTE Radio 1), and Deirdre McCarthy (political assignments editor at RTE News), with Bakhurst doing the majority of the talking.
As the session began Doherty asserted that 87% of the Irish public trust RTE's news and current affairs output.
"If we showed political bias it wouldn't be tolerated by the public," she said.
Our first duty is to show different shades of political opinion, to give voice to water protesters as much as to Irish Water for example.
We must be responsive to the interests and concerns of the whole community.
The state broadcaster receives €134 million in licence fee funding each year.