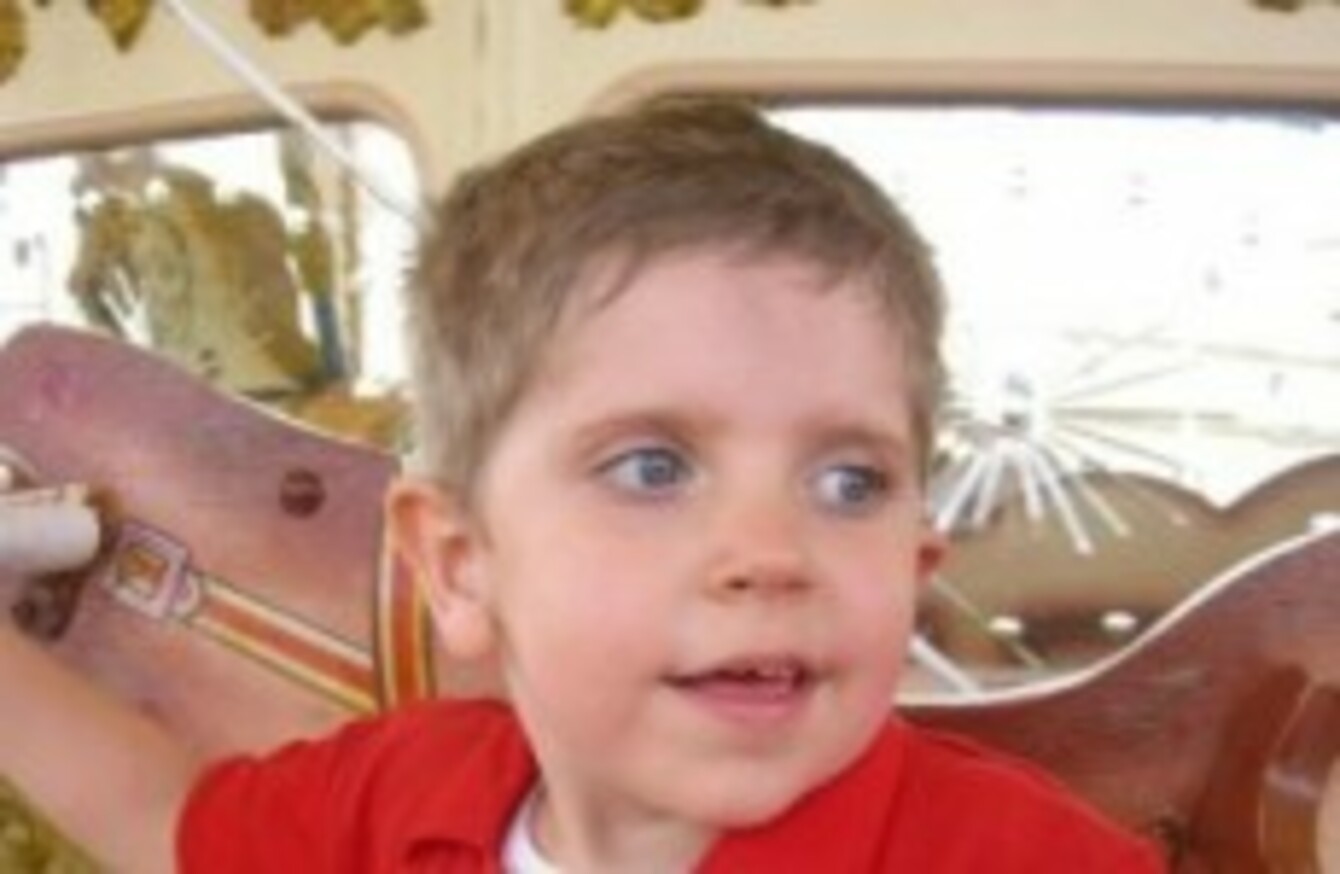 Billy Cairns
Image: Deanna Cairns
Billy Cairns
Image: Deanna Cairns
THE HSE HAS allocated €3.2 million for bicochlear implants in its 2014 service plan, news that has been welcomed by parents of children with hearing issues.
Deanna Cairns, whose son Billy has one cochlear implant and is on the waiting list for a second implant, is a member of the Happy New Ear campaign. The parents behind Happy New Ear are campaigning for bilateral (two) cochlear implants to be offered to children as standard.
Today, Cairns told TheJournal.ie: "We are delighted, now they have come into line as best practice. It wasn't the full amount we wanted but at least bilaterals can start being rolled out now."
"I have to say it has been a hard year," said Cairns.
Happy New Ear said: "After a year of constant campaigning, fighting, meetings, petitions and begging we are thrilled with today's outcome. No more second best for Irish children."
The programme will take time to set up but it is envisaged that the first simultaneous cochlear implant surgery, where they implant both ears at the same time, will take place in May, and the first sequential implant surgery, where the recipient already has an implant, will commence in August. We have been helped along the way by so many people- TDs, journalists, parents and well wishers and we would like to thank them all for their support throughout the campaign.
They gave thanks to the Joint Committee established by Gerry Adams and to all the HSE staff who met with them, as well as the Minister For Health James Reilly.
"We know he was under more pressure than ever in this budget, and appreciate this more than words can say," the parents said.
Tony O'Brien, Director General of the HSE, said that around 100 children will benefit from the funding, with 50 sequential and 50 simultaneous cochlear implants to be fitted in 2014.
They are hopeful that from next year, the number of surgeries will be increased. There are thought to be around 200 children in need of a second cochlear implant at the moment.
The Cairns family are now hopeful that Billy will be able to get his second implant. "It's like the best Christmas present ever," said his mum.
Keith McCormack, the father of a boy whose hearing problems were not acted on by health professionals for 17 months said that the news is good news.
"Any cuts in health spending for the country as a whole are a bad thing but if indeed the HSE is setting aside €3.2million to help those in need of bilateral cochlear implants then it will give a ray of hope to them, especially at Christmas," he said.
He added that anything that will give children who may have been failed during their health journey "a chance to succeed, should be welcomed".
"We will have to wait and see how this bilateral implant programme is to be rolled out in detail," he added. "My little boy Liam and the other children are quite literally in a race against time for this as whatever good nerve endings that they have are continually degrading."