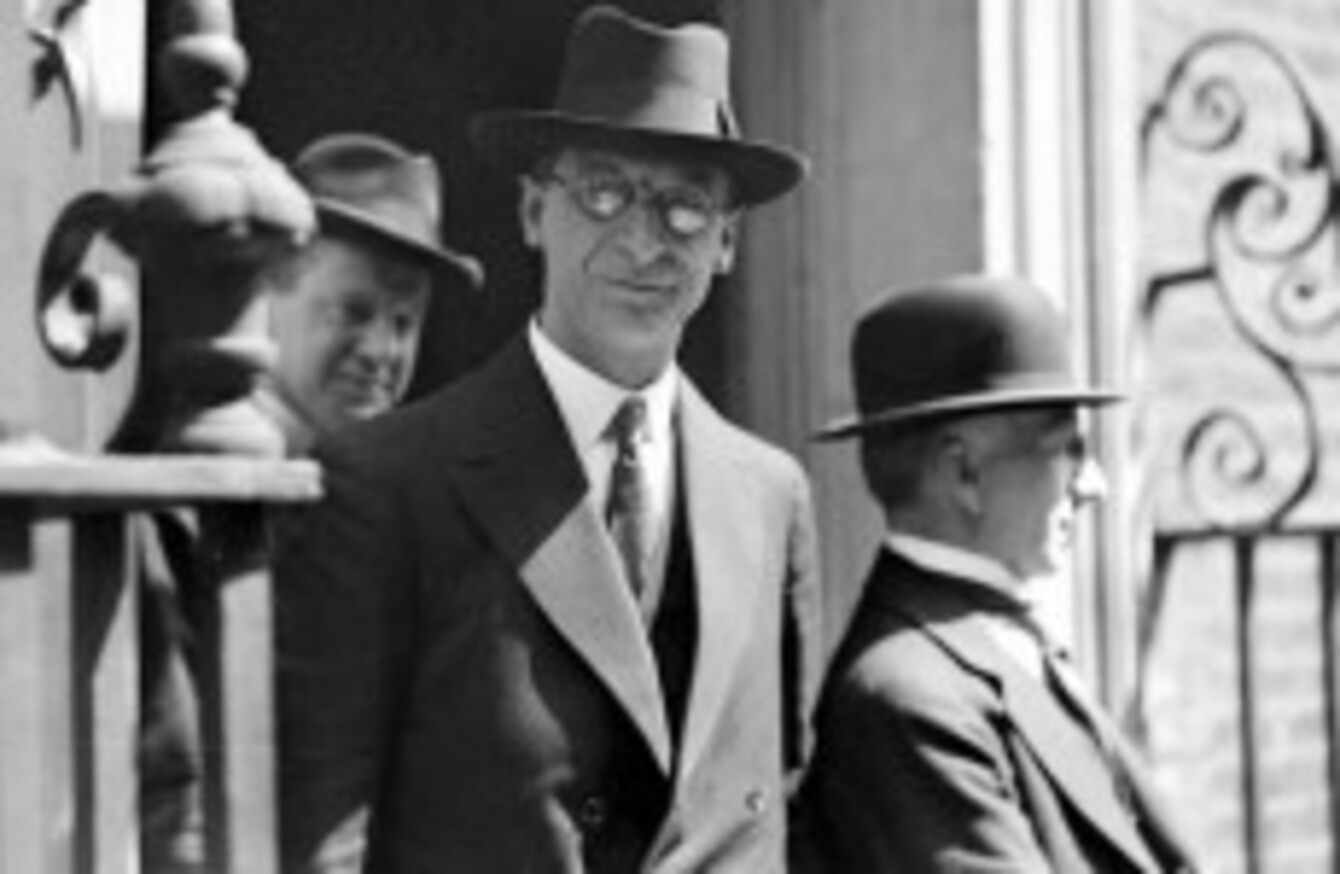 Taoiseach Eamon De Valera, who dismissed soldiers for desertion
Image: PA/PA Archive/Press Association Images
Taoiseach Eamon De Valera, who dismissed soldiers for desertion
Image: PA/PA Archive/Press Association Images
A BILL THAT will provide for amnesty and apology for Irish soldiers who deserted the Defence Forces to fight for the Allies in World War II passed through its second stage today.
Minister for State at the Department of Defence, Paul Kehoe TD, presented the Defence Forces (Amnesty and Immunity) Bill to Dáil Éireann for its second stage.
The bill was published last December by Minister for Justice Alan Shatter, who said that he hoped that through the actions proposed in it he could help put to rest the concerns of people still alive who fought with the allied forces during World War II, as well as the family members of those who died and who have since passed.
At its peak during the Second World War, the Irish Defence Forces had approximately 42,000 serving personnel.  Over the course of the War, it is estimated that over 7,000 members of the Defence Forces deserted, many to join with the Allied Forces.
Of these, some 2,500 personnel returned to their units or were apprehended and were tried by military tribunal.  The remaining personnel – around 5,000 – were dismissed under the Emergency Powers (No. 362) Order, 1945 and the Defence Forces (Temporary Provisions) Act 1946.
Explained Kehoe:
The effect of the Order was to impose significant hardship on many individuals and families and remove from them the right to be tried for the offences of which they stood accused and to provide a defence against the alleged crime.  Many of the individuals were shunned in their communities and many never returned to Ireland.
In 2012, the Government decided that the sacrifice and contribution of those who deserted the Defence Forces to fight with the Allies in WWII should be recognised, while not undermining the requirements of military discipline or condoning their desertion.
The Government also committed to issuing an apology for how they were treated after the war by the State – they did not receive pay or pension rights – and to provide a legal mechanism for amnesty.
The bill seeks to address all of this. Kehoe said today that:
the Government recognises the value and importance to the State of the essential service given by all those who served in the Defence Forces throughout the period of the Second World War.  They performed a crucial duty for the State at a time of national emergency and enormous difficulty.
He also said that the majority that deserted and went on to fight facism "did so out of a sense of idealism and with a commitment to protect democracies from tyranny and totalitarianism".
The bill initially provided for a pardon for those convicted of desertion or being absent without leave, but this was changed to an amnesty, following legal advice. A pardon would require each case to be individually processed, which would not be possible in practical terms, said Kehoe.