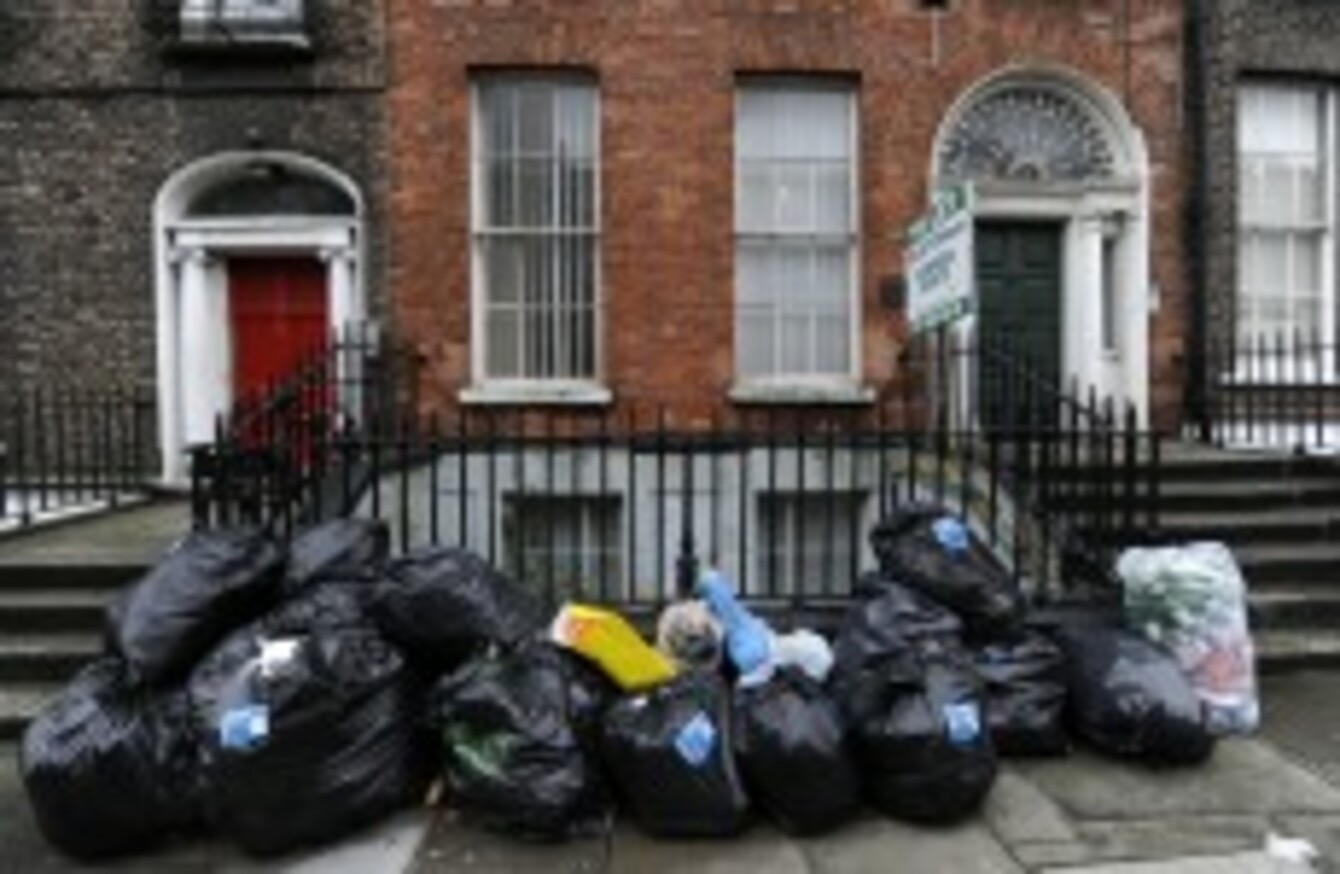 Image: Laura Hutton/Photocall Ireland
Image: Laura Hutton/Photocall Ireland
Updated 13.15
DUBLIN CITY'S LORD Mayor has criticised the changeover to a new privatised bin service collection for the city calling it a 'shambles'.
Andrew Montague said that the service had been "very poor" and blamed new provider Greyhound and Dublin City Council for not giving enough time for the preparation of the changeover.
The Mayor's comments came a day after bin collection company Greyhound said that 18,000 customers face not having their rubbish collected this week unless they pay the upfront fee.
Taoiseach Enda Kenny, commenting on the situation in the Dail this morning, said that "common sense" should apply.
He urged Dublin City Council and Greyhound to "sit down and sort it out".
On the €100 upfront charge, the Taoiseach told the Dáil: "In these times of economic challenge, there are people who can't put up €100 like that, and I would have expected that the company would be flexible in this matter".
Andrew Montague said that the 140,000 residents had not been given notice of the switchover until after it happened and that some bins haven't been collected when they should have been
"Nobody could call what's happened over the past month a first class job," the Mayor said on RTE Radio One's Morning Ireland programme this morning. "It has been a shambles".
The Labour councillor said that more than 40 of Dublin City Council's 52 councillors had been against the privatisation of the service and it had been "very unusual" for the City Manager to go against the will of the councillors so dramatically.
He called for an extension for another month of the free bin collection service.
Dublin city councillors held an emergency meeting at the end of January to discuss concerns over the changeover to private waste companies.
Greyhound took over waste collection services in Dublin city in January after it won the contract from Dublin City Council. The council had been responsible for collecting rubbish for over 100 years.