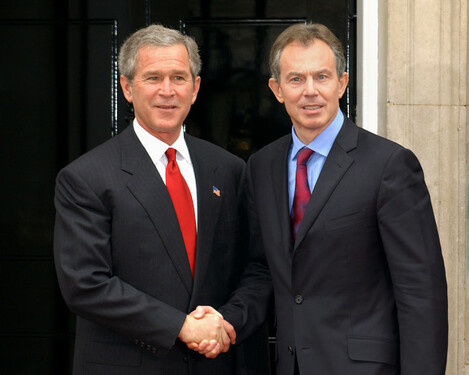 Prime Minister Tony Blair (right) and US President George Bush return to Downing Street in November 2003. Source: PA Archive/Press Association Images
TONY BLAIR SOUGHT to influence US President George W Bush on the invasion Iraq, but overestimated his ability to do so, the Chilcot report has found.
The report, published this morning, found that Blair had decided war in Iraq was inevitable months before March 2003.
It also found that Blair didn't inform or consult his cabinet on many key developments before going to war.
In Section 3.1, the Chilcot Report finds that Blair "took an active and leading role throughout the autumn of 2001 in building a coalition to act against" the threat of terrorism.
It said that Blair warned world leaders of the dangers of not acting after he was told that chemical or nuclear weapons could fall into the hands of terrorists.
In relation to Iraq, Mr Blair sought to influence US policy and prevent precipitate military action by the US, which he considered would undermine the success of the coalition which had been established for action against international terrorism. He recommended identifying an alternative policy which would command widespread international support.
The report finds that in December 2001, Blair suggested a strategy for regime change in Iraq that would build over time, including "if necessary" taking military action without losing international support.
One note sees Blair writing to the former US President "I will be with you, whatever".
Inevitable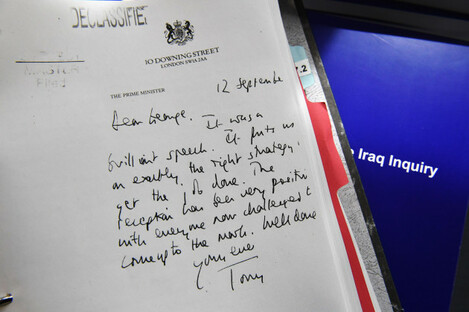 Source: Jeff J Mitchell
The report say that Blair had taken the stance that war with Iraq was inevitable months before he put the motion to invade to cabinet in March 2003.
A note written by Blair in August of 2002 says his opinion on Iraq is "clear and hard".
"There is no doubt that, uncontained, Iraq is a threat; they are trying to acquire nuclear weapons capability.
The regime is deeply repugnant, corrupt and repressive and the likely successor to Saddam is his son, who by all accounts, is worse.
"The region, the world, the Iraqi people would be better off without Saddam."
Military options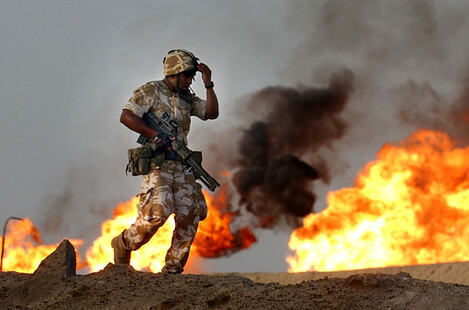 Source: PA Wire/Press Association Images
Planning a military invasion of Iraq began in late February 2002, a full 13 months before the British cabinet voted on it.
The Ministry of Defence (MOD) saw a significant military contribution as the best way of influencing US policy. This included the provision of three brigades, but partly for PR reasons. Anything smaller, the report found, risked being compared adversely to the UK's contribution to the liberation of Kuwait in 1991.
Air and maritime forces were offered to the US for planning purposes in September.
In October, the MOD told Blair he risked being excluded from the planning unless he offered ground forces. This led to the formulation of "Package 3″. From August until December 2002, other commitments meant that UK planning for Package 3 was based on providing a divisional headquarters and an armoured brigade for operations in northern Iraq.
That was seen as the maximum contribution the UK could generate within the predicted timescales for US action.
Blair agreed to Package 3 on 31 October 2002, something the report slams Blair for.
That decision and its potential consequences were not formally considered by a Cabinet Committee or reported to Cabinet.
However, the report finds that Blair's decision on how many troops to send was "largely discretionary". The primary impetus to send as many troops as possible was pushed by leading members of the Armed Forces and Secretary of Defence Geoff Hoon.
This decision meant a narrowed timescale for readiness and "was taken without collective Ministerial consideration of the decision and its implications". It also made the deployment a "one-shot capability".
9/11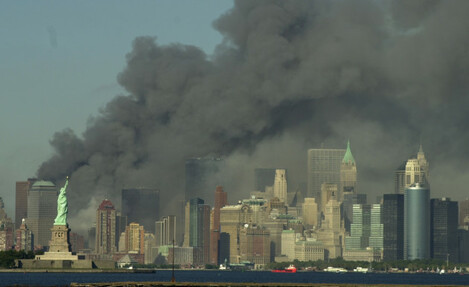 Source: AP/Press Association Images
The report finds that Blair had attempted to secure a second UN resolution on the war in the opening months of 2003, but found himself under pressure from the US by mid-March.
However, the inquiry said that this was premature.
In the Inquiry's view, the diplomatic options had not at that stage been exhausted. Military action was therefore not a last resort.
The inquiry found Blair's "determination" to stand with the US in defiance of the UN left the country with a "stark choice", with Blair choosing to lead them into war.
It found that the 11 September attacks in the US shifted UK perception of the worldwide threat. It found that Blair had lobbied Bush to address Iraq after the attacks, despite no evidence linking the country with Al Qaeda.
It adds that Blair did not have any plans to invade Iraq before 2002. His plan was to mount a covert plan to topple Saddam Hussein and "back it militarily".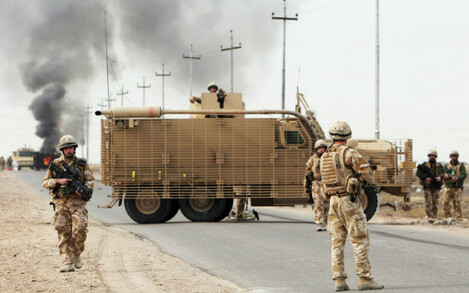 British soldiers respond after an armored personnel carrier was hit by a suspected roadside bomb in Basra. Source: AP/Press Association Images
By January 2003, Blair had decided the likelihood was war and it was right to stand with the US. He disagreed with then Foreign Secretary of State Jack Straw, who felt a peaceful resolution could be found without the "smoking gun" of weapons of mass destruction.
He agreed to send the troops on 17 January, a full two months before putting the plan to his cabinet.
While Blair searched for a second UN resolution, he told Bush he was "solidly with the President and ready to do whatever it took to disarm Saddam".
The report found that it was "reasonable" for the British government to be concerned about terrorism, but that there was "no basis in the Joint Intelligence Committee's assessments to suggest that Iraq itself represented such a threat".
At the time of the Parliamentary vote of 18 March, diplomatic options had not been exhausted. The point had not been reached where military action was the last resort.
Good faith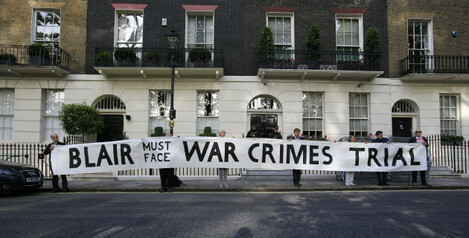 Protesters hold a banner outside the London home of former Prime Minister Tony Blair. Source: JONATHAN BRADY
While Blair said that the difficulties encountered in Iraq could not be foreseen, Chilcot openly rebuked him today. Chilcot said that Blair's lack of foresight caused problems beyond the invasion.
He added that Blair overestimated his ability to influence US policy.
"We do not agree that hindsight is required. The risks of internal strife in Iraq, active Iranian pursuit of its interests, regional instability, and Al Qaeda activity in Iraq, were each explicitly identified before the invasion.
Ministers were aware of the inadequacy of US plans, and concerned about the inability to exert significant influence on US planning. Mr Blair eventually succeeded only in the narrow goal of securing President Bush's agreement that there should be UN authorisation of the post-conflict role.
"The failures in the planning and preparations continued to have an effect after the invasion.
There are many lessons set out in the Report. Some are about the management of relations with allies, especially the US.
"Mr Blair overestimated his ability to influence US decisions on Iraq."
The report found no evidence that intelligence had been "sexed-up" or that there was any deliberate plan to deceive cabinet.
Nor did it find that Blair had broken any laws. It did not, however, examine the legality of the war and found that the basis on which the invasion was found to be legal was "wholly unsatisfactory".