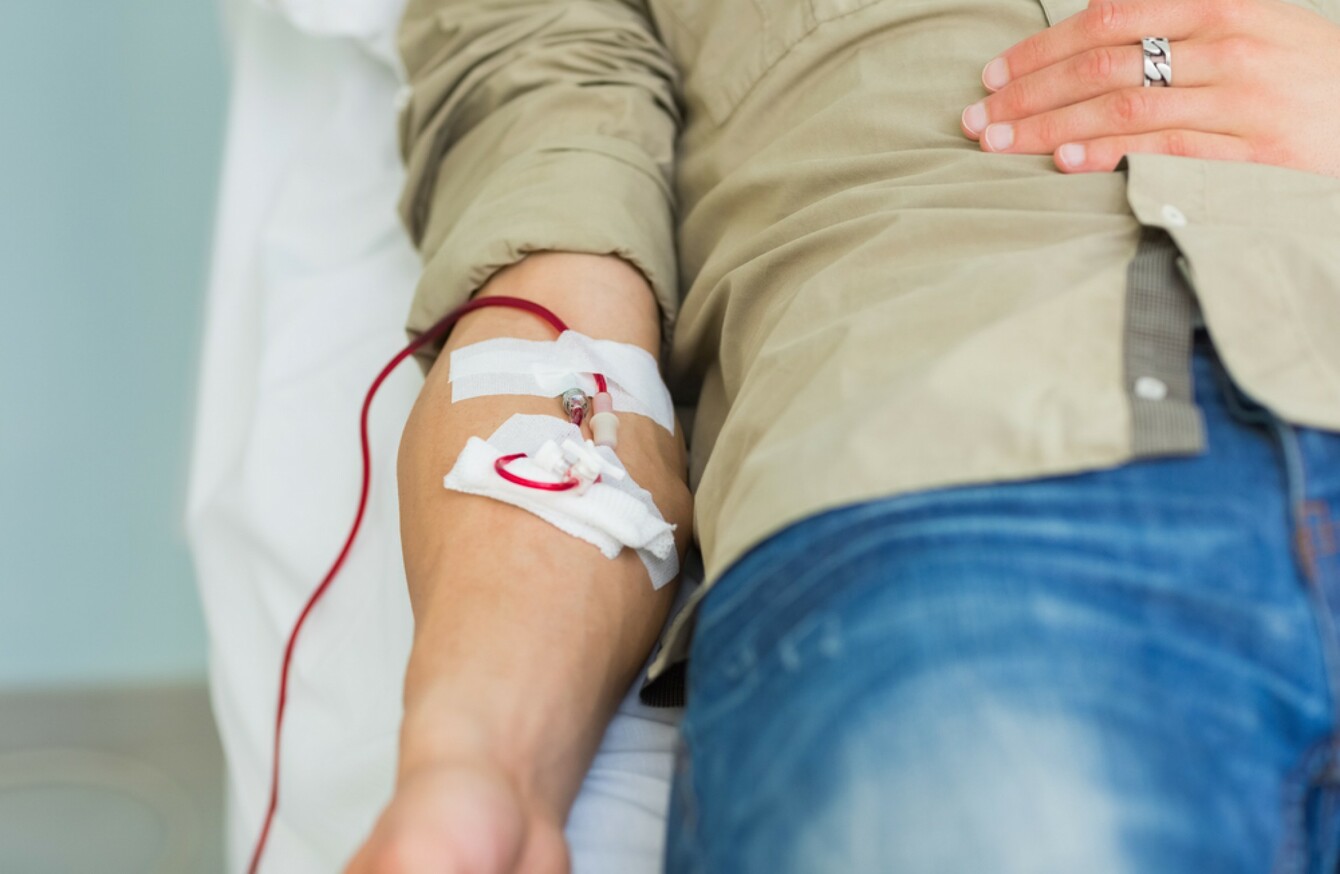 Image: Shutterstock/wavebreakmedia
Image: Shutterstock/wavebreakmedia
BLOOD SUPPLY LEVELS are low in Ireland.
The lack of donors coming forward recently spurred the Irish Blood Transfusion Service (IBTS) this week to call for more donors as a matter of urgency.
The IBTS put the low levels of donation in recent months down to a number of factors.
Speaking on RTE's Morning Ireland, director Paul McKinney said the summer was particularly difficult for people to donate.
"It's always difficult in the summer, with haemoglobin levels low anyway, but with donors travelling, and their routines disrupted because of school breaks etc, that adds to the problem," McKinney said.
Over the last six weeks the numbers coming to the centre dropped by 6%.
However, this is the just the latest decline in a trend that has seen the numbers of people donating drop off significantly around the world.
According to the latest figures, new blood donations in Ireland have fallen 21% in five years.
Meanwhile, worldwide donations have dropped by a quarter since 2005.
People are giving significantly less blood than they used to – but why?
No time
"There are lots of different reasons for the fall off in numbers of people donating," Stephen Cousins, national donor services manager with the IBTS, told TheJournal.ie.
"If you go back over 10 years, emigration has definitely been a part of it especially in rural clinics the volume has just fallen of people coming through the door."
Cousins said it has been the younger age group (about 18-35) that has fallen off dramatically. In recent years the average donor age has risen from 38.4 years in 2005 to 40.8 years last year.
Other factors Cousins attributes to the drop off is people travelling more to more exotic locations and the increasing urbanisation of societies.
However, the primary reason he gives for people not donating is time.
"People just have an awful lot less time," he said.
They're living in a busy digital world and to actually get people to come in and the give their time to give blood is a hard ask.
The IBTS was part of worldwide campaign to try to encourage people to donate earlier this year, called Missing Type.
This sought to raise awareness among younger people about the need to donate blood.
Cousins said that the response had been positive, but getting a message across to people on social media so that it sticks and actually inspires them to act was difficult.
"It's seldom you come across someone who thinks giving blood is a bad thing," he said.
"People always say 'yes absolutely I'll give blood', but they don't.
You've got to keep at them, you've got to nudge them along to the clinic
#Open journalism No news is bad news Support The Journal

Your contributions will help us continue to deliver the stories that are important to you

Support us now
Cousins also said that while it was great that people gave blood for a first time, it was about getting people into the habit of donating so that they did it regularly.
"That's when you know they're going to be a donor long-term… The forming the habit is really important.
But when people are really busy with their time getting them into that kind of habit-forming is very difficult to do.
Changing behaviours 
The IBTS along with blood donation organisations across the world is always looking for ways to combat the downward trend in donations.
"A key part in that is getting young people through," said Cousins.
He said that getting people engaged in social media and sharing the messages around blood donation was important, but converting that good sentiment and engagement into actual donations was difficult to do.
"With young people you have to hit them several times with getting your message in front of them and then you have to get them to actually act on that message.
"This is something we have to address… actually getting people through the door.
Cousins said that numbers coming forward had already increased on the back of the appeal earlier in the week. However, bringing up figures long-term was more difficult.
"We have been very fortunate that donors do come forward. In times of great need we always get a fantastic response from donors and it does get us out of some difficulties.
Young people are very positive and idealistic, they want things to work which is great.
But it's quite a challenge to actually get them into the clinics.
If you want more information about giving blood or how to donate visit giveblood.ie