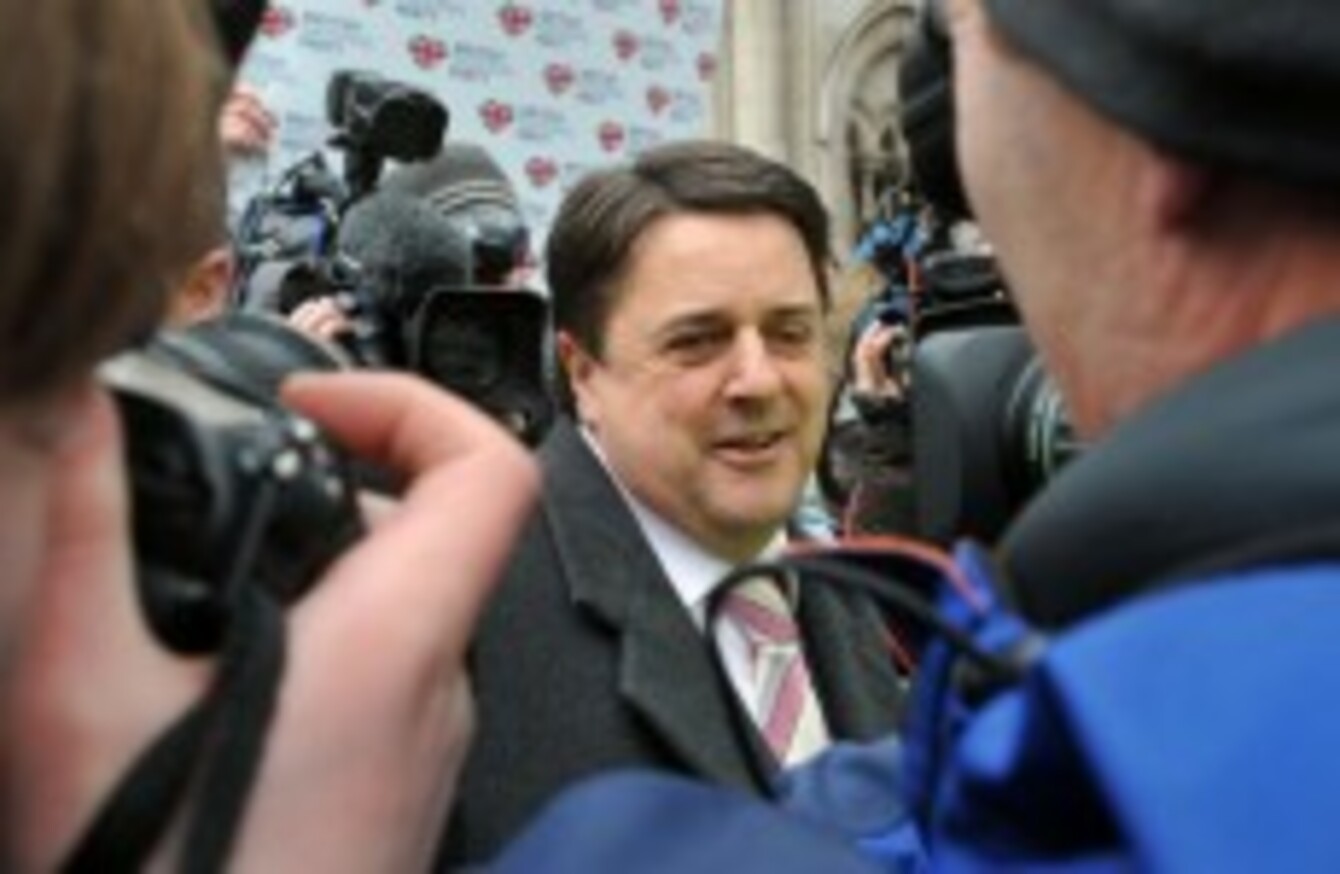 File photo of BNP leader and MEP Nick Griffin.
Image: Ian Nicholson/PA Wire
File photo of BNP leader and MEP Nick Griffin.
Image: Ian Nicholson/PA Wire
Updated at 3.30pm
BRITISH NATIONAL PARTY leader and MEP Nick Griffin is expected to attend a UCC debate in the New Year, just months after a Trinity College student society withdrew its invitation for the controversial politician to visit.
The UCC Government and Politics Society says Griffin has accepted its invitation to speak in a debate on the importance of free speech in modern society.
The society's chairperson Ben English told TheJournal.ie that its invitation to Griffin "is by no means a defence of what he has to say, rather it is a defence of his right to say it".
English said Griffin will face an as-yet-unnamed second speaker in a chaired debate on free speech before taking questions from the floor.
The society decided to invite him after his invitation to address a student group at Trinity College was withdrawn recently. English said that the student group wanted to stand up in support of free speech, adding that free speech is not objective: "We can't decide who gets freedom of speech."
In these kinds of situations, and in Trinity's case, college groups should not cave to outside pressures, English said.
"You need to make tough decisions and bring in people who are going to cause a bit of controversy; in the long-run it's an event that needs to be held. People need to see something new. Our society is trying to move away from the discourse and get people talking," he said. "The society's main goal is to encourage students who are generally politically apathetic to engage in debate."
English said the society has met with college staff to notify them of the event and to put "strict plans in place" to ensure the safety of staff, students and Griffin. The college has indicated it will facilitate the event, he added.
The BNP confirmed to TheJournal.ie today that Griffin is interested in participating in the debate and has accepted the invitation. A spokesperson for the party said the MEP would answer any questions put to him by the debate participants or audience.
Opposition
The UCC Labour Society says it plans to campaign against Griffin's visit to the college.
Chair of the society Dean Duke told TheJournal.ie that the Labour Soc last night agreed to boycott a joint trip planned between it and the UCC Government and Politics Soc to Leinster House.
Duke said his group does not accept that Griffin's invitation to speak is really a free speech issue and that his "intolerant views" should not be accommodated:
Nick Griffin is free to say what he likes (within the confines of the law), but that doesn't mean that a UCC society should be hosting him. There's a difference between allowing free speech and giving someone a platform and an audience.
Withdrawn
The BNP leader was due to participate in a debate on immigration at Trinity's Philosophical Society in October, but the society withdrew its invitation after the college said it could not guarantee the safety of the event's attendees.
The society said that while it supports Griffin's right to speak on the issue of immigration, it felt it had "no other responsible choice" but to cancel the debate over safety concerns.
Griffin accused people protesting his Trinity appearance of using "fascist methods" to disrupt the event. He also said he complained to gardaí about the protests which disrupted a separate society event and led to the cancellation of the one he was to attend.
A date for the UCC events has not been confirmed, but it is expected to take place in late February 2012.