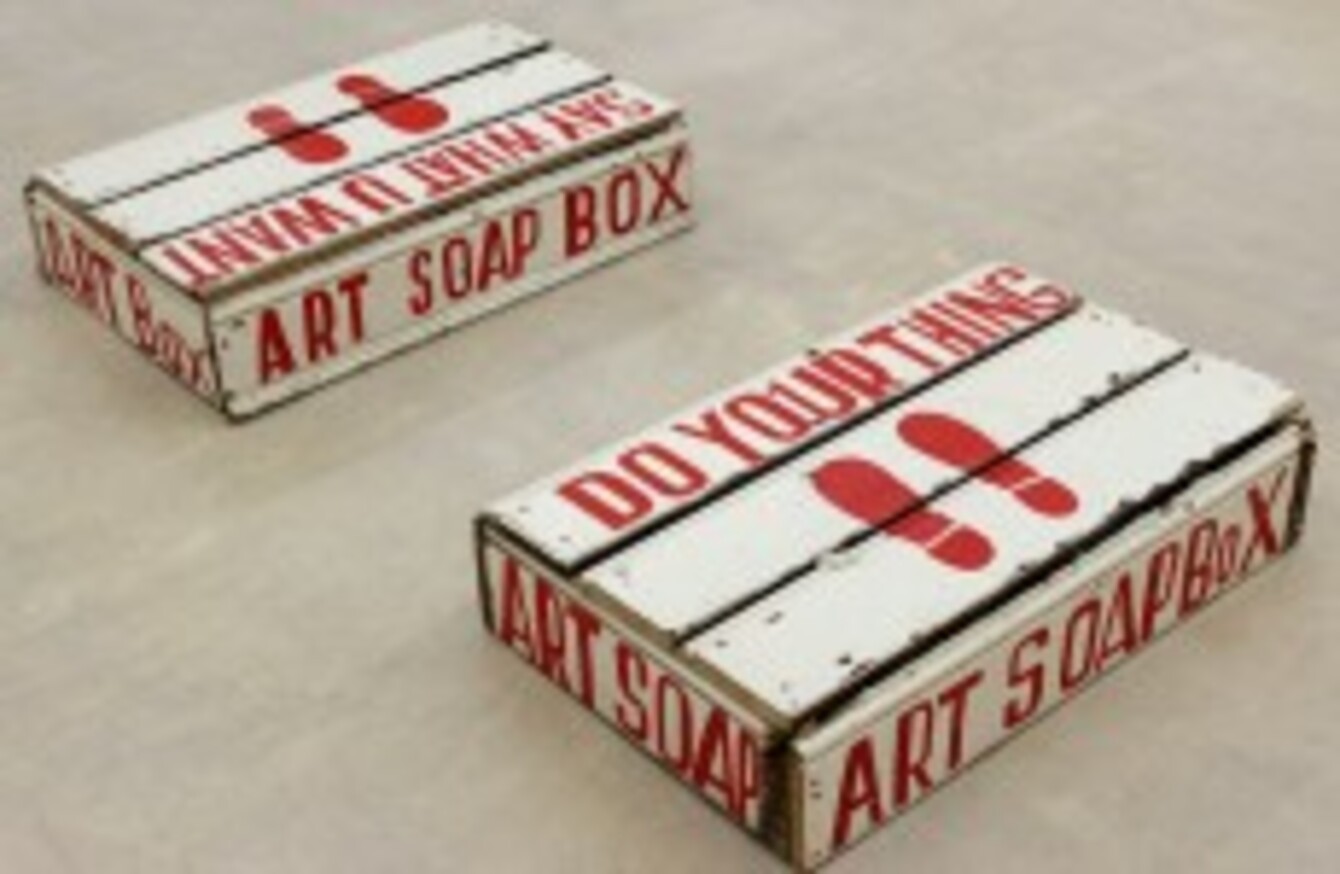 Bob and Roberta Smith, Art Soapbox
Image: Courtesy of the Halles Gallery, Copyright the artist
Bob and Roberta Smith, Art Soapbox
Image: Courtesy of the Halles Gallery, Copyright the artist
THE KILKENNY ARTS Festival, which launched this week, will feature the first Irish art exhibition accessible to those with a visual impairment.
Using a device called a Discovery Pen the Art Makes Children Powerful exhibition, by renowned visual artist Bob and Roberta Smith, will allow blind and visually impaired audience members to explore the works. The pen will take audiences through descriptions of the works, as well as statements by the artists and curators of the exhibition.
The exhibition runs in Kilkenny's Butler Gallery from 10 August until 6 October and the executive director of Arts and Disability Ireland (ADI) Padráig Naughton says that the technology will prove a breakthrough for those with visual impairments.
"As a visually impaired person, my experience of visiting exhibitions is seeing amazing art that I don't know the name of, who it was created by, when it was made or what materials it was made with.
"ADI's new technology offers visually impaired people the chance to learn as little or much as they want to about the art and the artist when visiting an exhibition."
In the show, Smith outlines the importance of culture and art in society. During the festival, Smith will ask the people of Kilkenny for their views on art on banners hung across the city. These answers will be performed live on 20 September.
Bairbre-Ann Harkin, the education curator of the Butler Gallery, says that the collaboration with ADI will make the work more accessible.
"We are excited to collaborate with ADI in making the engaging work of Bob and Roberta Smith accessible to a wider audience, through this innovative technology. We are very grateful for ADI's support, guidance and expertise throughout this process and look forward to welcoming new audiences into the Butler Gallery as a result."