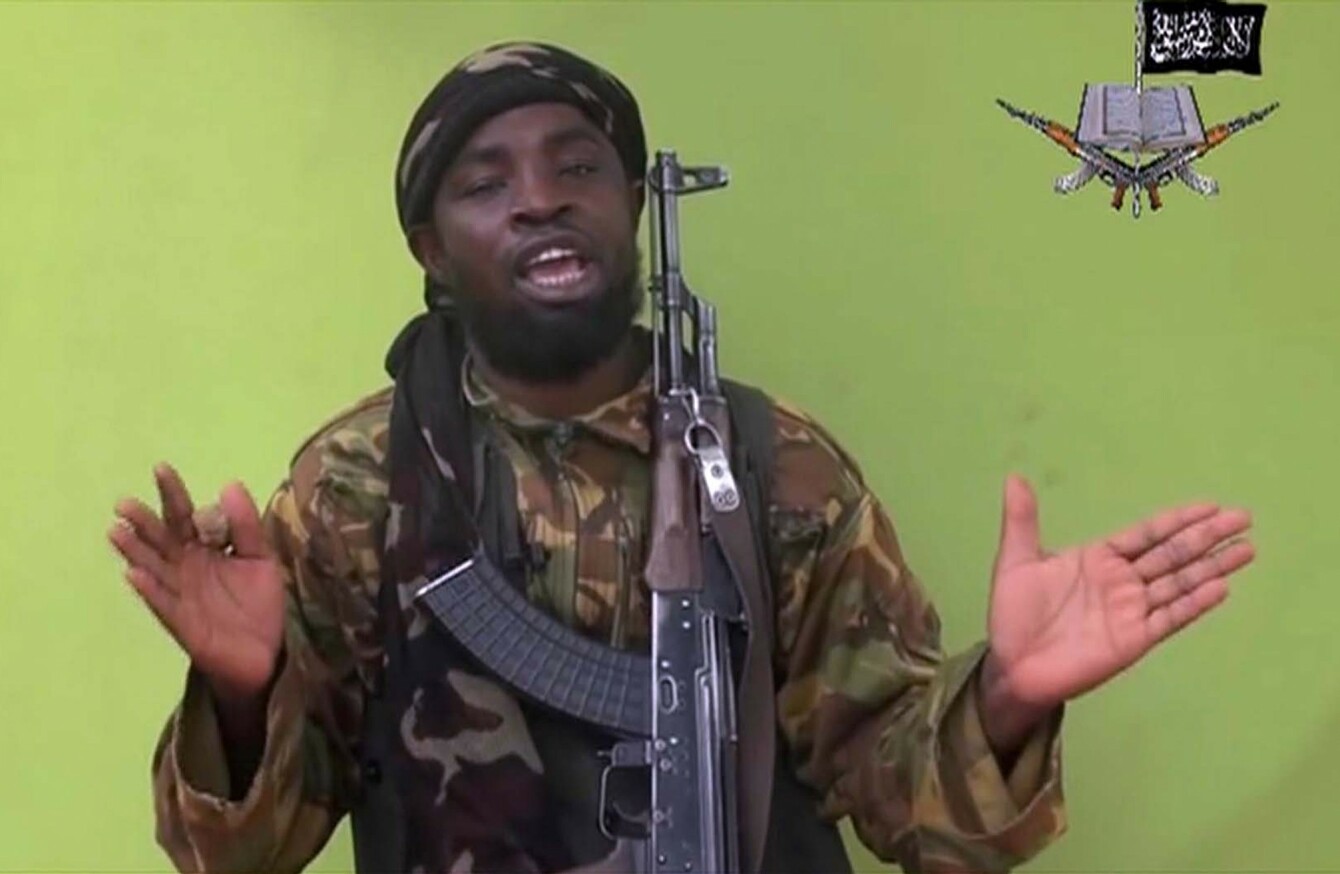 File photo of Abubakar Shekau.
Image: AP/Press Association Images
File photo of Abubakar Shekau.
Image: AP/Press Association Images
THE LEADER OF terrorist organisation Boko Haram has been "fatally wounded" in an airstrike, according to the Nigerian army.
Spokesperson for the army, Colonel Usman, released a statement saying that an airstrike had been carried out on Friday, hitting a number of key Boko Haram figures while they were praying.
The strike was carried out on a secret location called Tayye in the heart of the Sambisa Forest in the north west of the country.
Usman's statement, carried in full by Premiumtimesng.com, stated that three key figures of the extremist organisation had been killed in the strike, as well as the group's leader, Abubakar Shekau.
Boko Haram is an extremist organisation based out of northern Nigeria that has ties to the so-called Islamic State. It came to international attention two years ago when it kidnapped 200 schoolgirls from a village in Nigeria.
The group is responsible for widespread killings and attacks on villages and people in northern Nigeria, which is significantly more economically depressed than the south.
The Nigerian army has claimed to have killed its leader Abubakar Shekau on numerous occasions, but each time the extremist organisation says that he remains alive.
Made-up character
The Nigerian army says that the original Abubakar Shekau has long since died and that the living one was a made-up character.
Premiumtimesng.com reports that the reason the deaths weren't reported earlier than today following the airstike on Friday was because there were no  journalists in the area with access to the location.
Colonel Usman's statement reads:
"In what one could describe as the most unprecedented and spectacular air raid, we have just confirmed that as a result of the interdiction efforts of the Nigerian Air Force, some key leaders of the Boko Haram terrorists have been killed while others were fatally wounded.
Those Boko Haram terrorists commanders confirmed dead include Abubakar Mubi, Malam Nuhu and Malam Hamman, amongst others.
While their leader, so called "Abubakar Shekau", is believed to be fatally wounded on his shoulders. Several other terrorists were also wounded.