Updated: 9.51am
A RALLY IS due to take place outside Bolt Hostel at 10am today as housing activists are set to meet representatives of Dublin City Council (DCC) to discuss the future of the building.
The Irish Housing Network (IHN) reclaimed the building, located at 38/39 Bolton Street in Dublin city centre, just over a week ago.
It was formerly known as Bolton House and accommodated 17 homeless people until 2011, but has been vacant since then.
Rosi Leonard from IHN said the group expects DCC to serve them with an injunction notice.
Leonard said many of the people helping to refurbish the building have direct experience of homeless services or emergency accommodation.
"We would rather this be a homeless hostel than be empty," she told TheJournal.ie this morning.
Leonard said the property could house three families, but DCC told us it's not liveable.
A spokesperson said council representatives met with IHN on Tuesday and Thursday and "continue to discuss the occupation of 38/39 Bolton Street with the group".
The building is not fit-for-purpose and requires significant upgrading works to ensure that is a suitable building to accommodate families or individuals in terms of compliance with health and safety.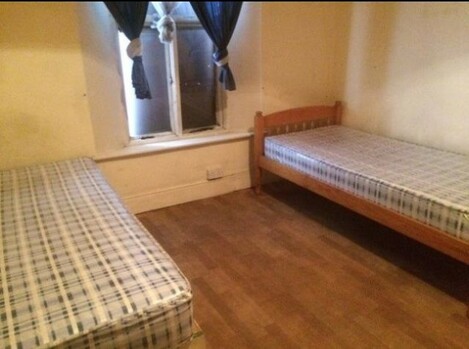 One of the bedrooms inside the hostel. Source: Facebook
They added that local authorities in Dublin "continue to expand and implement measures to respond to the housing needs of homeless households".
Leonard said DCC's stance on the building is "very disappointing" given the fact so many families are in urgent need of housing.
Earlier this week it emerged that the council's homeless budget has been left with an €18.5 million shortfall.