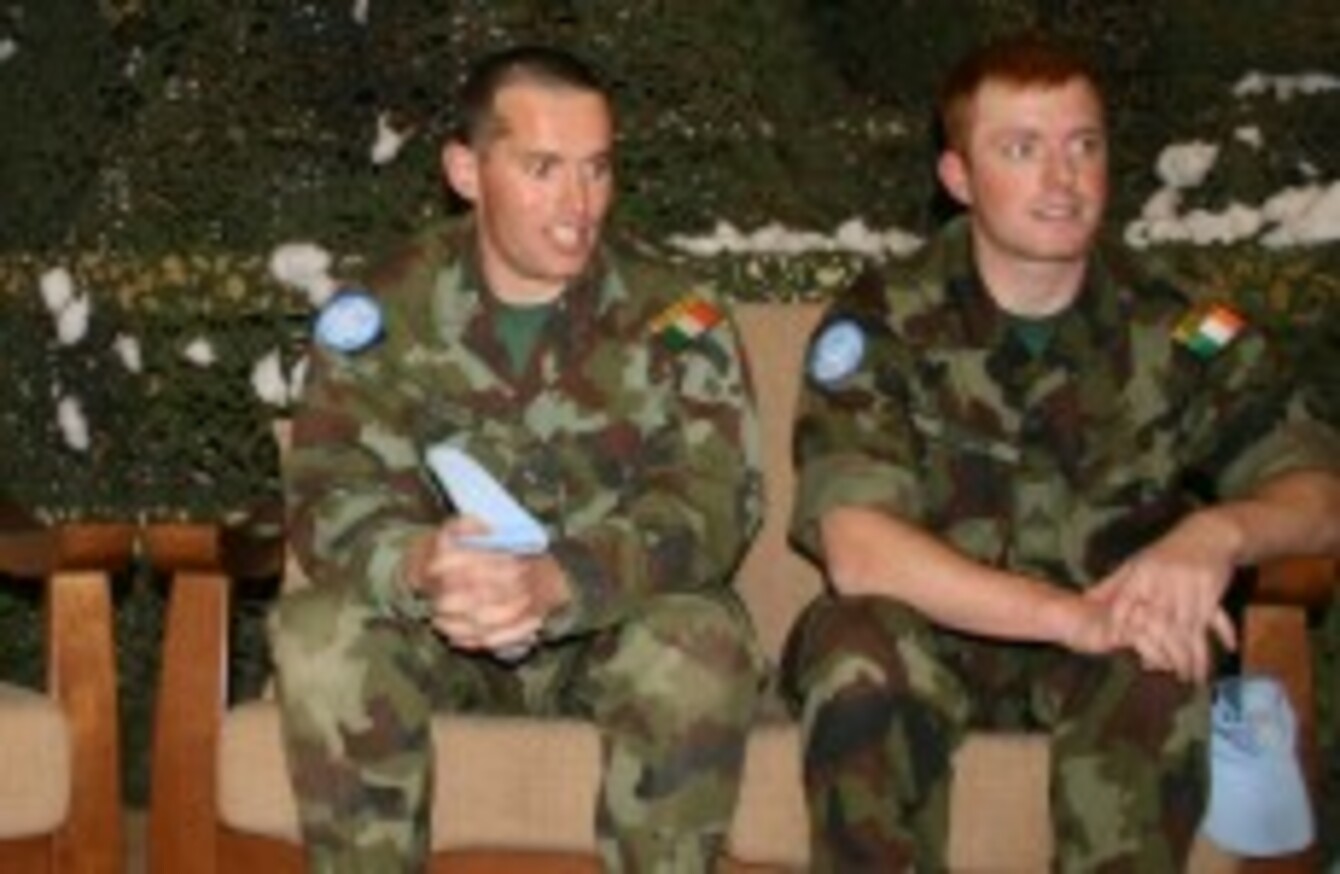 Soldiers discuss their Christmas plans at Camp Shamrock in Tibnin, Lebanon
Image: Irish Battalion UNIFIL
Soldiers discuss their Christmas plans at Camp Shamrock in Tibnin, Lebanon
Image: Irish Battalion UNIFIL
TIBNIN, Lebanon: "It's hard to believe it's Christmas week," Commandant Robert Hurley observes, passing with his patrol through the towns and villages of predominantly Shiite Muslim south Lebanon on a bright, dry December afternoon.
The narrow roads are lined with posters commemorating the area's war victims and the flags of its political parties. Mere kilometers from the Blue Line, which demarcates the volatile border between Lebanon and Israel, there is plenty of evidence of recent history but scant sign of the Christian holiday that marks the birth that took place some 2,000 years ago in what would be less than a day's drive to the south, if such a drive were possible. Still technically at war, Lebanon and Israel's shared border is sealed and heavily fortified on both sides. Commandant Hurley and his fellow soldiers are serving with UNIFIL (the United Nations Interim Force in Lebanon), which has been mandated with peacekeeping duties in the region since its foundation in 1978.
Once back inside Camp Shamrock, the headquarters of the Irish UNIFIL contingent, just outside the village of Tibnin, it becomes much more credible that Christmas is just around the corner. The common areas of the camp have been strewn with tinsel, multiple Christmas trees are up, a large crib is on display, and posters advertise a "Turkey Trot and Chicken Run" fundraising event scheduled for St. Stephen's Day. Lt. Danielle Murphy has even spray-painted some local pinecones to decorate the officers' mess.
For the vast majority of the 437 southern Irish troops that deployed here last month, this will be where they spend the holiday season, foregoing the comforts of home in order to contribute to the peacekeeping effort along on of the most fractious borders in the world. For some, it's a first; for others, much like serving in Lebanon, it's old hat – but different.
The Irish involvement in UNIFIL goes back three decades, with the contingent returning last summer after an absence of four years. Battalion commander Lt. Col. Philip Brennan says about one-third of the current deployment has served in Lebanon previously. The context in which the contingent serves has, of course, altered over that time. An Israeli occupation that began in 1982 ended in 2000 with their army's withdrawal south of the Blue Line, while since the 2006 war, which devastated much of the area, Resolution 1701 has tasked the force to coordinate with the Lebanese Armed Forces in securing Lebanon's borders and preventing a renewed outbreak of hostilities.
"Certainly before the Israelis left in 2000 it was more dangerous," says Lt. Col. Brennan. "Now, it's less dangerous – incidents aren't so many but they take on a greater significance."
"I hope to Skype on Christmas day and see Santa's presents and all that stuff…"
But just as Lebanon has changed, so have the soldiers' lives. Comdt. C.J. Cullen who was here 20 years ago says: "The last time I spent my Christmas here it was different for me … I'd no children; I was a single man. This year I have an 11-year-old daughter and a 12-year-old son."
He says it's hard being away from home, but points out that technology has made the distance easier to endure.
"We've got very good facilities here, so I hope to Skype on Christmas day and see Santa's presents and all that stuff. Technology has improved. We used to use HF radio; you literally had to say 'over.' The Skype is great."
Company Sergeant Stan Hurley also marvels at the advance in communications. When he first served in Lebanon in 1983, a phone call home involved journeying to Naqoura, another southern town, where if one found the system down one had to wait another month to get a chance to try again.
At Camp Shamrock today, most soldiers have access to Skype in their rooms, making communications here luxurious even in comparison to those available on other recent U.N. missions, Corporal Lisa Walsh says: "[On] previous trips like [Chad], we didn't really have Skype; we couldn't get it. So that's a big advantage here. Most people have it in their rooms. It's more accessible here than the likes of Africa where we just had four computers for maybe the whole camp so you had to book in and you'd only get 10 minutes on it."
"Sure, you can torment them all the time at home now," Corporal Leo Wemyss chimes in, jokingly.
Christmas is just like any other day at Camp Shamrock
But while the ease of communicating with home perhaps makes being away at Christmas easier, little else changes in the soldiers' daily routine. Those on duty must still man their posts and run their patrols. "The only real difference is that we'll have turkey and ham for dinner, and plum pudding after dinner," says Commandant Cullen.
There really is no room for laxity or error in the Irish battalion's area of operation these days. The "incidents" Lt. Col. Brennan refers to include three roadside bomb attacks on French and Italian UNIFIL convoys since May, the most recent of which took place on Dec. 9, and the firing of Katyusha rockets into Israel for the first time in two years on 29 November.
In the unlikely event that an army that has lost 47 soldiers in Lebanon – the highest number of casualties suffered by any UNIFIL contingent – needs a reminder, these events serve to highlight the gravity of the task at hand and the changeability of the security situation. It makes no difference that Christmas is just around the corner, "work has to go ahead as normal," the soldiers unanimously state.
Apart from Camp Shamrock, the Irish battalion mans two posts on the Blue Line itself – positions 6-50 and 652. Surrounded by countryside still rife with land mines, 6-50 is a lonely outpost, practically spitting distance from Israel. Standing atop its briefing platform, the border is clearly distinguishable not only by the blue barrels that mark it, but by the contrast between the suddenly verdant Israeli side and the rocky, dry terrain of the Lebanese side. The stark difference between the high-tech agricultural activity of Israel's kibbutz's compared with the tenacious Lebanese efforts at subsistence farming is notable. However, Commandant Hurley points out as a sign of progress the fact that as minefields are cleared, Lebanese farmers inch their areas of cultivation closer and closer to the border in an effort to restore normalcy and prosperity to their lives.
The 28 soldiers, cook and medic who will remain on duty over Christmas and New Year's are already in place at 6-50. They rotate on and off shifts, manning the post and patrolling the area surrounding it, keeping constantly vigilant for unusual activity. All seems peaceful on this particular afternoon and patrols, which snake up and down the Blue Line, pass off uneventfully. But the troops are all too aware that this may change at a moment's notice.
However, they have still found impetus to decorate the post's cookhouse with a Christmas tree, above which a Munster flag is proudly suspended.
#Open journalism No news is bad news Support The Journal

Your contributions will help us continue to deliver the stories that are important to you

Support us now
"[Christmas] is what you make of it; that tree took a lot of time and effort this morning," laughs Private Stephen O'Flaherty, pointing out their handiwork.
"Out here it's a dry camp. … [On Christmas day] there's still duties to be done; it still has to be manned. So after that it's just about making it as Christmassy as possible," adds Corporal Martin Farrell.
"There are things that will be sorely missed: family, own beds, Barry's tea…"
Just as back at Camp Shamrock, there will be turkey and ham for dinner, and plum pudding for dessert. Here though, the troops will chip in to help their chef with the preparations, Private Angela Alymer says.
A stoic attitude to making the most of the situation pervades at both the post and the camp, but there are things that will be sorely missed: family, Christmas traditions, own beds, Barry's tea, Irish milk and St. Stephen's day – "the one time you know everyone will be home from abroad" – are chief among them. Ultimately, however, the consensus is that "it's harder on the people at home, than it is on us."
"We have mates out here and the bond of the unit," Sergeant Hurley says. He adds that with so many people living in such close proximately, loneliness is easily avoidable, and that soldiers will be looking out for each other to stave off any homesickness, especially among those who are not veterans of spending the holidays overseas.
And where at home festive socialising largely centers on eating and drinking, Captain Rose-Anna White explains that in south Lebanon the Irish have developed "other activities around the holidays." Recently the troops organized a Christmas party for some 500 children from across the south, with pipers, musicians and a special visit from Santa, who gave each participating child a gift bought with funds raised by the troops, while on St. Stephen's day, a fun run will be held to raise funds for the Tibnin orphanage.
"No matter where you are an effort will be made to capture the spirit of the event," Sergeant Hurley says, while down on the Blue Line, one soldier sees the advantage of a New Year's Eve with no possibility of painting the town red: "We're saving a fortune out here," he says.
Niamh Fleming-Farrell is a freelance writer and editor based in Beirut.