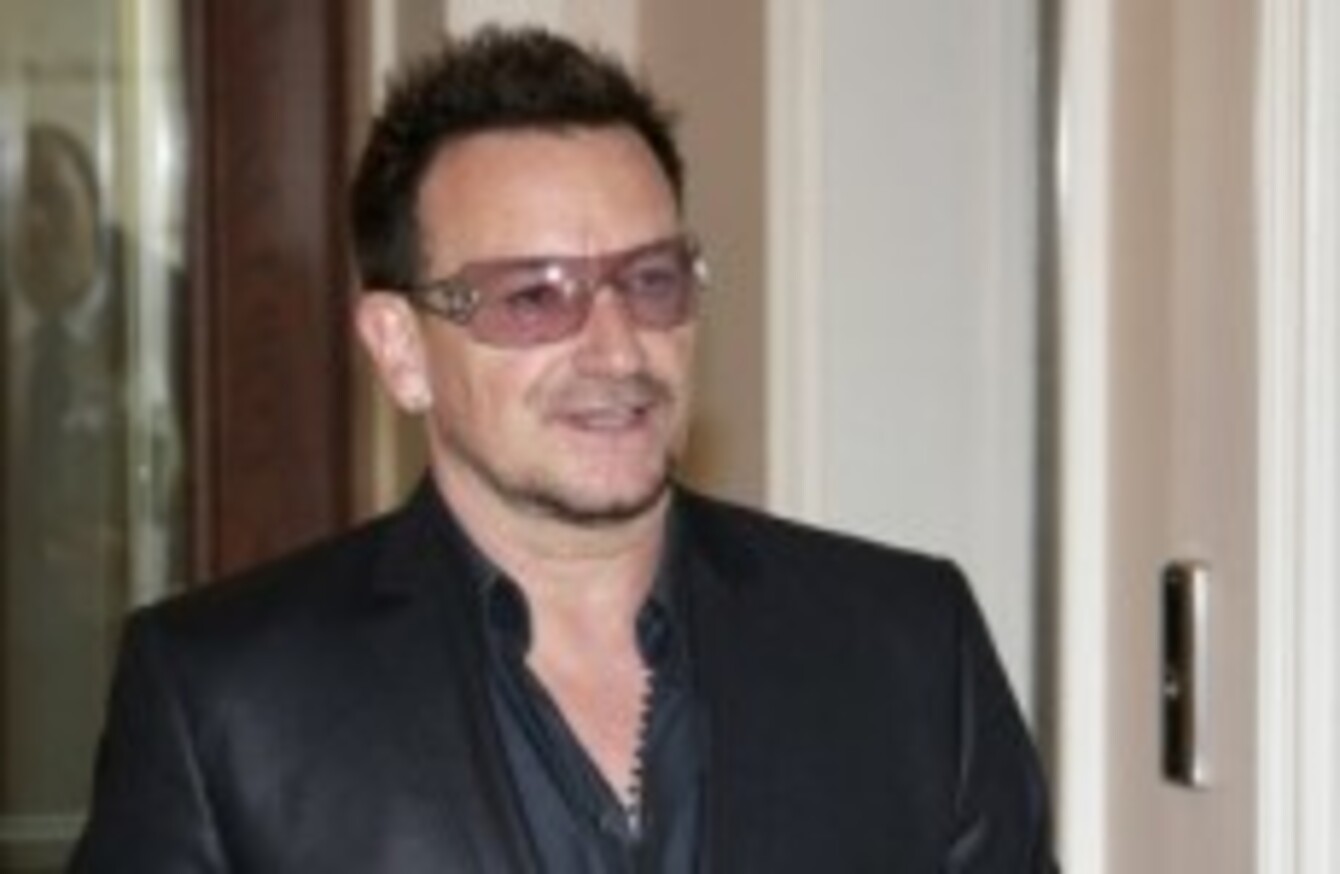 IN NEW YORK this week, leaders from across the world are gathering to discuss how to reach the Millennium Development Goals set for 2015.
The decade-old pledges aim to improve the lives of people across the world who are suffering from issues like poverty, hunger, gender equality and HIV/Aids – but they are behind schedule. The importance of the UN summit is of immense importance for those working in the arena of development.
That is why advocacy group ONE, co-founded by U2 frontman Bono, sent gifts to journalists in New York on Monday, according to ONE's European Director.
Ollie Buston told TheJournal.ie that ONE sent the gifts in an attempt to encourage the US media to highlight development issues during the summit. He explained: "It's a very important week because President Obama will be making an important speech at the Millennium Summit in New York."
The gifts sent included notebooks, coffee, water bottles, plastic rulers, small tins of plasters, oversized cookies and – weirdly – syringe-style pens.
He went on to outline the reasoning behind the approach:
In Ireland and in the UK – and in Europe, more widely, I guess – there's a really rich debate around development: whether aid is good or bad, what African governments are doing, if trade policies should be changed… That debate's not really there in the US, and getting these stories into the media is a bit harder. So it was an effort  to do that. In hindsight it probably wasn't the best strategy.
When asked if it would be common practice for ONE to send journalists gifts, Buston replied "No it's not. I think it's the first time we've done something like that."
He said that the gifts were meant to carry a message and that the boxes, sent to offices such as the New York Post, included items like Fair Trade coffee and rulers "which were a prop to say 'measure up on education'".
Buston denied that the gifts were delivered by courier, insisting that ONE volunteers had dropped off the boxes.
Advocacy
Buston also told TheJournal.ie that ONE does not accept donations from the public but is instead funded "by a small number of philanthropists – our biggest being the Bill and Melinda Gates Foundation."
#Open journalism No news is bad news Support The Journal

Your contributions will help us continue to deliver the stories that are important to you

Support us now
Buston said that while he didn't have staff salaries to hand, he was sure that they constitute "a fairly substantial part" of the money ONE receives. He explained that as an advocacy group, as opposed to a charity, the organisation has a different objective:
We're not a grant-making organisation – what we do is advocacy. We don't fund projects in Africa; what we do is try to encourage governments to adopt policies that we think will support economic growth and development and poverty reduction in Africa.
Therefore a large part of the money received by ONE goes on staff salaries because the 120 people working for the organisation are, as Buston puts it, "the organisation's main asset".
Buston said that ONE sometimes does donate money to causes, however. Each year, ONE grants $100,000 to a highly innovative African organsiation that needs funding: "Two years ago the award went to an organisation called DEVCOM, (Development Communications Network),which provides scientific, health and advocacy training to journalists in Africa."