SINN FÉIN SAYS it won't cost as much as people think to bring about Irish unity.
According to a united Ireland discussion document launched by the party today, the issue of affordability has been subject to "wild speculation".
There are legitimate concerns about the cost and benefits of unity, admits Sinn Féin, but it criticised the British government for refusing "to fully open the books" as to what the North costs the British exchequer.
Calling it the "unaffordability myth", Sinn Féin says the following figures dispel some of the myths about £24.1 billion – the figure it said some commentators claim is spent by the Britain on the North.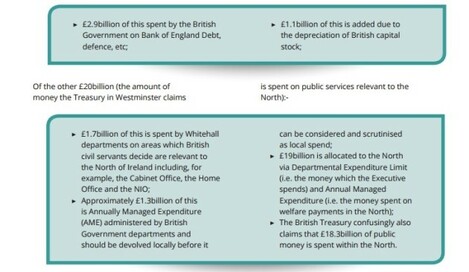 Source: Sinn Féin
(Can't see this, click here)
"What can be said with certainty is that the £24.1 billion figure is not accurate and that public spending is probably in the £18.3 billion to £20 billion range. It has been estimated that the amount of revenue generated within the North ranges from £14.9 billion to £15.6 billion," states the report.
Income and corporation tax
The party states that this does not include the amount of income tax, corporation tax, NICs and VAT generated locally, but paid in Britain by British and international companies, which is booked in London.
These figures indicate that the difference between revenue and actual spending is in the region of £2.7billion – £5.1billion not including the multinational taxation booked in London.
Writing for TheJournal.ie last week, Northern Ireland Finance Minister Máirtín Ó Muilleoir said the partition has been "an economic cul-de-sac for Ireland; north and south"
"The North now lags behind the south on all growth indices: average wages south of the Border are €37,000, but just €25,500 in the North. Economic growth rates in the South are estimated at 3.6% for 2017 but at just over 1% in the North," said Ó Muilleoir.
Brexit 
The working document is published at a time when there are still major questions hanging over the region following the Brexit vote, which the party says "changes everything".
The document also outlines how Northern Ireland and the Republic of Ireland would benefit by unity in other ways such as inward investment, agriculture, exports as well as better services.
Sinn Féin proposes the establishment of an Irish National Health Service, which would be free at the point of delivery.
One area it says would also benefit is sport.
Irish teams are stronger and better when they are all-Ireland teams. All-Ireland rugby teams have won Grand Slams and Triple Crowns, boxers have had international successes, Irish golfers are leading the way in that sport…
Support for an all-island soccer team is growing. It makes no sense to have two 'national' teams competing on the international stage and splitting the talent pool that exists. We are stronger, better and more successful together.