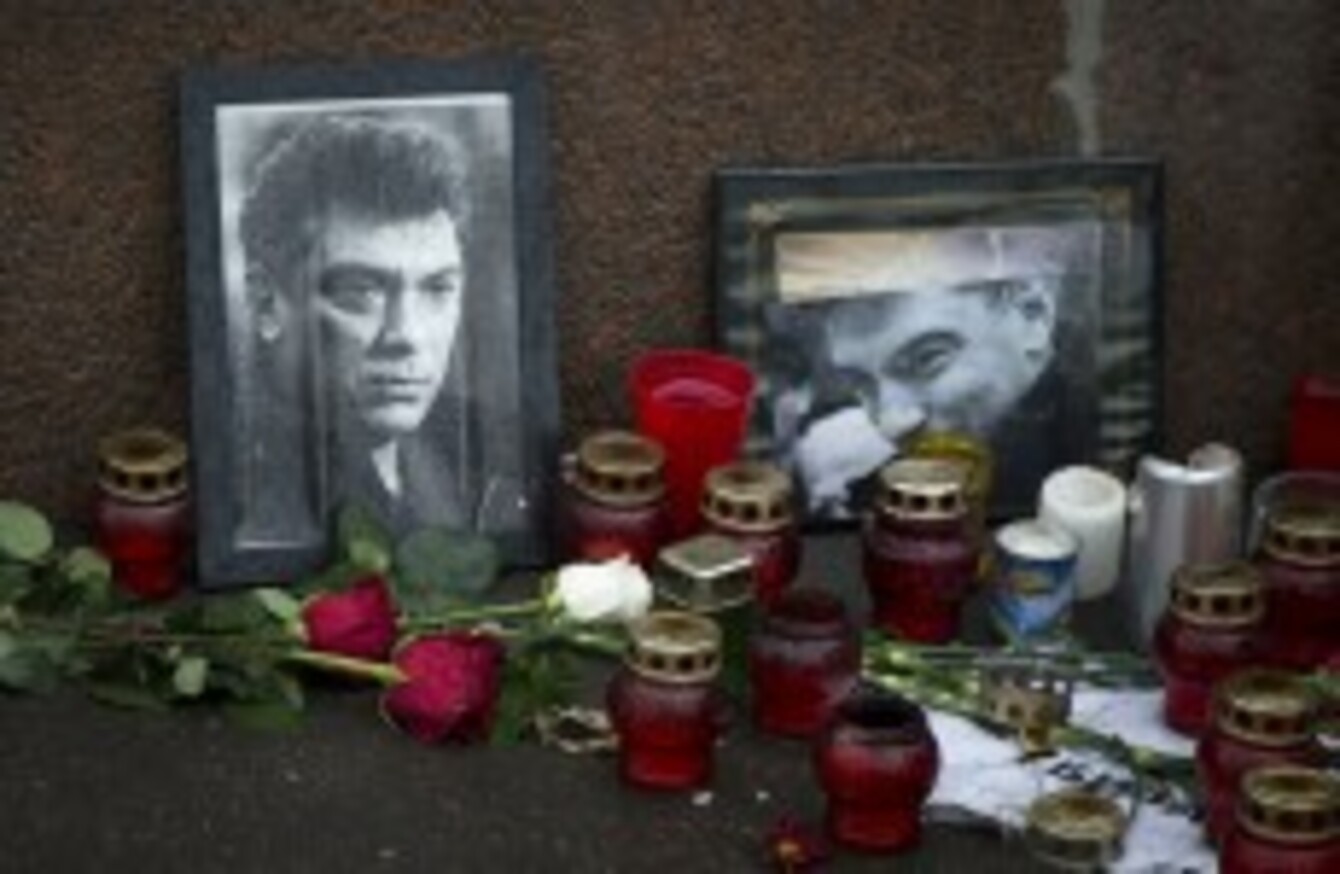 Flowers, votive candles and portraits are seen at the place where Boris Nemtso was gunned down
Image: Alexander Zemlianichenko
Flowers, votive candles and portraits are seen at the place where Boris Nemtso was gunned down
Image: Alexander Zemlianichenko
TWO SUSPECTS HAVE been arrested over the killing of Russian opposition activist Boris Nemtsov, who was gunned down near the Kremlin in a brazen assassination that shocked the country, the state security agency said today.
The arrests come a week after the longtime critic of President Vladimir Putin was shot four times in the back as he strolled with his girlfriend along a bridge in the heart of the capital, near the presidency and iconic Red Square.
"Two suspects were arrested today in connection with this crime, they are Anzor Gubashev and Zaur Dadayev, and the head of state has been informed," the head of the FSB federal security service Alexander Bortnikov told state television.
He said the two men were from the Caucasus region.
"The necessary operational and investigative procedures are continuing," said Bortinkov.
Assassination 
The latest killing of a high-profile government critic under Putin's rule prompted an outpouring of international condemnation and stunned members of an opposition who blamed the Kremlin for whipping up hatred against anyone who expresses dissent by referring to them as "traitors".
The 55-year-old, a renowned anti-corruption crusader who served as Boris Yeltsin's first deputy prime minister in the 1990s, was shot dead just two days before he was to lead a major anti-government rally.
However the protest march — called to denounce Russia's alleged role in the Ukraine crisis — instead became a massive memorial for Nemtsov, with tens of thousands swarming the streets of Moscow in the largest opposition gathering since a wave of anti-Kremlin protests in 2011-12.
Putin, whose rule has seen the steady suppression of independent media and opposition parties, had promised an all-out effort to catch those responsible for an act which he called a "provocation".
Theories have proliferated since the killing over why Nemtsov was targeted.
Some suggest he was assassinated for criticising Russia's role in the Ukraine conflict, others for his condemnation of January's killings at the Charlie Hebdo satirical weekly in Paris by Islamist gunmen.